Taipei march shows support for Tibet, Xinjiang and HK
A march was held in Taipei yesterday commemorating the 1959 Tibetan uprising against China, showing solidarity with Tibetans and others who protest Chinese oppression.
The rally, held annually in Taipei every March since 2004, was originally intended to commemorate those who died during the Tibetan uprising against Chinese communist rule on March 10, 1959.
The event has grown in size and scope to also support the people of Xinjiang and Hong Kong, organizers said.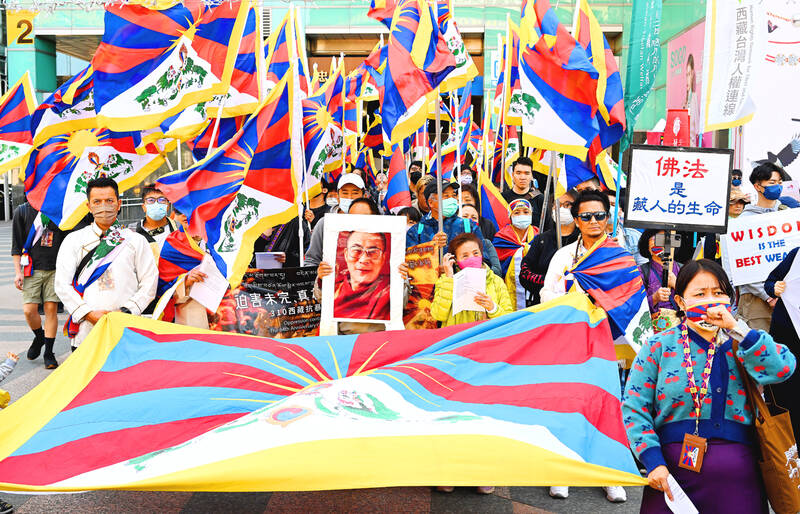 Tibetans living in Taiwan and their supporters hold Tibetan flags and a portrait of the Dalai Lama at a march in Taipei yesterday.
Photo: Liao Chen-huei, Taipei Times
Kelsang Gyaltsen Bawa, a representative to Taiwan of the Tibetan government in exile, said before the march that the Chinese People's Liberation Army invaded Tibet in 1950 and forced Tibetans to agree the following year to what was called the Seventeen-Point Agreement.
However, Beijing soon breached clauses in the agreement that said religion and customs should be respected, and introduced policies aimed at fundamentally changing Tibet's culture and governance, Kelsang Gyaltsen said.
These changes led to the uprising of Tibetans against the Chinese government in March 1959, he said.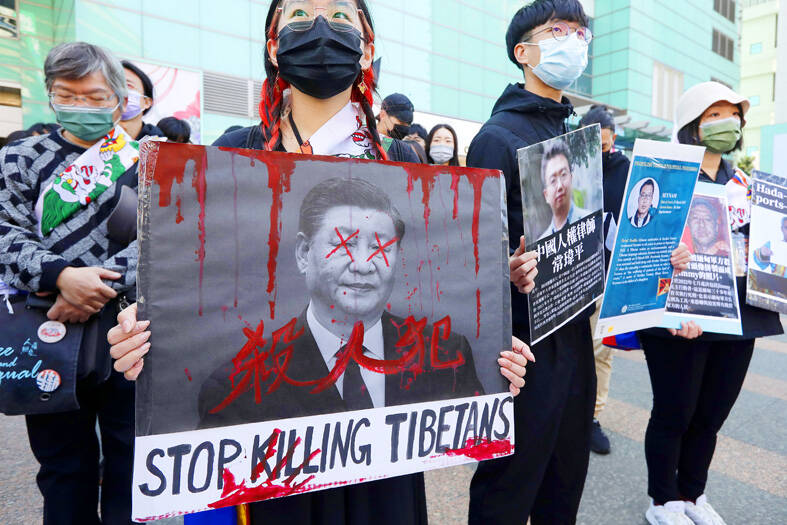 A protester holds a portrait of Chinese President Xi Jinping with slogans reading "Murderer" and "Stop Killing Tibetans" at a march in Taipei yesterday.
Photo: Chiang Ying-ying, AP
The protesters were violently suppressed by the Chinese government, and the 14th Dalai Lama, Tenzin Gyatso, was forced to flee to India, where he later formed a Tibetan government in exile.
Over the past seven decades, about 200,000 Tibetans have been killed, with tens of thousands forced to leave their homes into exile, Kelsang Gyaltsen said.
Since 2009, a total of 159 Tibetans have self-immolated to protest China's takeover of their homeland, yet Beijing continues to oppress Tibetans, he added.
He called on Tibetans, Taiwanese and Chinese who face oppression from Beijing to unite to be heard so that one day they can witness true democracy and freedom in China, allowing Tibetans in exile to return home.
Rally participants included Taiwanese democracy activist Lee Ming-che (李明哲), who returned from China to Taiwan last year after serving a five-year sentence for "subverting state power."
Lee was arrested in 2017 during a visit to Guangdong Province, where he was accused of using online discussion groups to disseminate information and articles attacking the Chinese government.
Lee said that during his incarceration from 2017 to last year, many exiled Tibetans offered support and called on Beijing for his release.
"They [Tibetans] are also suffering, yet they still did not forget to stand in solidarity with me," Lee said.
The decision to take part in the march to support Tibetans "was only natural," he added.
Taiwan's transformation from an authoritarian state to a democracy has been supported by many foreign nationals and countries, Lee said.
Taiwanese should join Tibetans in exile "to let them know that they are not alone in chasing their dream to return home safely," he said.
Comments will be moderated. Keep comments relevant to the article. Remarks containing abusive and obscene language, personal attacks of any kind or promotion will be removed and the user banned. Final decision will be at the discretion of the Taipei Times.