Council to offer subsidies for chicken farmers
STABILIZATION: The loans would allow chicken farmers to upgrade and improve open-air coops, in a bid to protect the egg industry and environment
An investment of NT$1.05 billion (US$34.3 million) would be made over three years to help chicken farmers upgrade chicken coops and make sites more sanitary, the Council of Agriculture said on Friday.
Taiwan has 2,118 chicken farms collectively raising 44.92 million chickens, of which 1,588 farms — or 75 percent — raise fewer than 50,000 chickens per farm, the council said, adding that about 70 percent of those 1,588 — or 1,111 farms — have open-air coops.
Subsidies of NT$4.5 million would be given to chicken farms with open-air coops that raise 50,000 or fewer chickens to upgrade to enclosed coops, whereas NT$10 million would be given to farms upgrading to enclosed coops with evaporative cooling systems, Animal Husbandry Division Director Chang Ching-wei (張經緯) said.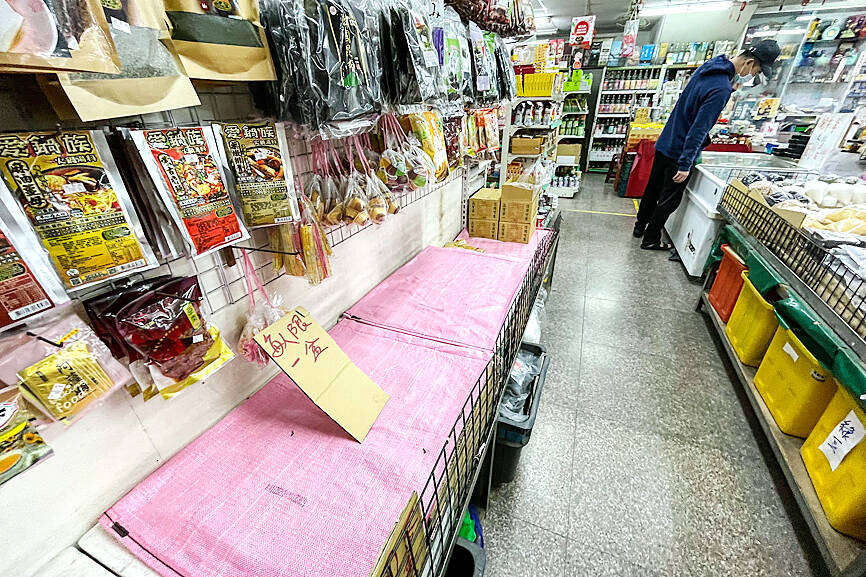 A sign reading "one-carton limit per customer" sits on an empty table where eggs are normally displayed in a shop in New Taipei City's Lujhou District yesterday.
Photo: CNA
The council would also provide NT$1 million to NT$5 million in equipment subsidies, as well as a maximum of NT$5 million in anti-pollution subsidies, Chang said.
All subsidies would be processed as agricultural policy loans, Chang added.
Farms with 50,000 or more chickens that apply for loans would have a two-year interest-free waiver, Chang said, adding that if owners import entire sets of automated machinery and provide proof, the council would waive import taxes.
Policy-oriented loans can provide up to NT$50 million at an interest rate of 1.415 percent, which is better value compared with average coop restructuring loans, which offer NT$40 million at a 1.665 percent interest rate, Chang said.
Loans would be available to farmers next month, and the budgeted funding would be enough to finance coop upgrades for 200 farms, Chang said.
The upgraded chicken farms could serve as a model and encourage the 1,000 small and medium-sized chicken farms to follow suit, the council said.
The policy would stabilize the egg supply in Taiwan, Taiwan Egg Marketing Cooperative Director-General Wu Tian-fu (吳天福) said.
The egg industry has been hard-hit by climate change and egg-laying rates — which used to be 80 percent to 90 percent of all chickens — have dropped to 65 percent to 70 percent, Sinsing Eggs manager Tu Wan-tsai (涂萬財) said.
Eggs are vastly underpriced for egg farmers, Tu added.
The council's subsidies would benefit the duck farming industry, Taiwan Duck Raising Association secretary-general Chu Feng-lin (朱峰麟) said.
Many duck farmers would be interested in applying for the subsidy, as it would introduce modern technology into the industry and make it more competitive, Chu said.
Comments will be moderated. Keep comments relevant to the article. Remarks containing abusive and obscene language, personal attacks of any kind or promotion will be removed and the user banned. Final decision will be at the discretion of the Taipei Times.