Pro-Tibet rally to be held in Taipei tomorrow
FOCUS ON OPPRESSION: The annual march also seeks to highlight the plight of Hong Kongers and people in Xinjiang, an organizer said, urging Taiwanese to take notice
Pro-Tibet and human rights groups are to hold a march in Taipei tomorrow to show their solidarity with Tibetans and other minority groups facing oppression in China.
The event, held annually in early March since 2004, was originally intended to commemorate those who died during a Tibetan uprising against Chinese rule that began on March 10, 1959.
It has grown over the years in terms of its size and agenda, the organizers said, adding that this year's event is also meant to show support for people facing oppression in Xinjiang and Hong Kong.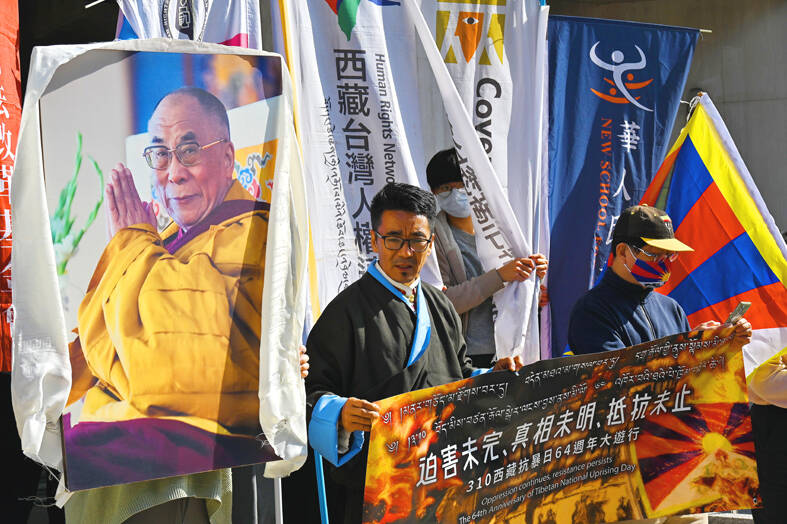 Members of human rights organizations hold a news conference outside the Legislative Yuan in Taipei yesterday to promote a rally tomorrow.
Photo: Tu Chien-jung, Taipei Times
Kelsang Gyaltsen Bawa, the Tibetan government-in-exile's representative to Taiwan, yesterday urged Taiwanese to learn a lesson from those who face oppression by the Chinese government.
Taiwan is a beacon of democracy and it must not go down the same path as Tibet, Xinjiang and Hong Kong, Kelsang Gyaltsen told a news conference outside the legislature in Taipei.
Kelsang Gyaltsen, who heads the Tibet Religious Foundation of His Holiness the Dalai Lama, said China invaded Tibet in 1950 and a year later forced Tibetans to agree to the Seventeen-Point Agreement on the "return" of Tibet to China.
Beijing has breached clauses in the agreement that say religion and customs should be respected, instead implementing policies aimed at fundamentally changing Tibet, he said.
These changes led to the uprising of Tibetans against the Chinese government in March 1959, he said.
Beijing's forces violently cracked down on the protests, and the Dalai Lama was forced to flee to India, where he later formed the Tibetan government-in-exile.
Kelsang Gyaltsen said the situation in Tibet has worsened, adding that under the rule of Chinese President Xi Jinping (習近平), Tibetans are facing cultural annihilation.
One million Tibetan children have been taken from their families and placed in residential schools as part of Beijing's efforts to enforce cultural, religious and linguistic assimilation, he said, citing a UN report.
The situation in Hong Kong is similar, he said, adding that Beijing has seriously encroached on the territory's civil liberties and autonomy since the UK handed over its former colony to China in 1997.
Tibetan Welfare Association chairman Tashi Tsering expressed gratitude to thousands of Taiwanese who joined previous editions of the event, which he cofounded with six other Tibetans based in Taiwan.
The 6 million Tibetans who are suffering in Tibet do not have the freedom to take to the streets or defend their faith and customs, he said.
That is why at least 150 Tibetans have resorted to self-immolation, calling for freedom by "abandoning their own bodies," he said.
The organizers said the procession would assemble at MRT Zhongxiao Fuxing Station Exit 2 at 1pm, and at 2pm march toward Taipei City Hall.
Comments will be moderated. Keep comments relevant to the article. Remarks containing abusive and obscene language, personal attacks of any kind or promotion will be removed and the user banned. Final decision will be at the discretion of the Taipei Times.