CDC publishes vaccine response plan for mpox
HIGH RISK: To preserve the limited stock of vaccine, eligible people should receive an intradermal shot, as the dosage needed for immunization can be reduced
The Centers for Disease Control (CDC) yesterday issued recommendations for high-risk groups to be vaccinated against mpox (formerly known as monkeypox), two days after two domestic cases with unknown origins were confirmed.
These groups include lab workers who worked with the mpox virus, people who had close contact with confirmed cases and did not get post-exposure vaccines, and those engaged in risky sex over the past six months, CDC Deputy Director-General Philip Lo (羅一鈞) said.
The last group includes people with multiple sexual partners, sex workers and those known to have a sexually transmitted disease, he said.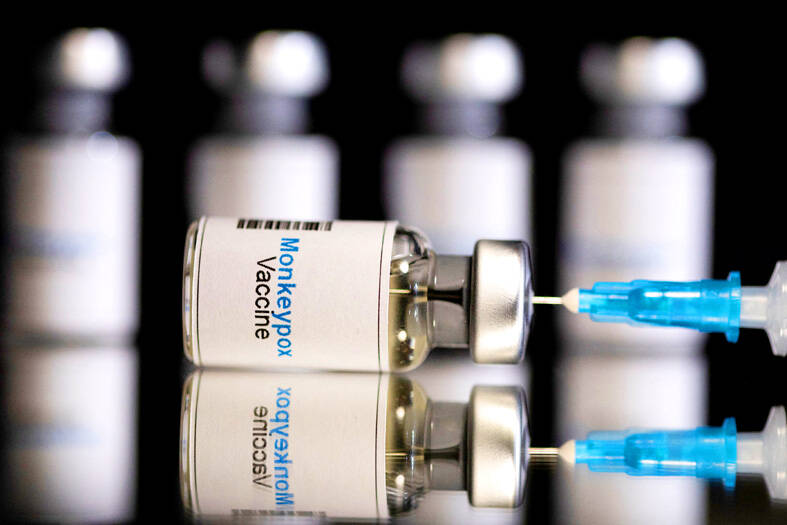 Mock vials labeled "monkeypox vaccine" and a medical syringe are photographed on May 25 last year.
Photo: REUTERS
People aged 18 or older and falling within a high-risk group should be vaccinated with an intradermal injection, as the dosage needed for immunization can be reduced to one-fifth of a full dose, he said.
This measure is to preserve the limited stock of vaccines, Lo said, adding those who are immunocompromised or have a history of keloid scarring should get a subcutaneous injection.
The government has a stock of 1,100 full mpox vaccine doses, and medication for 500 patients, while the purchase of 10,000 vaccines is being planned, Lo said.
Vaccine supplies are enough for 3,300 to 5,000 people, he said, adding that the CDC is working with local health authorities and civic groups to draw up immunization plans, which would be revealed next week at the earliest.
The two confirmed cases are a man in his 40s from Hsinchu and a man in his 20s from Kaohsiung, neither of whom had recently traveled overseas, Lo said, adding that 25 close contacts have been identified and subjected to a 21-day monitoring period.
The CDC convened an expert panel the day after the domestic mpox cases were confirmed to discuss the national risk level, and strategize risk mitigation and disease control measures, he said.
The government's priority is pre-exposure prophylaxis, which aims to construct a firewall against the disease as quickly as possible, Lo said.
The plan was made in reference to policies recommended by the WHO and those that the US, European countries and Australia have used to deal with outbreaks, he said.
Comments will be moderated. Keep comments relevant to the article. Remarks containing abusive and obscene language, personal attacks of any kind or promotion will be removed and the user banned. Final decision will be at the discretion of the Taipei Times.