Belize embassy exhibits works of art by women
The Belizean embassy in Taiwan yesterday launched an exhibition in Taipei to celebrate Belizean culture and womanhood to mark International Women's Day on Wednesday next week.
The "Belize Culture Month and Women's Month" exhibition, which highlights Belizean literature, art that celebrates women and art made mostly by women, opened at the National Central Library, where it is to run until the end of this month.
Belizean Ambassador to Taiwan Candice Pitts said at the opening ceremony that the celebration of women and culture should be observed daily throughout the year.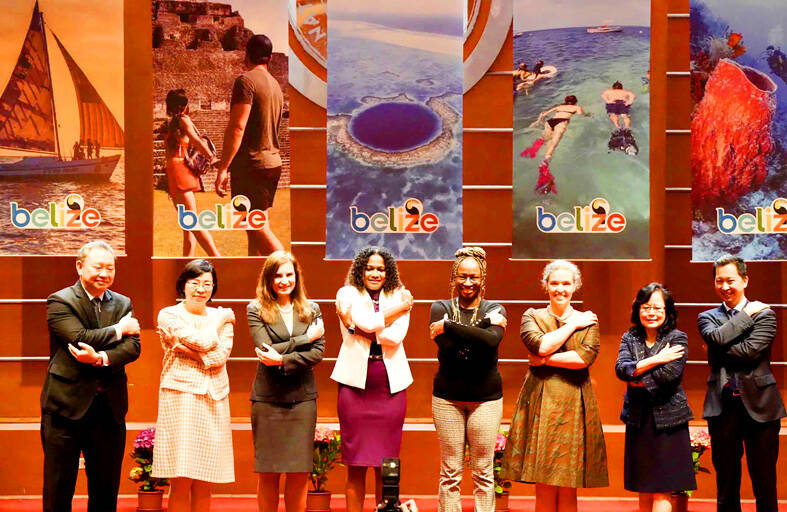 Australian Representative to Taiwan Jenny Bloomfield, third left, Belizean Ambassador to Taiwan Candice Pitts, fourth left, American Institute in Taiwan Director Sandra Oudkirk, third right, and others pose at a news conference at the Belizean embassy in Taipei yesterday.
Photo: CNA
"The celebration of culture is an important vessel through which we can celebrate women," Pitts said.
As this year's International Women's Day theme is embracing equity, and one of the theme's commitments is highlighting female creatives and their artistic work, Pitts said: "The simultaneous celebration of culture and women is not only natural and possible, but also important and fitting."
"You will also view artwork mostly by women, and artwork that celebrates women. The commissioning of these artworks also provided economic opportunities for these women and families," Pitts said.
Pitts also presented table runners made by an indigenous Mayan woman from Belize, Martina Pop, to a group of women from the Ministry of Foreign Affairs or connected to the ministry.
"In observation of the 2023 International Women's Day, I gift each of you a Mayan table runner especially made by Belizean indigenous Mayan women, and I do hope that wherever or however you use this table runner — on your desk, in your office, on your social media — that you would help us to highlight the artistic talents of Belizean indigenous Mayan women," Pitts said.
Pitts also acknowledged women in the audience for their contributions to families, communities, societies, nations and the world.
"We also thank you for participating in the acknowledgement and celebration of your sisters. For you know, when one of us makes it, all of us make it; when one of us is celebrated, all of us are celebrated," the ambassador said.
Vice Minister of Foreign Affairs Alexander Tah-ray Yui said at the ceremony that Taiwan is committed to working closely with Belize and other diplomatic allies to implement the "Assisting the Economic Empowerment of Women in Latin America and the Caribbean in the Post COVID-19 Era Project."
The initiative focuses on providing technical assistance, professional training and financial support to women who wish to start a business, Yui said.
"It is crucial that our nations keep working together toward a more equitable society, where all women have the opportunity to reach their full potential," Yui said.
Comments will be moderated. Keep comments relevant to the article. Remarks containing abusive and obscene language, personal attacks of any kind or promotion will be removed and the user banned. Final decision will be at the discretion of the Taipei Times.