Charges considered after 113-year-old house damaged
HISTORICAL VALUE: The residential compound had been tentatively declared a heritage site because of its age and distinctive architecture
The Taoyuan Cultural Affairs Bureau is considering charges against two men for allegedly destroying part of a 113-year-old house that was tentatively declared a historical heritage site, it said on Tuesday.
Bureau personnel and police were on Monday summoned to an old compound named Ran Li Ti Hung Lou (燃藜第紅樓) after receiving urgent reports from security contractors that a digger vehicle was knocking down part of the building, the bureau said.
Police recommended that the Taoyuan District Prosecutors' Office indict a part owner of the property surnamed Liu (劉) and a digger operator surnamed Wu (吳) on charges linked to vandalism and contravening the Cultural Heritage Preservation Act (文化資產保存法), it said.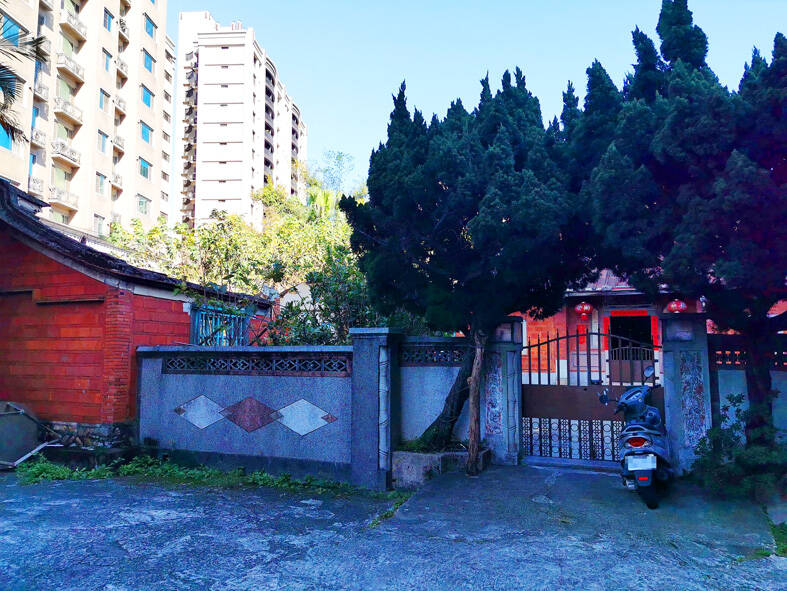 A 113-year-old compund in Taoyuan that was tentatively declared a historical heritage site is pictured on Tuesday.
Photo: CNA
The residential compound was on Feb. 17 tentatively declared a historical heritage site after local history groups asked that it be preserved, the bureau said.
The structure — built in 1910 by a local clan surnamed Liu — was deemed to be of potential historical value due to its age and distinctive architecture, it said.
The sanheyuan (三合院, traditional U-shaped courtyard home) compound was built using red bricks, and its arches and arcades were influenced by European styles, especially English mansions, the bureau said.
The bureau posted a notice of the compound's protected status in an official document, which identified the structure as being on lot No. 1468, it said, adding that an evaluation of the compound's historical value was to be conducted yesterday.
Liu apparently took the notice to mean that the part of the compound extruding into lot No. 1467 — which he felt impeded traffic — was not under protection and paid Wu to demolish it, aiming to replace it with asphalt, the bureau said.
One of the compound's two wings and a portion of the main hall were damaged during the demolition, it said.
An image taken by local media showed that about half of the site had been destroyed.
The bureau said that it has asked the Taoyuan Police Department to tape off the area surrounding the compound and increased security patrols to prevent further damage to the building.
Comments will be moderated. Keep comments relevant to the article. Remarks containing abusive and obscene language, personal attacks of any kind or promotion will be removed and the user banned. Final decision will be at the discretion of the Taipei Times.