Ex-colonel sentenced on spy charge
DISENFRANCHISED: Hsiang Te-en was handed a 7.5-year sentence and must return bribes, but could not be charged with treason because evidence was missing
The Kaohsiung District Court yesterday sentenced former army colonel Hsiang Te-en (向德恩) to seven-and-a-half years in jail and ordered him to repay NT$560,000 that he received in bribes from Chinese sources to work as a spy.
Hsiang in November last year was accused of signing a document of surrender with the Chinese Communist Party (CCP), posing with the document in military attire and pledging assistance, to the best of his abilities, in the event of an invasion.
Hsiang headed the Kaohsiung-based Army Infantry Training Command's Operations Research and Development Division.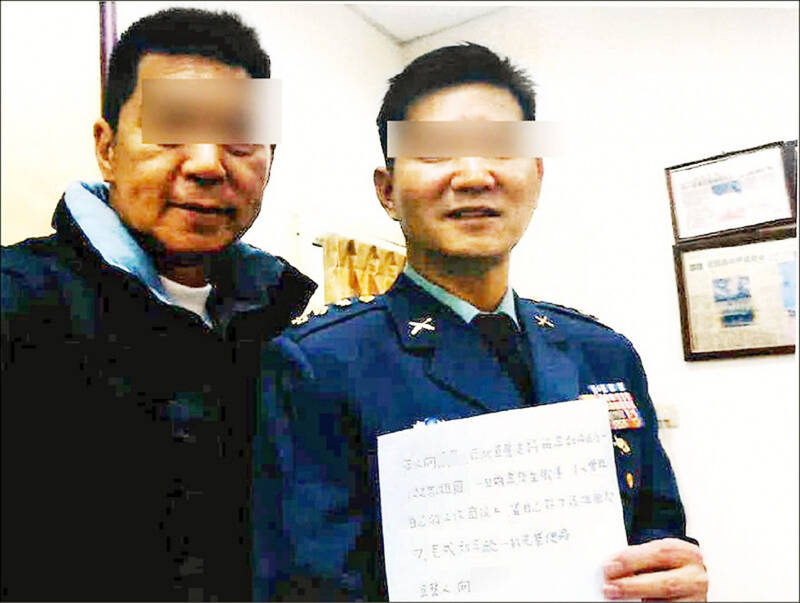 Army Colonel Hsiang Te-en, right, and retired lieutenant Shao Wei-chiang, whose faces have been obscured, are pictured in an undated photograph.
Photo: Copied by Huang Chia-lin, Taipei Times
According to the ruling, Hsiang, 49, was recruited by Shao Wei-chiang (邵維強) to work as a Chinese spy.
Hsiang received NT$40,000 a month from Shao, totaling NT$560,000 over 14 months, the court said.
Hsiang could not be charged with contravening Article 2 of the National Security Act (國家安全法) or treason under the Criminal Code, because evidence had been removed from the cellphones of those who were implicated, it said.
The ruling, which also includes disenfranchisement for four years, can be appealed.
Shao, the owner of a local travel agency, in 2005 learned that his firm employed a woman surnamed Yu (尤), whose then-husband, Hsiang, was in the military.
Shao began to make overtures to Hsiang, the ruling said.
Yu and Hsiang divorced in June 2018.
The ruling said that Shao treated Hsiang to banquets and gifts, and told him that he was a distant relative of late Chinese People's Liberation Army general Xiang Shouzhi (向守志).
In January 2020, Hsiang donned his military uniform and made a video, stating: "I, Hsiang Te-en, here do pledge that I support the peaceful unification of both sides of the [Taiwan] Strait. I will serve the motherland and the organization to the best of my abilities while remaining in my current position to ensure the holy and honorable mission of ushering in peaceful reunification as early as possible," the ruling said.
Shao has been charged with contravening the National Security Act and the Banking Act (銀行法), and with corruption under the Criminal Code.
Comments will be moderated. Keep comments relevant to the article. Remarks containing abusive and obscene language, personal attacks of any kind or promotion will be removed and the user banned. Final decision will be at the discretion of the Taipei Times.