KMT visit to China undermined official engagements, DPP caucus director says
A recent visit by Chinese Nationalist Party (KMT) officials to China has undermined official engagements by the government and sent the wrong message to the international community, the Democratic Progressive Party (DPP) caucus said yesterday.
"Any interactions between officials from both sides must uphold Taiwan's sovereignty, based on principles of mutual respect, and be held on an equal footing," DPP caucus director Cheng Yun-peng (鄭運鵬) said.
"Our party has always insisted on official contact and dialogue between the two governments," Cheng said.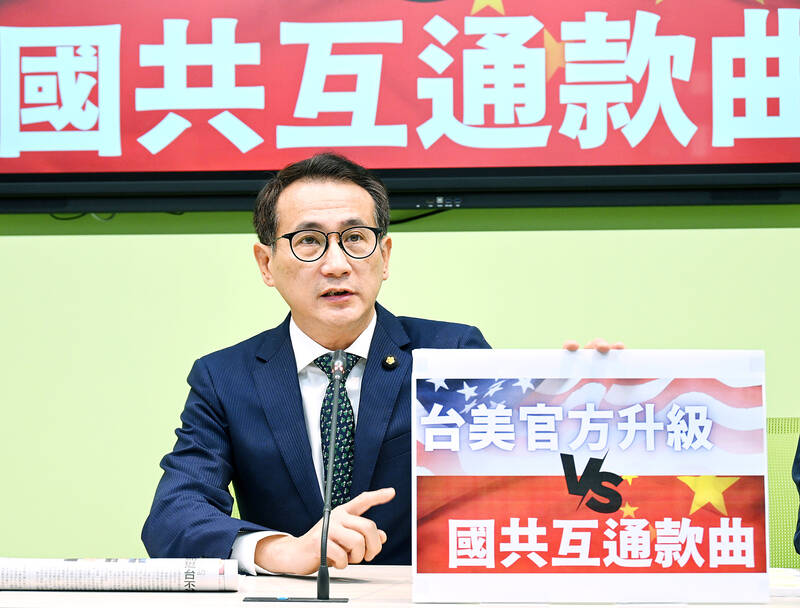 Democratic Progressive Party caucus director Cheng Yun-peng speak at a news conference in Taipei yesterday.
Photo: Fang Pin-chao, Taipei Times
"However, KMT officials insisted on maintaining interactions between their party and the Chinese Communist Party [CCP], due to the KMT's pro-China ideology and its special relationship with the CCP," he said.
"This sends the wrong message to the US and other countries that many Taiwanese want to be ruled by China," he said.
"During their talks, KMT officials did not dare to oppose Beijing's 'one China' principle, and instead sang the same tune with Chinese officials," Cheng said.
"When the KMT engages in interactions between political parties from both sides, it diminishes the elected government's operating space," he said.
The KMT is using the business interests of Taiwanese communities in China to put pressure on the government while holding talks with Beijing officials, Cheng said.
"This counters our democratic framework and electoral system. It is regrettable, because it goes against the interests of our nation and interferes with official engagements between the governments on both sides," he said.
Separately, Taiwan Statebuilding Party chairman Wang Hsing-huan (王興煥) said the KMT delegation claimed they had achieved concrete results, but the talks were held in private and were not transparent.
"What other concessions and deals were agreed upon during these secret talks?" Wang asked.
"China's concessions and goodwill to bolster trade are part of its 'united front' ploy, which aims to coerce Taiwanese into accepting Beijing's rule," he added.
Comments will be moderated. Keep comments relevant to the article. Remarks containing abusive and obscene language, personal attacks of any kind or promotion will be removed and the user banned. Final decision will be at the discretion of the Taipei Times.