Damaged cables shut off Matsu Internet
Internet service in Lienchiang County is to be slower than usual after damage was sustained to both undersea cables that connect with the outlying county, Chunghwa Telecom Co said on Wednesday.
A backup microwave transmission system has restored voice, national security and critical communications to normal, the telecom said.
However, mobile service, broadband and on-demand media would be slow due to the disruption, it added.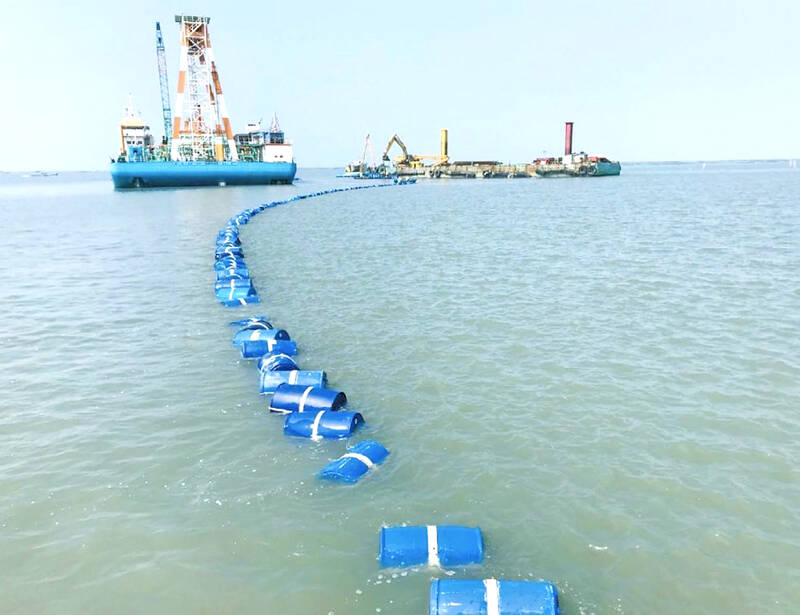 A construction boat pulls an underwater telecom cable to shore in 2018.
Photo courtesy of Chunghwa Telecom
An emergency request has been sent for an international cable repair vessel, although a timeline is unavailable, it said.
Network speeds would be slow county-wide, regardless of whether customers use Chunghwa or another telecom, National Communications Commission (NCC) spokesman Wong Po-tsung (翁柏宗) said.
The NCC has received a report from Chunghwa about the situation and has requested that it restore services as soon as possible, Wong said.
However, it would take some time for the repair ship to arrive, so service would remain slow for a while, he added.
The disruption comes after Chunghwa Telecom reported a break in its No. 2 undersea telecom cable connecting Taiwan proper with Lienchiang County on Thursday last week.
A break was reported in the sea about 52km from the generator on Dongyin Island (東引), the terminus of the cable connected to New Taipei City's Tamsui District (淡水), it said.
Service was automatically switched to the No. 3 cable, which runs from Taoyuan to Nangan Island (南竿), it said.
The No. 3 cable at 12:32pm on Wednesday was suspected to have been damaged by a freighter, downing both connections to the county, the telecom said.
These were not the only incidents in recent years. In 2021, a trawler damaged a telecom cable near the county.
Most of the incidents have occurred in the seas between Nangan and Juguang Township (莒光) due to fishing vessels and Chinese dredgers, Wong said.
However, this latest break happened between Lienchiang and Taiwan proper, he said, calling it unusual.
To prevent such disruptions, a fourth cable is in the works, with the second stage expected to be completed in 2025, Wong said.
The first cable is no longer in use.
Comments will be moderated. Keep comments relevant to the article. Remarks containing abusive and obscene language, personal attacks of any kind or promotion will be removed and the user banned. Final decision will be at the discretion of the Taipei Times.