Legislators call for new agency to guard personal data
Lawmakers yesterday called for the creation of an independent agency to protect personal data in the wake of a series of large-scale data leaks.
National Development Council Deputy Minister Kao Shien-quey (高仙桂) vowed to submit a report on preparations related to the issue within a month.
The council has already drawn up a framework based on international examples, but it requires careful debate as it involves labor and budget considerations, she said.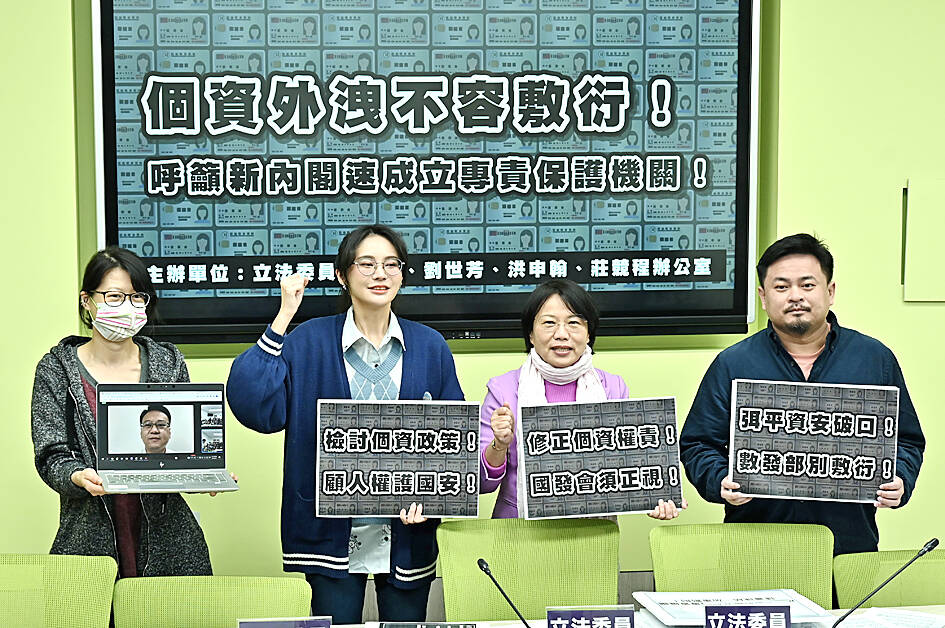 From second left, Democratic Progressive Party legislators Lai Pin-yu, Liu Shih-fang and Hung Sun-han, joined by Legislator Chuang Ching-cheng on screen, hold a news conference on data security at the Legislative Yuan in Taipei yesterday.
Photo: Hsieh Chun-lin, Taipei Times
The call comes after the operator of vehicle-sharing service iRent last week announced that the data of about 140,000 customers had been jeopardized over three months.
It also follows reports in the past few months of a China Airlines data leak, as well as leaks of National Health Insurance, intelligence and household registration data.
Democratic Progressive Party legislators yesterday held another in a series of news conferences at the Legislative Yuan urging immediate action on the issue.
The greatest problem is the dispersal of responsibility under the Personal Data Protection Act (個人資料保護法), Legislator Lai Pin-yu (賴品妤) said.
With different agencies responsible for supervising different aspects of data security, they have ended up "passing the buck," Lai said.
The government should create an independent unit responsible for protecting data security, rather than treating each case independently, she said.
Laws governing data security clearly need revision, she said, adding that the council should consult other countries' laws and investigate the necessity of data collection by companies for research.
Legislator Liu Shih-fang (劉世芳) said data leaks were a "hotbed" for fraud.
From 2021 to last year, reports of fraud stemming from online bookstores rose four-fold from 940 to 3,773, Liu said, citing Criminal Investigation Bureau data.
Investment and installment payment fraud also rose 17.84 percent in the first 10 months of last year, she said.
As private companies are not included in the Cyber Security Management Act (資通安全管理法), most are handled using the personal data act, which designates authorities that are unable to effectively supervise cybersecurity or respond after a breach, Liu said.
The Constitutional Court last year ordered the government to improve data security within three years, saying it "might be unconstitutional" to lack an independent oversight mechanism, Legislator Hung Shen-han (洪申翰) said.
However, there have been no amendments or timelines proposed since the order was issued in August, he said.
No one has assumed responsibility, nor has anyone been notified by a government agency when their data has been leaked, he added.
Issuing fines after the fact is not enough, Legislator Chuang Ching-cheng (莊競程) said over a video call.
The personal data act instructs businesses to inform affected people directly in the event of a leak to minimize its effect, but most users have no way of knowing if their data has been compromised, he said.
Comments will be moderated. Keep comments relevant to the article. Remarks containing abusive and obscene language, personal attacks of any kind or promotion will be removed and the user banned. Final decision will be at the discretion of the Taipei Times.