Shoot spy balloons, DPP's Cheng says
REAL CONCERN: High-altitude surveillance balloons are able to detect and collect atmospheric data related to artillery, 'Defense International' magazine's director said
Any Chinese "spy" balloon flying through Taiwan's airspace should be taken down, Democratic Progressive Party caucus director Cheng Yun-peng (鄭運鵬) said yesterday.
A US fighter jet on Saturday shot down a suspected Chinese surveillance balloon using an AIM-9X Sidewinder missile after it was detected flying over the US on Thursday.
While China said the balloon ended up in the US' airspace after being blown off course, the world believes that is unlikely, as China is capable of maneuvering balloon satellites, Cheng said.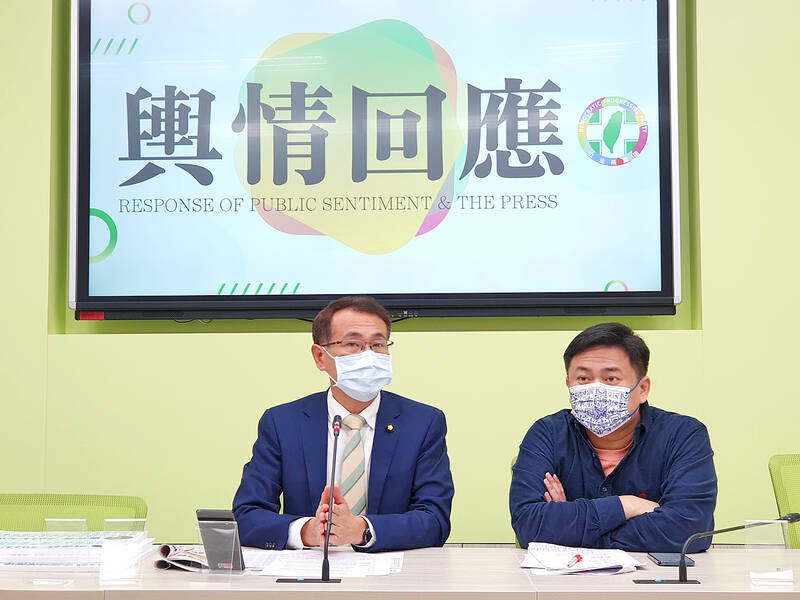 Democratic Progressive Party caucus director Cheng Yun-peng, left, and deputy caucus director Hung Sun-han hold a news conference at the Legislative Yuan in Taipei yesterday.
Photo: Hsieh Chun-lin, Taipei Times
The balloon demonstrates China's expansionist ambitions, he said.
Instead of using balloons, China has been openly carrying out actual threats against Taiwan that involve military aircraft, naval vessels and even missiles, Cheng said.
Some pro-unification advocates in Taiwan considered the incident an opportunity for Taiwan to show friendliness to China, which was "a terrible insult to Taiwan," he said.
Their view also sent the wrong signal regarding Taiwan's international status and sovereignty, and could undermine the international community's respect for the nation, Cheng said.
China's ambition to invade Taiwan is more serious than sending in a balloon, he said.
"If a Chinese spy balloon drifted into Taiwan's territory, I would say it should be shot down," Cheng said, adding that shooting down the device would not be an act of provocation, as "it should not be there in the first place."
He called on all political parties to take a united stand on the matter to defend Taiwan's sovereignty, dignity, democratic system, economic development and way of life.
Separately, Institute of National Defense and Security Research director Su Tzu-yun (蘇紫雲) and Defence International magazine director Chen Kuo-ming (陳國銘) on Sunday said that high-altitude surveillance balloons can detect and collect atmospheric data related to artillery.
The US waited until the balloon flew to the open sea before shooting it down to ensure the safety of the people on the ground, which is worth learning from, they said.
However, whether using missiles to shoot down a balloon is cost-effective requires further deliberation, they said.
The Ministry of National Defense said that a Chinese meteorological balloon passed over northern and central Taiwan shortly after the Lunar New Year holiday in February last year, adding that it did not shoot it down, but had at the time closely monitored it.
The military monitors all aerial devices, including balloons, around Taiwan and would react accordingly, it said.
Comments will be moderated. Keep comments relevant to the article. Remarks containing abusive and obscene language, personal attacks of any kind or promotion will be removed and the user banned. Final decision will be at the discretion of the Taipei Times.