Health ministry censured over resource allocation
The Control Yuan has censured the Ministry of Health and Welfare for failing to allocate sufficient resources toward helping children with developmental disorders.
Despite a significant rise in the number of children diagnosed with developmental disorders in the past few years, the ministry has yet to recognize the severity of the situation, a Control Yuan report released last month showed.
The number of children with cognitive or emotional disorders has grown to account for 7 percent of the physically and mentally challenged population, it said.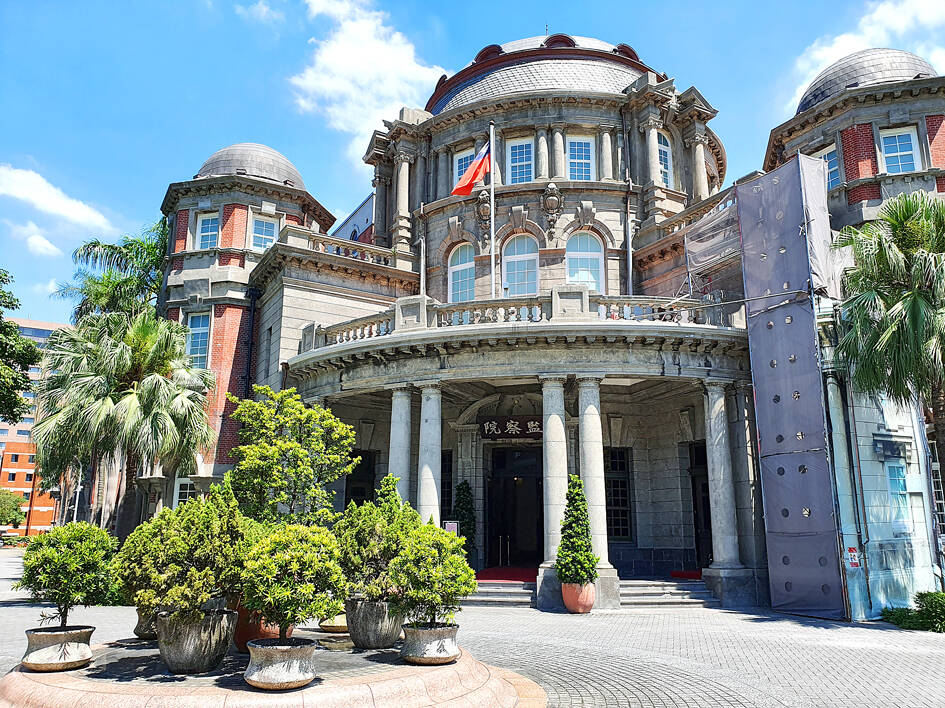 The entrance to the Control Yuan in Taipei is pictured in an undated photograph.
Photo: Hsieh Chun-lin, Taipei Times
IGNORED
Nevertheless, the ministry has not conducted a study on the matter nor sought to improve its processes after a previous corrective measure issued by the Control Yuan in 2018, it said.
The ministry's efforts to integrate people with physical disabilities into community service networks over the past few years have not considered the needs of those with emotional disorders, the report said.
OBSTACLES
Some programs have made it more complicated for people with developmental disorders, with some people with emotional disabilities being rejected by service agencies, it said.
People with emotional disorders often find it difficult to express themselves verbally, and their anxiety and frustration sometimes leads to panic attacks, lashing out at others or committing self-harm, it said.
They need better support, but institutional or community support programs are lacking, and often make it difficult for a family's designated caretaker to leave the home, the report said.
TOO SMALL
Ministry projects seeking to help those with emotional disorders are too small in scale, functioning more like projects that are in a trial phase rather than full-fledged programs, it said, adding that the programs lack planning, have little to no inter-project transition and require stable funding.
These shortcomings make it even more difficult for the projects to retain experienced personnel, it said.
The report says that the Executive Yuan should assess the programs' efficacy, and provide long-term and stable funding while ensuring that the ministry is improving the projects.
It also called on the Ministry of Education and the Ministry of Labor to help train professionals for Ministry of Health and Welfare programs.
Control Yuan members Wang Yu-ling (王幼玲), Yeh Ta-hua (葉大華), Su Li-chiung (蘇麗瓊) and Wang Mei-yu (王美玉) wrote the report.
Comments will be moderated. Keep comments relevant to the article. Remarks containing abusive and obscene language, personal attacks of any kind or promotion will be removed and the user banned. Final decision will be at the discretion of the Taipei Times.