Unblock Tech executive charged over copyright
Prosecutors last week charged the head of set-top box provider Unblock Tech (安博科技) for copyright contraventions involving 72 companies, including cable TV content providers Videoland and GTV.
New Taipei City prosecutors said in a statement on Saturday that the executive, surnamed Huang (黃), allegedly worked with Chinese entities to steal and replicate content from 72 companies, and upload it to Web sites with servers overseas.
That content was then made accessible to Unblock Tech customers through the company's boxes.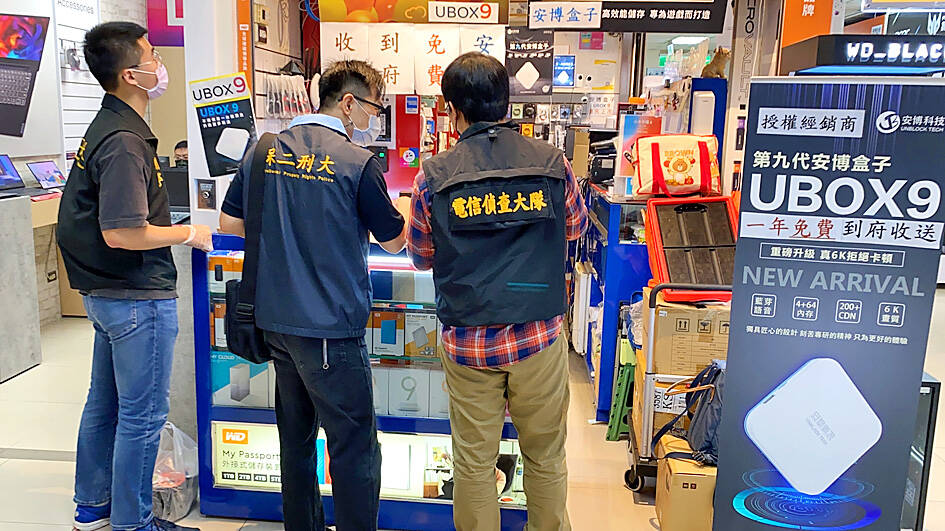 Police officers inspect a shop advertising Unblock Tech set-top boxes in Taipei on Dec. 20, 2021.
Photo: Yao Yueh-hung, Taipei Times
The case drew considerable attention after TV host Blackie Chen (陳建州) was accused of using Unblock Tech's services.
A probe of the allegations led to raids at three data centers and 18 other sites in New Taipei City, Taoyuan and Changhua County in October and November 2021, prosecutors said.
Eleven people were questioned and listed as suspects or witnesses, they said.
To ensure that Unblock Tech does not continue to offer its services, prosecutors said they obtained an order from the New Taipei City District Court to seize the stolen content.
Fifty-seven Web sites and IP addresses in the US had been used by Unblock Tech to distribute the content, they said.
The Ministry of Justice had asked the US Department of Justice for assistance in obtaining the IP addresses and documents pertaining to the case, they said.
Police found that Unblock Tech boxes were distributed by Pro-Media Source Technology Co (圓陽科技), headed by a man surnamed Chen (陳), through its shop at Guanghua Digital Plaza in Taipei, which had two employees, surnamed Cheng (鄭) and Lai (賴), prosecutors said.
Lai confessed to the copyright contraventions, but Huang, Chen and Cheng denied any wrongdoing and declined to provide their smartphone passwords for prosecutors to get more information, they added.
The three were also charged, prosecutors said, adding that they had asked the court to hand down heavier punishments for Huang, Chen and Cheng, as they did not cooperate with the investigation.
Comments will be moderated. Keep comments relevant to the article. Remarks containing abusive and obscene language, personal attacks of any kind or promotion will be removed and the user banned. Final decision will be at the discretion of the Taipei Times.