Female local government leadership hits all-time high
The number of female local government heads in Taiwan reached an all-time high of 56.3 percent after the winners took office following last year's local elections, while the number of women with Cabinet positions increased by nearly 10 percent, the Cabinet said on Wednesday.
The ratio of female mayors and county commissioners increased by 18.8 percentage points with last year's election results, the Cabinet said in a statement.
Women make up more than one-third of the seats on city and county councils nationwide, while the percentages of female judges and Control Yuan members have both topped 40 percent, it said.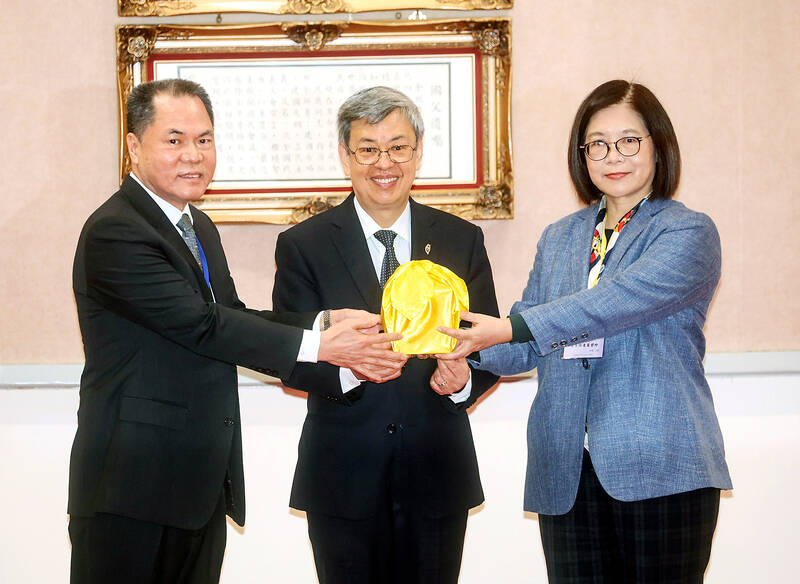 Ocean Affairs Council Minister Kuan Bi-ling, right, receives the seal of her office from Ocean Affairs Council Deputy Minister Chou Mei-wu, left, in a ceremony presided over by Premier Chen Chien-jen, center, in Taipei on Tuesday.
Photo: CNA
The percentage of female legislators reached an all-time high of 42.5 percent in January last year following a by-election that month, it said, citing its Gender at a Glance report, which the Cabinet released on Tuesday.
The number of women in the new Cabinet, which was sworn in the same day, is just under 16 percent, up from 7.3 percent in the previous Cabinet of former premier Su Tseng-chang (蘇貞昌), the report said.
Despite being elected as Taiwan's first female president in 2016, Tsai Ing-wen (蔡英文) has faced criticism for the number of women who have held top government roles in her seven years in office.
Female leadership has also improved significantly in the private sector, the Cabinet said.
About 586,000 small and medium-sized enterprises were led by women in 2021, an increase of 112,000, or about 20 percent, from 2012, it said.
However, there was a lot of room for improvement at listed and over-the-counter stock market companies, where only 2,738, or 14.9 percent, of directors were female in 2021, it said.
The difference in average income for male and female workers in 2021 was 15.8 percent, with male workers on average paid NT$46,056 per month while female workers received NT$40,030 per month, it said.
The gap increased by 1 percent in 2020, which the report said was because men received bigger raises.
The labor force participation rate for women aged 15 or older was 51.5 percent in 2021 compared with 66.9 percent for men, the report said, adding that 25-29 was the top age group for women, with a participation rate of 89.9 percent.
The 15.4 percentage point difference in labor force participation was an improvement from 16.7 percentage points in 2011, it said.
However, fewer women in Taiwan joined the workforce in 2021 compared with Japan (53.5 percent) and South Korea (53.3 percent), it said.
The report said that 43.1 percent of women who obtained a higher-education degree in 2019 specialized in science, math or statistics, while 18.9 percent worked in construction, manufacturing or engineering, up 0.8 and 0.5 percentage points respectively from 2018.
The report also tracked the number of female researchers in 2020, with the rate rising 1.4 percentage points from 2011 to 22.9 percent.
There were 7,787 reports of sexual assault or harassment against women in 2021, down 1,425 from 2020, while reports of minors facing sexual exploitation on the Internet rose to 1,395 from 1,239 in 2020 and 795 in 2019, the report said.
Using the same metrics as the UN Development Programme's Gender Inequality Index, which measures gender inequality based on reproductive health, empowerment and the labor market — but does not include Taiwan — the nation's score would have been 0.036, which would have placed it first in Asia and seventh among 170 countries ranked in terms of efforts to eliminate gender inequality, the Cabinet said.
Comments will be moderated. Keep comments relevant to the article. Remarks containing abusive and obscene language, personal attacks of any kind or promotion will be removed and the user banned. Final decision will be at the discretion of the Taipei Times.