Advocacy group accuses Shopee of Chinese infiltration
An advocacy group has urged the government to crack down on Shopee Taiwan Co Ltd (樂購蝦皮), as the subsidiary of Singapore-based Sea Ltd (冬海集團) allegedly enables Chinese entities to gather information on Taiwanese users.
The Economic Democracy Union said that the new Cabinet, which took office on Tuesday, should take action, after the Financial Supervisory Commission (FSC) under its chairman, Huang Tien-mu (黃天牧), allegedly broke its promise to scrutinize platforms accused of being covertly run by Chinese entities and draft stricter regulations to rein in practices that benefit China.
Union researcher Ou Hsu-shao (歐栩韶) said the Shopee Taiwan owner is backed by Chinese capital, with Tencent Holdings (騰訊) holding a 39.7 percent stake in it when the local subsidiary was registered in 2015.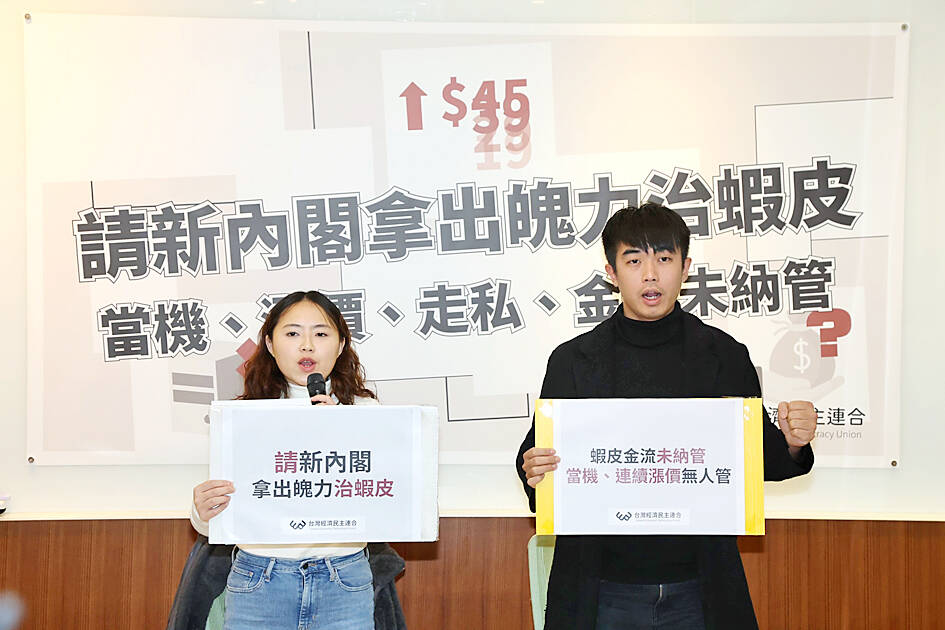 Economic Democracy Union members hold up placards during a news conference in Taipei yesterday.
Photo: CNA
It had as of last year reduced its stake to 18.7 percent, but the number of incidents that suggest that the platform does not adhere to the necessary data security standards remains high, Ou told a briefing at the legislature.
"Shopee had three serious network shutdowns last year, in which registration data of Taiwanese sellers and customers were compromised," Ou said, adding that the explanations given by company executives were not convincing.
"They did not present plans to compensate people whose data were compromised, and the FSC did nothing about it," Ou said.
A network failure at Cathay United Bank in October last year prompted the FSC to fine it NT$12 million (US$404,040 at the current exchange rate), and the watchdog should have imposed a similar penalty on Shopee, Ou said.
"The FSC does not regulate capital flows at Shopee, as it is operating without an electronic payments license," Ou said. "Taiwan's outdated financial regulations do not cover such e-commerce business activities."
Ou said Huang had promised to take action, "but near the end of last year, the FSC chairman said the process would take until June," Ou said.
The researcher also accused the e-commerce platform of seeking to drive competitors out of the market.
"Shopee Taiwan initially offered free delivery for all orders. After that led to many people signing up, it raised its delivery rates, including six times last year," Ou said, adding that such practices contravene the Fair Trade Act (公平交易法).
The Economic Democracy Union has received many reports of Chinese entities selling the registration information of Taiwanese users, Ou said.
"Our investigation showed increased fund flows between accounts in Taiwan and China," union member Chen Ku-hsiung (陳估熊) said.
Such activities might be used for regular money transfers between Taiwan and China that are outside the purview of the government, Chen said, adding that illicit political donations and vote-buying in next year's presidential and legislative elections could be processed via Shopee.
Contraband articles offered by Chinese sellers are increasingly promoted on Shopee Taiwan, Chen said, adding that importing such goods would contravene the law.
There are health concerns regarding food items, including peanuts, fruits and seafood, offered by Chinese sellers, Chen said.
"Shopee is engaged in illegally importing Chinese goods, but the government is doing nothing about it," Chen said.
Deputy Premier Cheng Wen-tsan (鄭文燦), who is convener of the Consumer Protection Committee, should make dealing with consumer rights contraventions at Shopee a priority, Chen said.
Ou said that the new Cabinet should scrutinize electronic payments at Shopee.
"If the practices continue and the government does not take action, they could lead to a financial crisis and social turmoil," Ou said. "The funds of Taiwanese users might become unavailable to them."
Comments will be moderated. Keep comments relevant to the article. Remarks containing abusive and obscene language, personal attacks of any kind or promotion will be removed and the user banned. Final decision will be at the discretion of the Taipei Times.