Joseph Wu welcomes planned visit by Czech speaker
Minister of Foreign Affairs Joseph Wu (吳釗燮) on Wednesday welcomed a planned visit by Czech Chamber of Deputies Speaker Marketa Pekarova Adamova to Taiwan next month.
Wu and Adamova spoke by teleconference for about 20 minutes, during which they talked about recent developments in the Taiwan-Czech relationship, the Ministry of Foreign Affairs said.
They also discussed areas of potential cooperation, as well as Adamova's scheduled trip, the ministry said.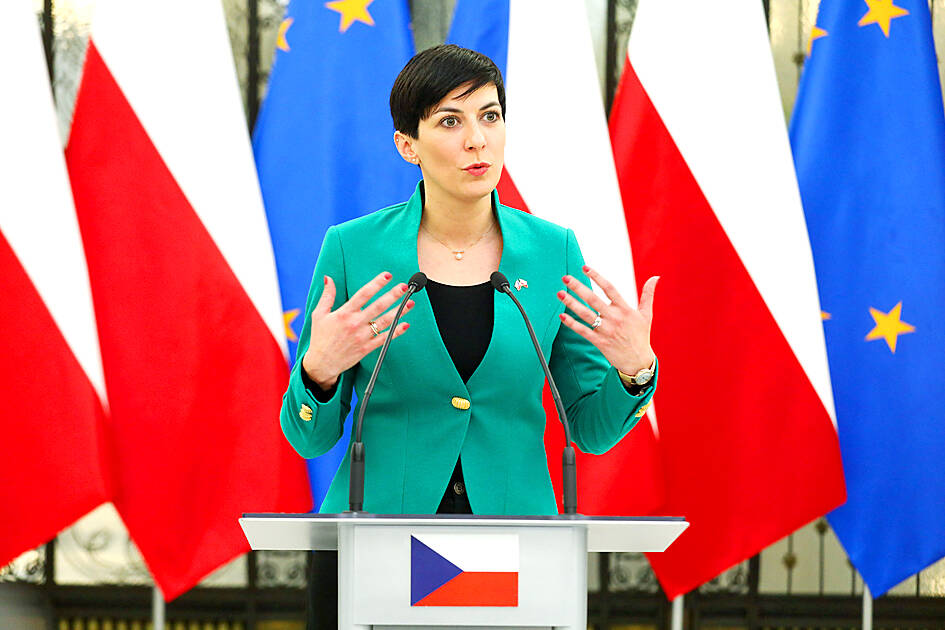 Czech Chamber of Deputies Speaker Marketa Pekarova Adamova attends a news conference at the Polish parliament in Warsaw on Nov. 8 last year.
Photo: EPA-EFE
Wu thanked the Czech Republic for helping deliver aid donated by Taiwan to Ukraine amid the Russian invasion.
Adamova said she is looking forward to her visit.
She later wrote on Twitter: "We talked about my planned trip to Asia when I will visit South Korea and Taiwan."
"Taiwan is an important partner and investor in the field of high-tech — a great opportunity for even deeper economic cooperation," she wrote.
Adamova announced her planned trip in a Twitter post on Monday, while praising Czech president-elect Petr Pavel for speaking on the telephone with President Tsai Ing-wen (蔡英文) earlier that day, which is unusual for the leader of a country that has no official ties with Taiwan.
Leaders of countries that recognize Beijing instead of Taipei usually avoid having direct contact with Taiwanese presidents to avoid provoking China.
"It is important to support partners who respect human rights and respect democracy," she wrote.
Tsai during the call congratulated Pavel, a retired general and former chairman of the NATO Military Committee, on his landslide victory against former Czech prime minister Andrej Babis.
Pavel is to replace Czech President Milos Zeman next month.
Neither Adamova nor the ministry gave an exact date for her visit.
However, the Czech-Taiwanese Business Chamber in an online statement that said she is scheduled to carry out official engagements in Taipei from March 27 to 29 along with business representatives from the Czech Republic.
The delegation would then travel to South Korea before returning to Prague on April 1, according to the tentative itinerary available on the business chamber's Web site.
Comments will be moderated. Keep comments relevant to the article. Remarks containing abusive and obscene language, personal attacks of any kind or promotion will be removed and the user banned. Final decision will be at the discretion of the Taipei Times.