Xi aware that HK treatment eroded Taiwan goal: report
Chinese President Xi Jinping (習近平) is aware that Beijing's treatment of Hong Kong has weakened any possible sentiment for a "one country, two systems" arrangement for Taiwan, and has instructed Chinese Communist Party (CCP) politburo member Wang Huning (王滬寧) to develop new ways of defining cross-strait relations, Japanese news magazine Nikkei Asia reported on Thursday.
A former professor of international politics at Fu Dan University, Wang is expected to develop a dialogue that could serve as the foundation for cross-strait unification, and Xi plans to use the framework to support a fourth term as president, Nikkei Asia quoted an anonymous source as saying.
Wang is thought to be the principal force behind the CCP's messaging campaigns. He has been credited with developing former Chinese leader Jiang Zemin's (江澤民) guiding sociopolitical programs while he was CCP general secretary, and is said to have crafted former Chinese president Hu Jintao's (胡錦濤) scientific development policies before designing and executing many of Xi's social ideals.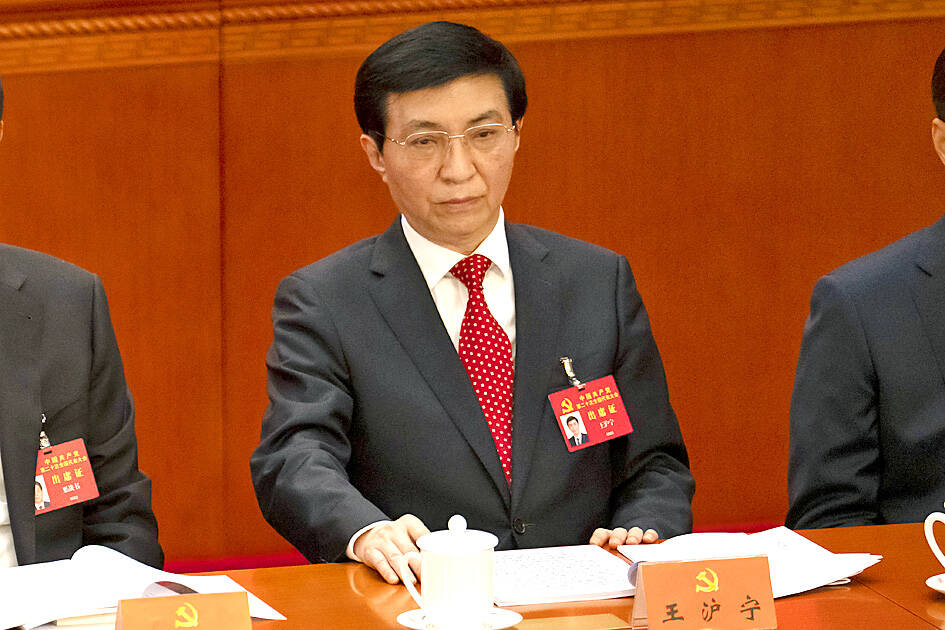 Chinese politburo member Wang Huning attends the 20th National Congress of the Chinese Communist Party in Beijing on Oct. 16 last year.
Photo: AP
The "one country, two systems" formula that granted a degree of autonomy to the Hong Kong Special Administrative Region was first developed by the former Chinese leader Deng Xiaoping (鄧小平), and it was believed to be the CCP's intention to use Hong Kong's framework as a template for a peaceful unification with Taiwan.
The CCP's leaders are aware that China's increasingly tough stance with Hong Kong has become a powerful argument for Taiwanese to demonstrate that the system would be unworkable in Taiwan, the report said.
However, Xi feels at liberty to break from Deng's policy to develop his own peaceful unification framework, it said.
The report quoted a source familiar with CCP internal affairs as saying that an armed invasion of Taiwan is not being considered by Beijing, and is focused on plans to unify Taiwan diplomatically.
Success of the new concept would be gauged before Beijing considered military options, the source said.
Cross-strait tensions that have been heightened since August last year make it difficult to determine when Beijing might finish developing its new framework, the source added.
Comments will be moderated. Keep comments relevant to the article. Remarks containing abusive and obscene language, personal attacks of any kind or promotion will be removed and the user banned. Final decision will be at the discretion of the Taipei Times.