Book exhibition promotes global exchange, net zero
The six-day Taipei International Book Exhibition starts today, featuring Polish authors as the guests of honor, while promoting reading and the pursuit of net zero emissions.
The exhibition is the most energetic and creative platform in the Chinese-speaking world for readers, authors and publishers to exchange ideas, Vice Minister of Culture Lee Lien-chuan (李連權) told a pre-exhibition news conference in Taipei yesterday.
He welcomed Polish authors, illustrators and publishers to the exhibition, including best-selling author of The Witcher series Andrzej Sapkowski.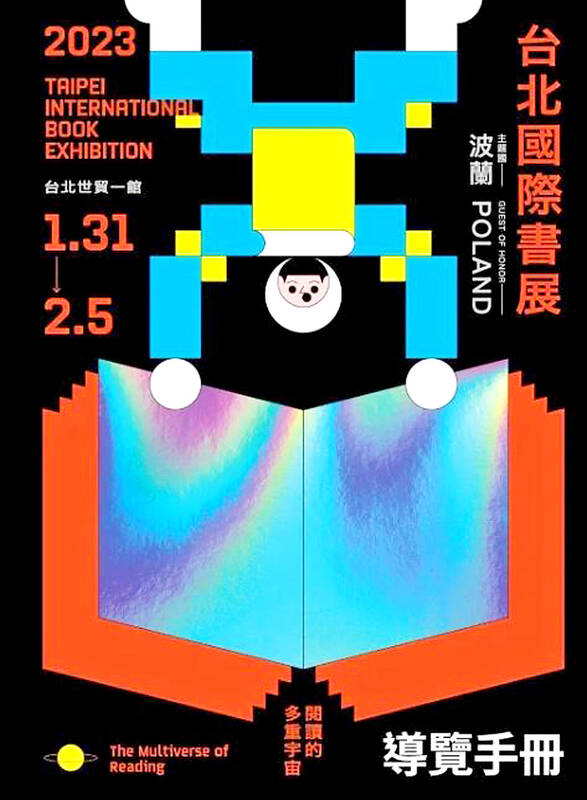 The Taipei International Book Exhibition guidebook cover is pictured yesterday.
Photo: Screen grab from the Web site of the Taipei International Book Exhibition
To suit the exhibition's goal of net zero emissions, visitors can enter the venue by paying with EasyCard, iPass and iCash electronic payment cards, as there would be no ticket booth, the event organizers said, adding that digital signs have been set up around the venues to provide information such as the venue map, event schedules and guest speakers.
Many pavilions have been built with environmentally friendly materials. For example, the Belgian Pavilion was built out of recyclable bamboo, and no posters have been used in the Polish Pavilion, they said.
Inspired by Polish traditional folk art, the Polish Pavilion has a red theme and is decorated with laser-engraved patterns to create a local atmosphere, they said.
Polish YouTuber Mila and her Taiwanese partner, Sky, who run the YouTube channel meetworldhome, flew to Poland to promote the exhibition and are scheduled to participate in Poland Night on Saturday to introduce Polish cuisine, they said.
The exhibition's first-time participant, Italy, has arranged forums and events to celebrate the centenary of the birth of Italian author Italo Calvino, they added.
The Bologna Children's Book Fair curates the "exhibition without written words" to break down language barriers with a display of 50 picture books to stimulate readers' imagination, they said.
In the literature section, publishers and editors are to provide behind-the-scenes insight into the publishing industry, from proposing ideas and creating works to printing, publishing and marketing, they said.
Visitors can download the official application of the exhibition to find out about domestic and international authors participating in the exhibition, as well as more than 240 events through Sunday next week, Taipei Book Fair Foundation chairman Isabella Wu (吳韻儀) said.
Comments will be moderated. Keep comments relevant to the article. Remarks containing abusive and obscene language, personal attacks of any kind or promotion will be removed and the user banned. Final decision will be at the discretion of the Taipei Times.