Breakup date a lucky number for lotto winner
LUCKY DATE: The man picked the 10th 'Super Red Envelope' in a lottery store in Taoyuan's Jhongli because he broke up with his girlfriend on Jan. 10
A man who recently broke up with his girlfriend won a NT$1 million (US$32,929) prize in the "NT$20 million Super Red Envelope" lottery after picking a card based on the date of their breakup, Taiwan Lottery Co said yesterday.
The man, in his 20s, bought the 10th ticket at a lottery store in Taoyuan's Jhongli District (中壢), because he broke up with his girlfriend on Jan. 10, the store owner told the lottery company.
The "Super Red Envelope" lottery was a limited offering by the company during the Lunar New Year holiday, which ended yesterday.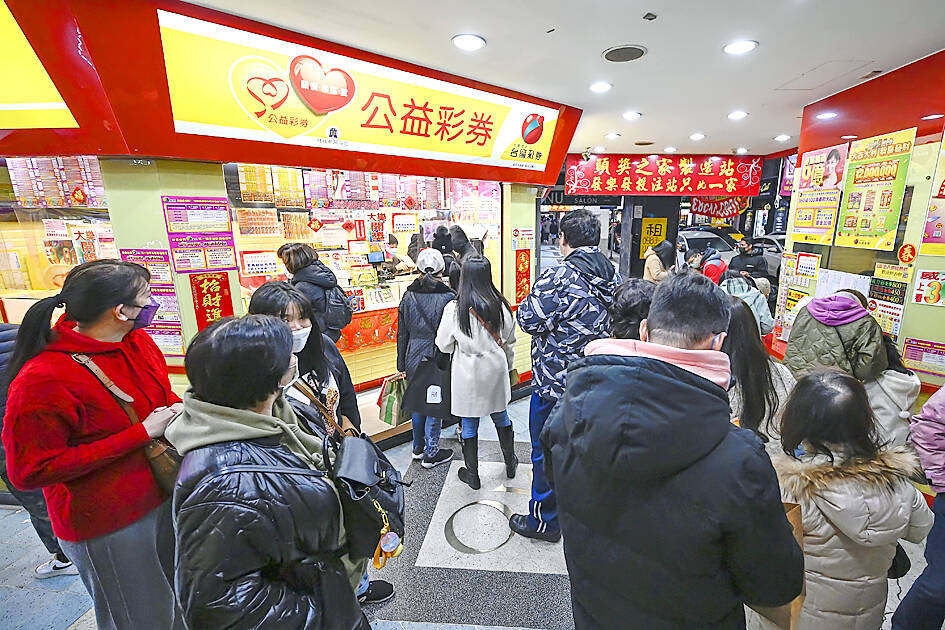 People wait in line at a lottery shop in Taipei yesterday.
Photo: Chen Chih-chu, Taipei Times
The cards, which cost NT$2,000 each, came with seven top prizes of NT$20 million, 10 second prizes of NT$2 million plus a Mercedes Benz sports utility vehicle and 850 third prizes of NT$1 million each.
A man in his 30s won NT$1 million after pooling money with three of his friends to buy a card at a lottery store in Taipei's Zhongzheng District (中正).
The man volunteered to pick the lottery ticket, because he was born in the Year of the Rabbit, the company said.
A 35-year-old woman in Taichung's Daya District (大雅) who also pooled money with her friends to buy a scratch card, won NT$1 million, the company added.
The woman suggested buying the card from a lottery store that had previously sold a NT$1 million-winning ticket.
After winning the prize, she said that "the God of Wealth had not gone far," Taiwan Lottery Co said.
A man in his 40s won NT$1 million in New Taipei City's Shulin District (樹林) after his son insisted that they buy a scratch card as they waited for a bus that was running late.
The store owner said the child was nagging his father to buy a scratch card because he was bored waiting for the bus.
Upon seeing that the had won the prize, the father went from frustrated to ecstatic, and said that it was fate that their bus was delayed and his son insisted on a specific ticket, the shop owner said.
The scratch card was part of the "NT$12 million Prosperity" game, Taiwan Lottery said.
There are six NT$12 million-winning cards in the set, along with 175 NT$1 million cards, one of which was won by the father and son, it said, adding that as of Saturday, none of the six NT$12 million prizes had been claimed.
Comments will be moderated. Keep comments relevant to the article. Remarks containing abusive and obscene language, personal attacks of any kind or promotion will be removed and the user banned. Final decision will be at the discretion of the Taipei Times.