Ko to visit US for TPP, head think tank
SPRING VISIT: The former Taipei mayor is to spend time visiting defense industry and lawmakers to help the TPP prepare for the 2024 election, a party official said
Taiwan People's Party (TPP) Chairman Ko Wen-je (柯文哲) is planning a trip to the US in the spring after retiring from National Taiwan University Hospital on Feb. 1, TPP Secretary-General Tom Chou (周台竹) said on Thursday.
The trip would not be short, but would finish within four weeks, he said.
While in the US, Ko plans to visit government offices, legislators and think tanks, and meet with people in the defense industry, Chou said.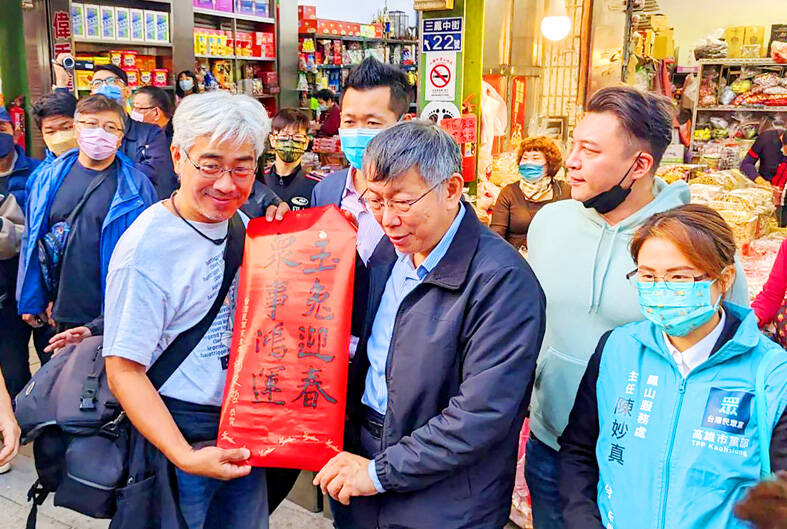 Taiwan People's Party Chairman Ko Wen-je, center, hands out spring couplets in Kaohsiung on Tuesday.
Photo: CNA
Ko hopes to express to his hosts that Taiwan has limited funds to purchase military equipment and would buy only what is suitable for its defensive needs, Chou said.
The former Taipei mayor also plans to visit the US Congress to thank Taiwan-friendly lawmakers for their support, he added.
The plan is part of a new push by Ko and the TPP to prepare the party for next year's presidential election.
Ko has submitted his retirement notice to National Taiwan University Hospital, and reportedly plans to open a personal office after the Lunar New Year holiday.
Chou, who has more than 30 years of diplomatic experience, was appointed as the party's new secretary-general on Jan. 3, and has been tasked with formulating its diplomatic and cross-strait policies.
The TPP on Jan. 8 also established the affiliated Taiwan New Homeland Think Tank Association, as well as an internal policy think tank to establish policy suggestions on foreign, defense and internal administration affairs.
Former Taiwan Solidarity Union chairman Shu Chin-chiang (蘇進強), who was expelled over a 2014 visit to China, was tapped as CEO of the New Homeland association.
The think tank is to present a "third force" in Taiwanese politics during the election by consolidating views from different parties and experts, Shu said.
The proposals put forward by the think tank are to reflect major national policies and issues of concern to the people, he said.
Shu said he advised Ko to extend his sights beyond Taipei and consider what is feasible to create a strategy for Taiwan's development.
Ko is to serve as chairman of the New Homeland think tank, with TPP Legislator Jang Chyi-lu (張其祿) and former party secretary-general Hsieh Li-kung (謝立功) serving as vice chairmen.
The think tank includes many former heads of departments under the Taipei City Government and members of other political parties, Hsieh said.
The scope of policies covered would therefore be larger than internal party think tanks, he said, adding that he hopes it provides advice for the 2024 election and on national development.
Comments will be moderated. Keep comments relevant to the article. Remarks containing abusive and obscene language, personal attacks of any kind or promotion will be removed and the user banned. Final decision will be at the discretion of the Taipei Times.