Taiwan Lottery to add NT$900 million in prizes
To celebrate the upcoming Year of the Rabbit and boost sales, Taiwan Lottery Co is to add NT$900 million (US$29.6 million) in prize money to the jackpots of several lotteries.
Taiwan Lottery board member and company spokesperson Huang Chih-yi (黃志宜) and actress Vivian Sung (宋芸樺), who has appeared in television advertisements promoting the Lunar New Year holiday sales campaign, introduced the increased prize money at a news conference on Thursday.
The amount available would be the highest in six years, with major lotteries such as the Lotto 6/49, the Super Lotto and BINGO BINGO boasting much larger jackpots, Huang said.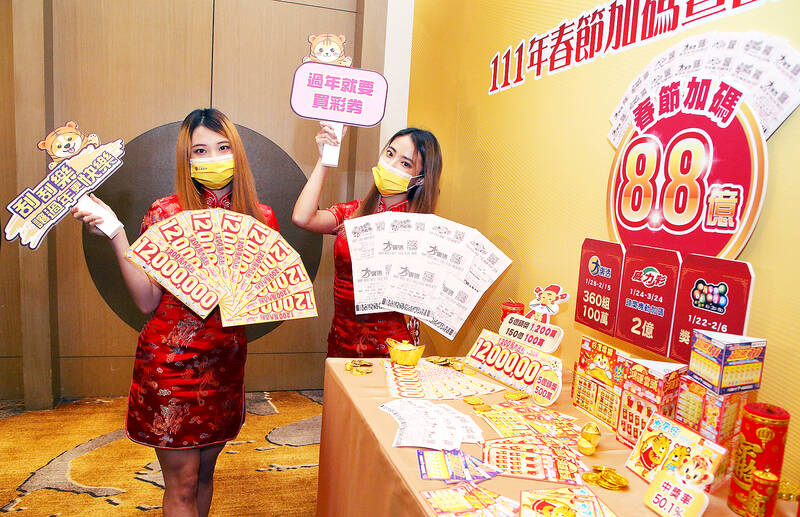 Women hold up signs for a Taiwan Lottery scratch ticket promotion for the Lunar New Year on Jan. 11 last year.
Photo: CNA
The additional prize money for Lotto 6/49, which is the most popular lottery run by Taiwan Lottery, would be distributed in two parts according to the standard practice, Huang said.
The first part would be through a daily draw held by Lotto 6/49 for 17 consecutive days from Friday next week to Feb. 5, the longest period of daily draws in the lottery's history, surpassing the 15 daily draws held over the 2021 Lunar New Year.
The Lotto 6/49, which requires ticket buyers to pick the correct six numbers from a total of 49 numbers to win the top prize, is usually held every Tuesday and Friday.
The second part would be through special 360 draws held from Friday next week to Feb. 5, Huang said.
For the special draws, buyers pick six numbers, and nine winning numbers would be drawn, Huang said, adding that those who have any six of the nine winning numbers would win NT$1 million or share the prize money with other buyers who also have six winning numbers.
As for the Super Lotto, ticket holders must have six winning numbers drawn from 38 numbers in the first set, and one winning number out of eight numbers in a second set to win the top prize, he said.
If the accumulated lottery jackpot for the top prize falls below NT$300 million, Taiwan Lottery would add NT$200 million to the jackpot from Monday next week to March 16, Huang said.
Taiwan Lottery would also add prize money for BINGO BINGO, in which lottery ticket buyers bet on a big or a small number, an odd number or an even number in the tickets, Huang added.
Taiwan Lottery also unveiled seven new lottery scratch cards designed for the Lunar New Year, including the NT$12 million Big Fortune, which sell for NT$1,000 each, with a top prize of NT$12 million.
The winning rate for the NT$12 million Big Fortune would be about 70 percent this year if all cards are sold, which is about the same as last year.
The seven new lottery scratch cards, which would be on sale until July 12, have more than NT$10.8 billion in aggregate jackpots and a total of 18.78 million prizes, Taiwan Lottery said.
As concerns over COVID-19 infections fell in the second half of last year and Taiwan Lottery boosted its marketing efforts, the company generated NT$133.1 billion in sales last year, the second-highest in its history, Huang said.
Last year, revenue posted by computerized lotteries such as the Lotto 6/49 and the Super Lotto fell 4.3 percent from a year earlier to NT$64.4 billion, while sales generated by lottery scratch cards grew 6.7 percent to NT$68.7 billion, he added.
Comments will be moderated. Keep comments relevant to the article. Remarks containing abusive and obscene language, personal attacks of any kind or promotion will be removed and the user banned. Final decision will be at the discretion of the Taipei Times.