Judicial Day celebrated with officials' spat
BOILING WATER: Jan. 11 marks the celebration of nation's independent judiciary, but the body had to defend its speech after a judge criticized it
Judicial Yuan officials yesterday said that court judges have the duty to uphold the Constitution and the nation's democratic system, and should not use political language to criticize the justice system, after a judge castigated a speech by Judicial Yuan President Hsu Tzong-li (許宗力).
The Judicial Yuan said in a statement that in the current international situation, Taiwan should cherish its judicial independence and democratic system based on the rule of law, but it should not politically interpret a speech by Hsu to court judges and prosecutors.
Hsu on Wednesday delivered a keynote speech at an academic conference in Taipei, to mark Taiwan's Judicial Day.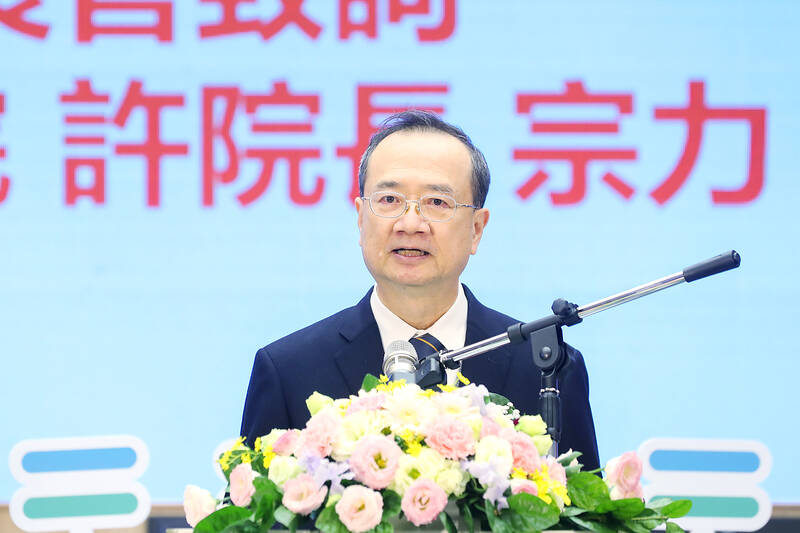 Judicial Yuan President Hsu Tzong-li speaks at an event in Taipei on Tuesday last week.
Photo: CNA
He said Taiwan must face China's military threats with persistent action and drills by the military around Taiwan, "but many people seem numb to this situation, and it is very worrying — just like the analogy of a frog in a pot of slow-boiling water."
"China has a very different set of values and beliefs to us. The head of China's highest court hads declared that the Chinese justice system is staunchly against judicial independence," Hsu said.
If Taiwanese behave like the frog in the boiling pot, they would not be aware of the danger and the need to jump out before it is too late, he said, referring to China's escalated military drills and maneuvers around Taiwan.
"I want remind everyone that we must defend our justice system. We must have awareness of the crisis we face, and we must cherish our judicial independence," he added.
"If the day comes when we lose all this, then Taiwan would be hell on Earth," Hsu said, adding that he believes "we will celebrate judicial independence every year on this day."
"The cases of national security breaches have their own special circumstances. They have had a great impact on the nation, society and on every citizen. We must not underestimate the resulting danger," Minister of Justice Tsai Ching-hsiang (蔡清祥) said.
"When dealing with these cases, the judiciary must still maintain independence, but it should take into consideration the serious contraventions against the nation's laws, for which so many people have fought and made sacrifices in the past," Tsai said.
Hsu's and Tsai's speeches were well-received by the audience, attendees said, adding that they have presented a greater vision for judiciary personnel to consider.
However, a judge later wrote on an online forum that is restricted to court judges that Hsu's speech was inappropriate.
However, some judges and prosecutors later told reporters that the online post showed that judge's disregard for China's military threats toward Taiwan, and that the post was biased as it portrayed a personal political stance that is not representative of Taiwan's judicary.
The justice system has always respected and defended the court's judicial independence, and to suggest otherwise is to vilify the situation with a false narrative, the Judicial Yuan's statement said.
"It is for Judicial Yuan President Hsu to reference the past and present on the day to mark the judiciary's independence, and he reminded us to cherish our hard-earned freedom and democracy," it said.
Comments will be moderated. Keep comments relevant to the article. Remarks containing abusive and obscene language, personal attacks of any kind or promotion will be removed and the user banned. Final decision will be at the discretion of the Taipei Times.