Choreographer receives Plum Blossom Card
An Australian dance choreographer and professor at the Taipei National University of the Arts (TNUA) has been granted a Plum Blossom Card — a special type of Alien Permanent Resident Certificate (APRC) — by Taiwan's National Immigration Agency.
Zhang Xiao-xiong (張曉雄) is the type of professional who Taiwan needs, and was given the Plum Blossom Card so that he could continue to contribute to Taiwan's performing arts scene, the agency said in a statement on Sunday.
Unlike people with a regular APRC, Plum Blossom Card holders can apply for citizenship through a streamlined process without renouncing their original nationality, which is required of most foreigners applying to become Taiwanese citizens.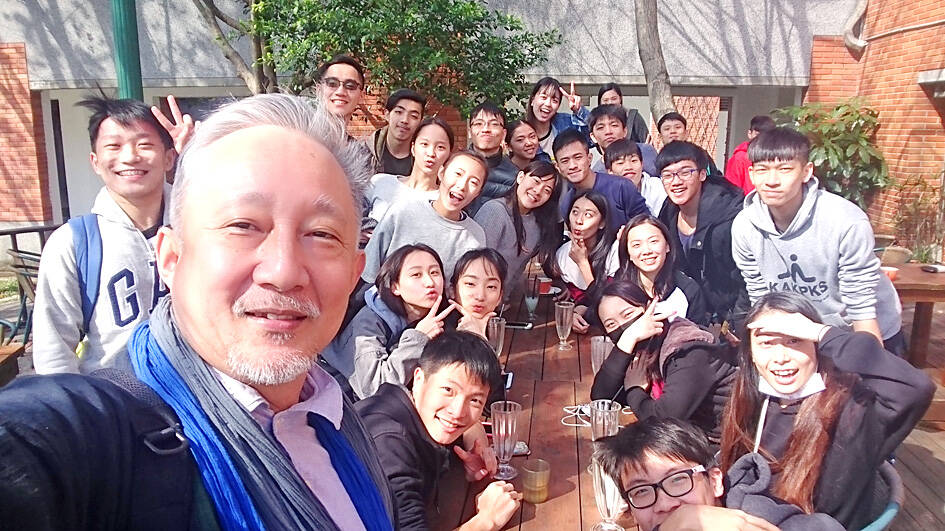 Taipei National University of the Arts professor Zhang Xiao-xiong, front left, poses for a selfie with his students in an undated photograph.
Photo copied by Wang Kuan-jen, Taipei Times
Zhang, who has been teaching at TNUA's School of Dance since 1997, has over the years helped cultivate talented people in Taiwan, and provided opportunities for them to perform internationally, the agency said.
Zhang was born in Cambodia and in 1983 emigrated to Australia, where he studied modern dance at the Centre for the Performing Arts in Adelaide, and became a professional dancer, a biography published by the Taishin Bank Foundation for Arts and Culture said.
He danced with the One Extra Company in Sydney from 1985 to 1987, the Australian Dance Theatre in Adelaide from 1987 to 1992 and Vis-a-Vis from 1994 to 1995.
Zhang was a jury member for the annual Taishin Arts Award established by the foundation in 2002 to honor the performing and visual arts in Taiwan.
Not only has Zhang made outstanding achievements in the field of dance, he has also published several books on the subject and acted in the film Synapses (那個我最親愛的陌生人) directed by Chang Tso-chi (張作驥), which went on to win the Best Film Award at the 2021 Asian Film Festival in Rome, the immigration agency said.
Zhang was cited in the agency's statement as saying that he had learned a lot from his students and was happy to be able to contribute to Taiwan.
Plum Blossom Cards are granted to foreign nationals who have made a special contribution to Taiwan, are "senior professionals" or "investment immigrants," the agency said.
Comments will be moderated. Keep comments relevant to the article. Remarks containing abusive and obscene language, personal attacks of any kind or promotion will be removed and the user banned. Final decision will be at the discretion of the Taipei Times.