Defense corruption addressed in Control Yuan briefing
Control Yuan member Lin Wen-cheng (林文程) on Friday presented a briefing on his assessment of alleged corruption in procurement programs by the Ministry of National Defense (MND), and put forth recommendations for corrective measures.
Following an inspection tour of the Executive Yuan by Control Yuan members, Lin said that Taiwan is facing a hostile military threat, and President Tsai Ing-wen (蔡英文) has granted full support to the armed forces for weapons procurement, upgrading defense capabilities and expanding troop training for preparedness.
"Aware of a potential military conflict, Taiwanese are willing to bear the burden of challenging times, and have given support to boosting the national defense budget, while expecting every dollar to be used effectively," said Lin, who is convener of Control Yuan's Committee on Foreign and National Defense Affairs.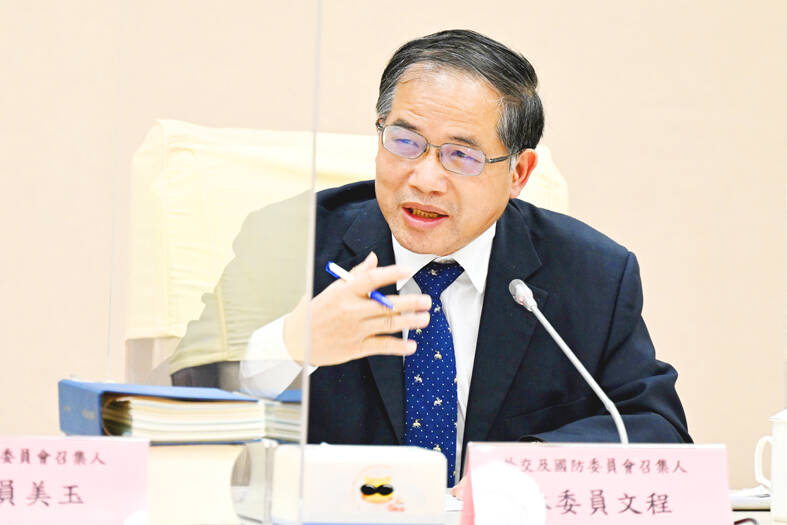 Control Yuan member Lin Wen-cheng speaks at a committee hearing at the legislature in Taipei in an undated photograph.
Photo: George Tsorng, Taipei Times
Lin said the MND's tendered contracts and budgets have increased in the past few years, creating opportunities for "graft in military procurement," and "oversight and monitoring" is "difficult."
In 41 investigations by the Control Yuan over the past few years relating to MND and armed forces units, Lin said 14 were regarding corruption in procurement, while 17 related to the administration of training programs.
Seven of the procurement probes resulted in impeachment, censure and other corrective measures, but were not made public given their security classifications.
Lin summarized findings in five primary areas, which he tabled to the MND and the Executive Yuan for assessment and the administration of corrective measures.
Internal oversight mechanisms should be enhanced, Lin said, adding that the ministry created ethics offices and engaged inspectors to monitor and combat corruption.
"Most cases involved misconduct and contraventions of the Government Procurement Act (政府採購法), but were not caught in time by inspectors and supervisors," Lin said.
"The breaches were later reported by government's Audit Office for judicial investigation," he added.
"The MND should enhance its internal control and oversight mechanism to catch misconduct and corruption when it happens," he said.
The government should also provide special research funds for the MND, as commissioning weapons research on supersonic missiles, for instance, resulted in "contractors buying low-cost China-made parts of inferior quality," leading to "defects and poor missile performance," Lin said.
Taiwan's top weapons research center, the Chungshan Institute of Science and Technology (NCSIST), should be restructured as well, as Lin.
Having top MND officials serving on the institute's governing board while being responsible for performance appraisal leads to questions regarding their impartiality, he said.
"MND inspectors seldom checked procurement and production projects, which are based on specifications and requirements set by the Chungshan Institute itself. This is an impediment to quality and capacity for weapons production, and interferes in the institute's internal audits and oversight of possible risks and violations in procurement," Lin said.
The MND must have strict monitoring and auditing of procurement, he said.
"Portions of MND procurement tenders have unusual links to certain contracting firms... Deficiencies have been found in the bid tender process, along with evaluation of bids and contractor qualifications," Lin said.
"In the Control Yuan's review on corruption and legal violations found in investigations, about one-third, or 14 out of 41 cases, are related to procurement programs, showing a lack of oversight and a lack of rigorous compliance. MND personnel need guidance in abiding by the law," he said.
More must be done to prevent corruption among officials and contractors, he said.
"The MND procurement units are monopolized by a few contractors that have met requirements and conditions for approval. There are reasons to believe that graft, bribery and corruption in military procurement will continue to take place, and oversight agencies must be aware of this," Lin said.
"The MND must make it best effort to prevent outside forces from influencing military procurement. It should also take steps to enhance staffing of appropriately experienced personnel," he said.
Premier Su Tseng-chang (蘇貞昌) acknowledged Lin's report.
"It is quite a thorough briefing, and we thank the Control Yuan for pointing out these problems," Su said.
"National defense is within the president's authority, and the ministry should respond to the president regarding the Control Yuan's findings and suggestions," he said.
Comments will be moderated. Keep comments relevant to the article. Remarks containing abusive and obscene language, personal attacks of any kind or promotion will be removed and the user banned. Final decision will be at the discretion of the Taipei Times.