NPP lawmakers urge registration data breach probe
ID NUMBERS STOLEN: Too few civil service workers are cybersecurity experts, Chiu Hsien-chih said, after an anonymous report of the data leak
New Power Party (NPP) lawmakers yesterday called on the Executive Yuan to launch an investigation into allegations by anonymous whistle-blowers who say that hackers had stolen more than 23 million pieces of information from the Ministry of the Interior's Department of Household Registration and sold them online.
Since the first report of the alleged breach in October, government agencies have remained inactive, even claiming that the information was "outdated," NPP legislators Claire Wang (王婉諭) and Chiu Hsien-chih (邱顯智) said.
Last month, an account on the BreachedForum Web site sold 23.57 million pieces of information allegedly stolen from the department's Web site, the lawmakers said.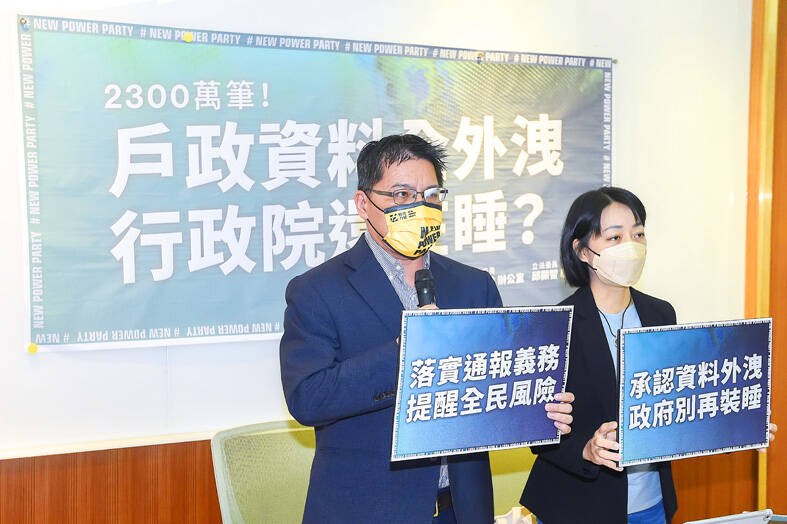 New Power Party legislators Chiu Hsien-chih, left, and Claire Wang hold a news conference at the legislature in Taipei yesterday.
Photo: Chen Chih-chu, Taipei Times
The same user in October also sold allegedly stolen information, they added.
The information included names, national identification card numbers, marital statuses, the names of the individual's parents and children, their residency address and other personal information, the lawmakers cited the whistle-blowers as saying.
Wang said that the data must originate from the government because no other entity has such detailed information.
However, the government has denied any leaks.
The format of the information was "distinct from the household registration system" and compiled from "old data," the government said, adding that such information was exclusively stored in internal networks.
The lawmakers said that the government owes Taiwanese an explanation and should investigate the matter, especially as it is a large-scale leak of sensitive data.
The government's obfuscation and attempts to shirk responsibility are irresponsible, Chiu said, calling on the government to observe Article 12 of the Personal Data Protection Act (個人資料保護法), which stipulates that it must inform those affected by leaks of government data.
Citing data from the Ministry of Civil Services, Chiu said that as of last year, cybersecurity experts accounted for less than 1 percent of civil service employees.
Government agencies employing only 3,500 such experts shows that there is a long-time shortage, Chiu said, urging the government to end its reliance on external cybersecurity expertise.
Chiu said that the same BreachedForum account is also offering 28.11 million pieces of information allegedly stolen from the Bureau of Labor Insurance, as well as 1.68 million pieces of stock exchange transaction information.
Chiu said it is the responsibility of the Executive Yuan and the Ministry of Digital Development to bolster the security of government data.
Comments will be moderated. Keep comments relevant to the article. Remarks containing abusive and obscene language, personal attacks of any kind or promotion will be removed and the user banned. Final decision will be at the discretion of the Taipei Times.