US could use 'lightning carriers' against PRC
The US Navy could use experimental "lightning carriers" in a possible conflict with China over Taiwan, Business Insider reported on Wednesday.
The lightning carrier concept involves using converted amphibious assault ships (LHAs) carrying Lockheed Martin F-35B "Lightning II" stealth jets. It was tested last summer by the US Navy and US Marines Corps using the America-class warship USS Tripoli.
US Vice Admiral Karl Thomas, the commander of the US Navy 7th Fleet, in October said that the concept is part of efforts to increase the firepower of the fleet's ships, Business Insider reported.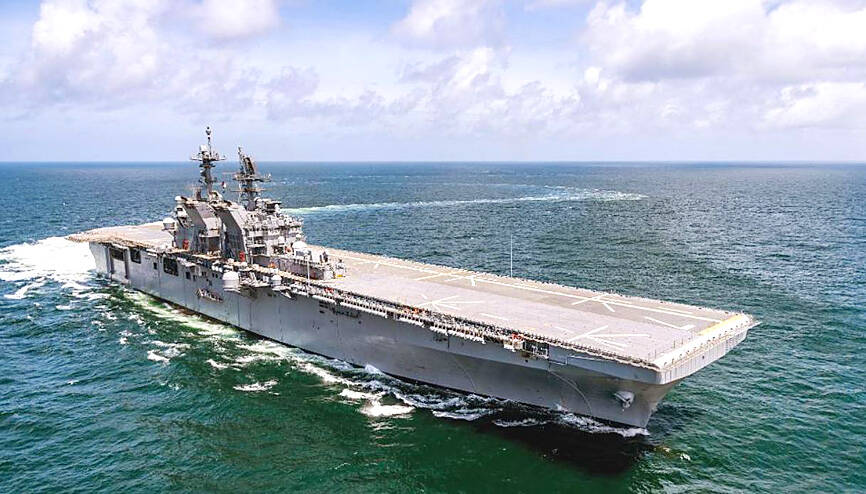 The USS Tripoli, an amphibious assault ship operated by the US Navy, is pictured in an undated photograph.
Photo: Screen grab from the Twitter account of the US Navy
Thomas made the remarks during an event hosted by think tanks the US Naval Institute and the Center for Strategic and International Studies.
The Chinese People's Liberation Army Navy (PLAN) has been expanding its capabilities to match its US counterpart, and Beijing might invade Taiwan within the decade if it achieves superiority, US officials have said.
An amphibious assault ship — which typically carries helicopters, vehicles and a battalion of marines — can be configured into a "lightning carrier" with up to 20 F-35B jets stored onboard, Thomas said.
The F-35B is the short-takeoff and vertical-landing variant of the fifth-generation F-35 joint strike fighter designed to utilize stealth and with advanced sensors to defeat opposing aviation and air defense systems.
"I will note that [an] LHA with 14 F-35Bs is much more capable than either of the PRC's [People's Republic of China] current carriers, both from a sortie-creation perspective as well as just a sheer capability," Thomas was quoted as saying.
"There is no comparison between a J-15 and an F-35B," Thomas said, referring to the PLAN's main carrier-based strike fighter.
Lightning carriers carry fewer jets than fleet aircraft carriers, which can feature more than 50 jets, but are significantly cheaper and more versatile, as the configuration enables ships to switch between naval aviation and amphibious assault platform, he said.
"One day you can have F-35Bs on the flight deck. The next day you can have MV-22s and you can be putting marines at the shore, and so it just is a very versatile instrument," he said.
The US Navy is continuing to experiment with integrating lightning carriers with existing naval forces and formations, the report said.
Comments will be moderated. Keep comments relevant to the article. Remarks containing abusive and obscene language, personal attacks of any kind or promotion will be removed and the user banned. Final decision will be at the discretion of the Taipei Times.