Taitung residents receive most quake alerts: bureau
TWO RISKIEST SPOTS: People living in Taitung County received 20 earthquake alerts over the past 12 months, while Hualien County placed second with 17 alerts
Taitung County residents received national earthquake alerts on their mobile phones more frequently over the past year than people in other parts of Taiwan, Central Weather Bureau data showed.
Between Nov. 20 last year and Nov. 20, Taitung residents topped other administrative regions with 20 earthquake alerts. They were followed by Hualien County residents who received 17 alerts and Chiayi County residents who received 11, the bureau said.
Residents in Penghu, Kinmen and Lienchiang counties did not receive a single earthquake alert, it said.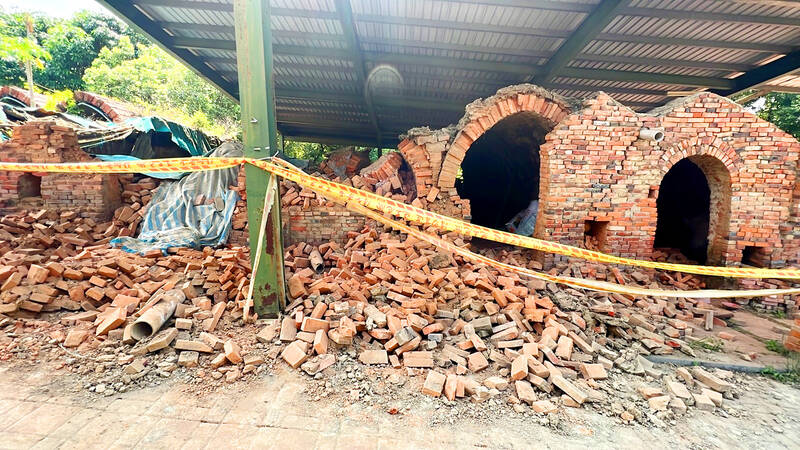 The historic Wan-an Brick Kiln in Taitung's Chihshang Township is pictured on Sept. 18 after a magnitude 6.4 earthquake caused it to collapse.
Photo: CNA
The bureau shared the data on Facebook for the first time since the government connected the earthquake warning system to the cellphone broadcasting system in 2016, enabling people to receive earthquake alerts.
Several strong earthquakes occurred from Sept. 17 to Sept. 19, one of which was a magnitude 6.8 temblor at 2:44pm on Sept. 18 that was centered in Taitung's Chihshang Township (池上), the bureau said.
Earthquakes happen frequently in Taiwan as it lies at the junction of two tectonic plates, the bureau said, adding that the national earthquake alert system was created to warn people to evacuate areas as soon as possible before shaking starts.
However, to prevent the public from being constantly bombarded by warning messages about small and medium-sized earthquakes, which generally do not lead to disasters, two conditions were set for the dissemination of messages: An earthquake must be estimated to be of magnitude 5 or greater or able to generate shaking intensity of 4 or greater, the bureau said.
Even if the magnitude of an earthquake is estimated to be greater than 5, warning messages are not sent out if the estimated intensity of the earthquake in a specific area does not reach 4, it said.
The system protects everyone, Central Weather Bureau Director-General Cheng Ming-dean (鄭明典) said.
"If there are too many alarms on your smartphones, it means you are facing risks; if there are too few alarms, it means you are in a relatively stable geological area," he said.
Comments will be moderated. Keep comments relevant to the article. Remarks containing abusive and obscene language, personal attacks of any kind or promotion will be removed and the user banned. Final decision will be at the discretion of the Taipei Times.