Tax break for diesel vehicle trade-in set to be extended
The Cabinet yesterday approved a draft amendment to the Commodity Tax Act (貨物稅條例) to extend the tax reduction period for people who trade in heavy-duty diesel vehicles for newer models, the Ministry of Finance said in a statement.
The amendment would extend the period to 2026, it said.
Buyers of diesel buses and trucks can receive a NT$400,000 tax break until the end of this year under the act.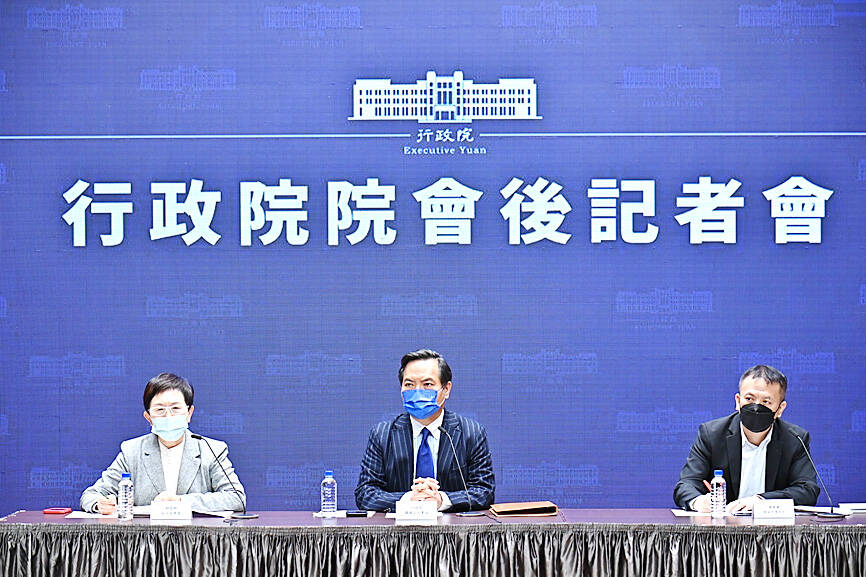 From left, Deputy Minister of Finance Chuang Tsui-yun, Executive Yuan spokesman Lo Ping-cheng and National Development Council Deputy Minister Shih Keh-her attend a press conference following the Cabinet's weekly meeting in Taipei yesterday.
Photo courtesy of the Executive Yuan
The incentive applies to owners of diesel vehicles manufactured before Sept. 30, 2006, or those made before Dec. 31, 2006, and had received an emissions conformity certificate from the Environmental Protection Administration (EPA).
The extension of the tax break is intended to help reduce air pollution and to contribute to Taiwan's goal to reach net zero carbon emissions by 2050, the ministry said.
About 78,000 heavy-duty diesel vehicles remain in use that meet the EPA's older level 1 to level 3 emissions standards, it said, adding that they do not meet one of the three higher levels, the tightest being level 6.
About 39,500 heavy-duty diesel vehicles had been phased out by the end of October through the government's tax reduction incentive, the ministry said.
Deputy Minister of Finance Chuang Tsui-yun (莊翠雲) said the draft amendment for a four-year extension was drawn up to encourage the disuse of the remaining diesel buses and trucks.
The proposed amendment is to be reviewed by the legislature before being put to a vote.
Comments will be moderated. Keep comments relevant to the article. Remarks containing abusive and obscene language, personal attacks of any kind or promotion will be removed and the user banned. Final decision will be at the discretion of the Taipei Times.