Petition calls for museum to protect art collection
The National Policy Foundation has launched a petition to urge the National Palace Museum to keep the Lanqian Shanguan art collection in Taiwan.
The collection was entrusted to the museum by Lin Po-shou (林柏壽) and the descendants of the Lin Pen-yuan (林本源) family, which was one of the five most important families in Taiwan with history dating back to the Qing Dynasty.
The lan and qian in the collection's name refer to two great calligraphy works by Chu Sui-liang (褚遂良) and Huai Su (懷素) respectively. Lanqian Shanguan is the name of Lin Po-shou's study room.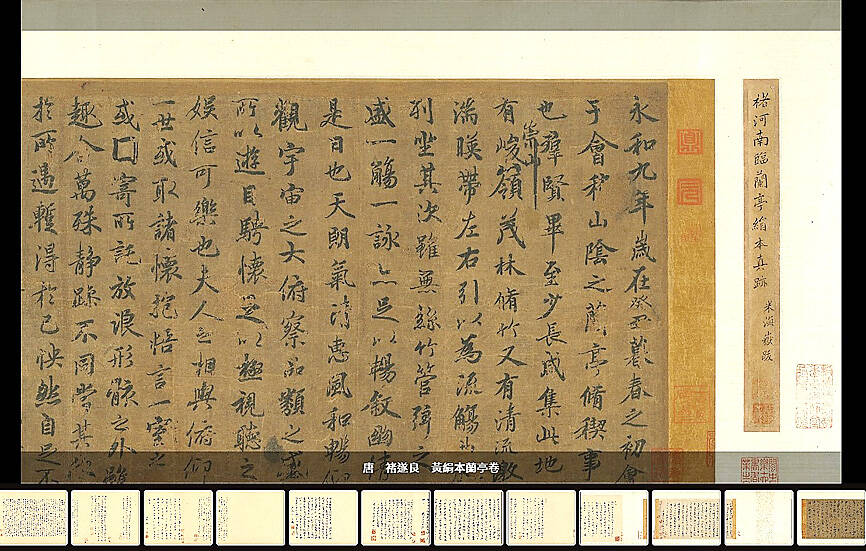 A section of Chu Shi-liang's calligraphy "Yellow-silk Version of the Orchid Pavilion Preface" is pictured in an undated photograph.
Photo: Screen grab from the National Palace Museum Web site
Lin Po-shou signed an agreement with the museum in 1969 to entrust the collection, which has increased to 349 items, including 133 paintings and 107 works of calligraphy.
However, the family was given only two weeks notice by the museum that the agreement would be terminated on Oct. 31.
The foundation on Tuesday announced that it would launch a petition on the National Development Council's Public Policy Online Participation Platform.
The petition called for the museum to renew the agreement to entrust the collection, the Ministry of Culture to designate the collection a national treasure according to the Cultural Heritage Preservation Act (文化資產保存法) and for legislators to fulfill their responsibility of supervising the preservation of national treasures.
Apollo Chen (陳學聖), convener of the National Policy Foundation's Education and Sports Division, said the short notice left the family overwhelmed, as the collection had been in the museum during eight directors' terms.
The collection only occupies four cabinets so there is no lack of space, he said, adding that the law stipulated that the government should periodically conduct general surveys of, conserve and preserve national treasures.
Board chairwoman of the Taiwan Art Revitalization Culture Foundation Lee Yong-ping (李永萍) said that a nation famous for its culture and soft power should legally protect its national treasures and continue to enlarge the collection.
Comments will be moderated. Keep comments relevant to the article. Remarks containing abusive and obscene language, personal attacks of any kind or promotion will be removed and the user banned. Final decision will be at the discretion of the Taipei Times.