Court sentences man for abuse, death of daughter
The Supreme Court has upheld a High Court decision to sentence a Taoyuan man surnamed Hsieh (謝) to nine years in prison for the abuse of his three-year-old daughter that led to her death.
Hsieh, who had previously been indicted on drug-related charges, beat his daughter with a wooden back scratcher on Aug. 4 last year after she refused to take a bath, the ruling said.
He then forced his daughter to stand on a 31cm stool, and went to sleep, it said, adding that at 5:40am, Hsieh found his daughter on the floor unconscious, foaming at the mouth, and rushed her to a hospital.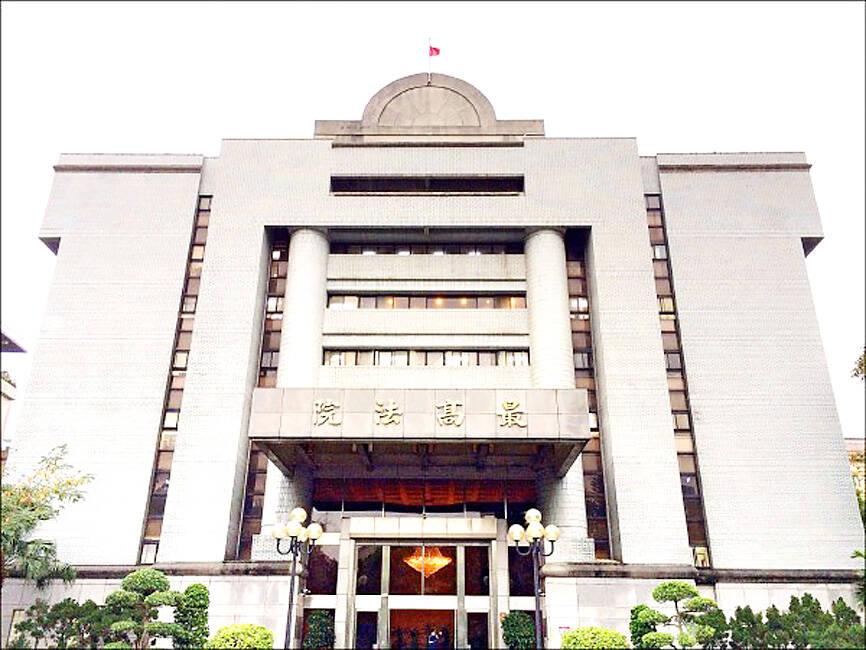 The Supreme Court in Taipei is pictured in an undated photograph.
Photo: Chang Wen-chuan, Taipei Times
However, doctors were unable to revive her. An autopsy found she had died from a brain injury after falling off the stool and hitting her head on a chair, the ruling said.
Hsieh was charged with contravening Article 286 of the Criminal Code, which states: "A person who maltreats a minor under the age of eighteen" resulting "in the death of [that minor] shall be sentenced to life imprisonment or imprisonment for not less than 10 years."
Hsieh had been living with his daughter and girlfriend at the time of the incident, and the daughter was from Hsieh's previous marriage, the ruling said.
The daughter had experienced delayed development, and had poor balance, it said.
During the trial, Hsieh admitted to corporal punishment of his daughter, but said he did not have any intent to kill her.
However, the collegial panel recommended heavy sentencing, saying that Hsieh beat the girl violently with a wooden stick, despite her being only three years old and being comparatively weak due to developmental issues.
The High Court upheld the lower court's decision to sentence Hsieh to nine years in prison.
The Supreme Court rejected Hsieh's appeal by upholding the High Court's decision. The ruling is final.
Separately, the Supreme Court on Wednesday upheld an eight-year sentence given to a Keelung woman over the 2019 death of a 10-year-old girl who doctors later determined had suffered severe physical abuse.
The Supreme Court said it had rejected an appeal from the woman, identified as Liu (劉), found guilty by the Taiwan High Court of maltreating and physically abusing the girl.
The girl's mother, who worked at a market stall owned by Liu, had allowed her daughter to live with Liu between August 2018 and March 2019, because the girl's father was suffering from a mental disorder.
The girl was admitted to hospital in March 2019, and died 20 days after receiving emergency surgery to remove blot clots from her brain.
Two forensic examinations determined that the girl had been subjected to severe physical abuse.
Additional reporting by CNA
Comments will be moderated. Keep comments relevant to the article. Remarks containing abusive and obscene language, personal attacks of any kind or promotion will be removed and the user banned. Final decision will be at the discretion of the Taipei Times.