2022 ELECTIONS: Chiang Wan-an stood out among his rivals: analyst
FAMILY BACKGROUND: Chiang was effective in running a cautious campaign to avoid making mistakes, waiting for other candidates to slip up, an analyst said
Chinese Nationalist Party (KMT) Taipei Mayor-elect Chiang Wan-an (蔣萬安) stood out among his rivals due to his energy, his die-hard supporters and his relative openness to discuss issues such as same-sex marriage, a political analyst said yesterday.
Chiang's campaign was also aided by his family's background in politics, which helped him garner greater support in Taipei where there is a large KMT base, said the analyst, who chose to remain anonymous.
"Chiang is also not a typical KMT member when it comes to certain issues, such as gay marriage, and his more open stance widened his support base — particularly among young voters," the analyst said.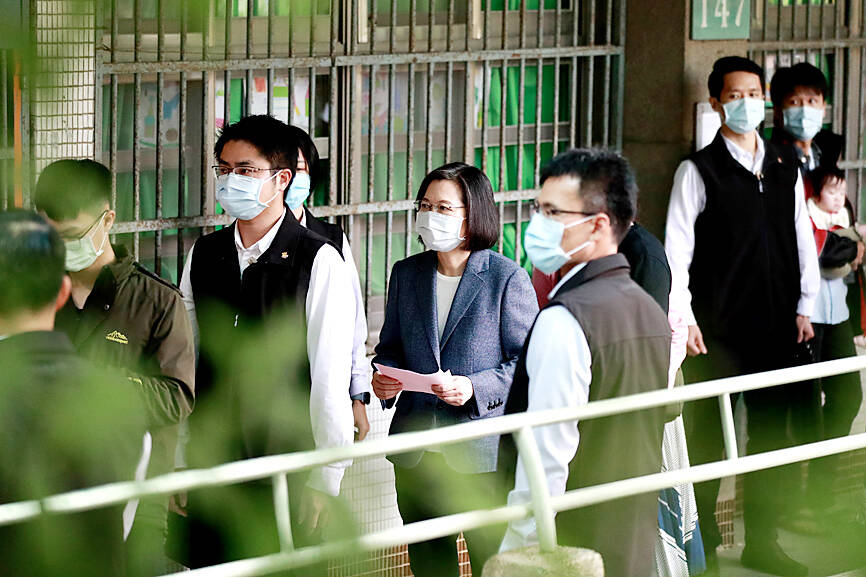 President Tsai Ing-wen, center, arrives at a polling station to cast her vote in the local elections in Taipei yesterday.
Photo: Ritchie B. Tongo, EPA-EFE
Democratic Progressive Party Taipei mayoral candidate Chen Shih-chung's (陳時中) image was hurt by the methods of his campaign team, which were not in line with the honest image of the former health minister that the DPP had been pushing, they said.
Chiang's platform was comparatively narrow, focusing on COVID-19-related issues such as vaccine procurement, they said.
"There was a perception that his campaign team was cautious on other issues, but its strategy was to avoid making mistakes and simply wait for the other candidates to slip up — and that proved effective," the analyst said.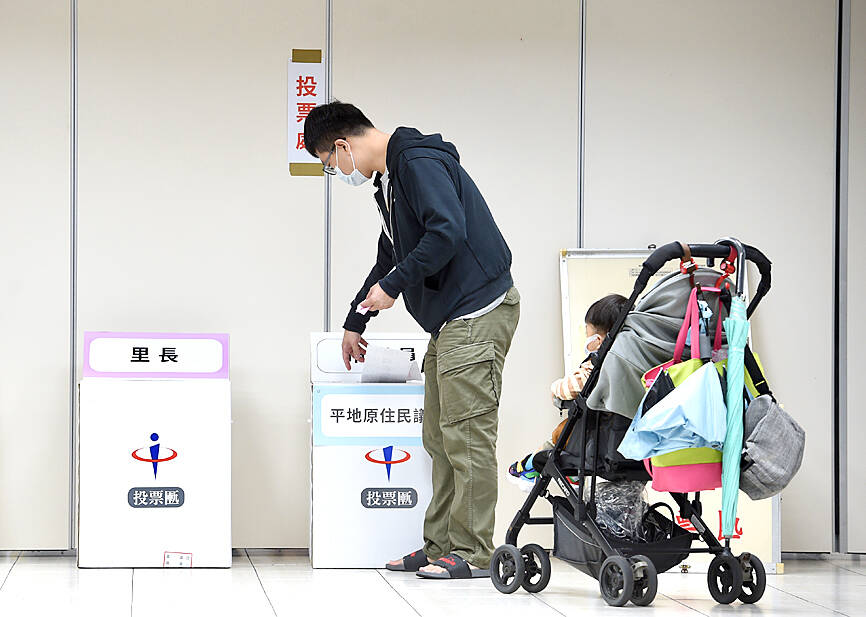 A man casts a vote in Taipei yesterday as a toddler looks on.
Photo: Lo Pei-de, Taipei Times
During her concession speech yesterday, independent Taipei mayoral candidate Vivian Huang (黃珊珊) said she hopes Chiang fulfills his campaign promises, retains reforms made during her tenure as deputy mayor and "allow Taipei to continue to progress."
"I feel like I've already won, having gone up against two major parties," she said, adding that Taipei residents were still wary of independent candidates.
Political commentators yesterday evening said that President Tsai Ing-wen (蔡英文), who is also DPP chairperson, would face a tougher time leading the nation given that her party lost 13 of 22 cities and counties in the elections.
Chinese National Federation of Industries chairman Matthew Miao (苗豐強) urged the newly elected officials to be pragmatic, and to focus on energy policies and reducing carbon emissions, along with other issues that benefit all of society.
Taiwan must also exercise "respect and prudence" to allow it to survive strategic competition between the US and China, he said.
The government should also seek peaceful cross-strait relations that facilitate a safe business environment, and accelerate Taiwan's entrance into the Comprehensive and Progressive Agreement for Trans-Pacific Partnership, he said, adding that this would "create a balanced and complete regional industrial ecology."
Third Wednesday Club chairman Lin Por-fong (林伯豐) also emphasized economic concerns, saying that the government should promote the signing of bilateral trade agreements, or free-trade agreements, with other countries, and review energy policies so that Taiwan can meet the energy needs of industry.
He also called on the government to seek better relations with China.
Taishin chairman Thomas Wu (吳東亮) said that businesses were pleased with candidates' policy discussions leading up to the local elections, on issues such as industry, long-term care, daycare and education.
The public closely followed the candidates' political policies, which showed growth in Taiwan's democratic development, he said.
Wu said he hoped the newly elected county and municipal leaders would devote more resources to boosting local economies and development, and divide the work on key issues with the central government.
Comments will be moderated. Keep comments relevant to the article. Remarks containing abusive and obscene language, personal attacks of any kind or promotion will be removed and the user banned. Final decision will be at the discretion of the Taipei Times.