2022 ELECTIONS: Ann Kao wins Hsinchu mayor's seat for TPP
GAINING GROUND: Kao's victory gives the three-year-old party a major win in its first year of local campaigning, in a city the DPP held for two terms
Ann Kao (高虹安) of the Taiwan People's Party (TPP) was yesterday elected mayor of Hsinchu, defeating the Democratic Progressive Party's (DPP) Shen Hui-hung (沈慧虹) and the Chinese Nationalist Party's (KMT) Lin Ken-jeng (林耕仁).
Kao, 38, declared victory at about 7:30pm. She is to become the first female mayor of Hsinchu and the youngest mayor or county commissioner ever elected in Taiwan.
Shen, who trailed Kao by 10,000 votes, conceded defeat before the final results were confirmed and congratulated Kao on her win.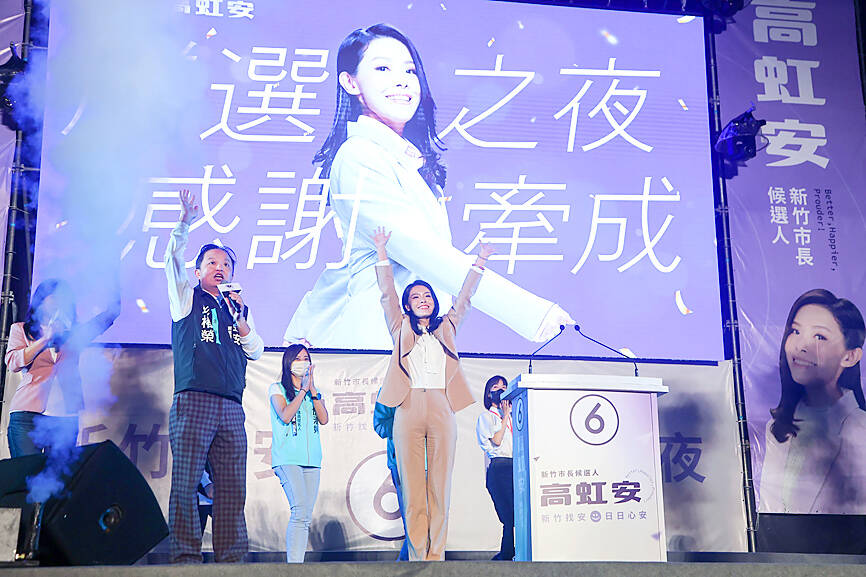 Hsinchu City Mayor-elect Ann Kao, center, of the Taiwan People's Party attends a victory celebration yesterday.
Photo: CNA
Although the race was expected to be close, Lin lagged behind the other two candidates by a large margin as results began coming in after 4pm and conceded defeat.
In her victory speech, Kao thanked her parents, relatives, friends, supporters, campaign team and volunteers, as well as her opponents, who she said "proposed many good political platforms during the campaign and showed good sportsmanship."
Calling her win "a victory for all Hsinchu residents and democracy," she vowed to form a team based on merit and not political ideology, and to build Hsinchu into a city that makes people "feel happy and proud."
She also said she would consider her opponents policy proposals and ask for their advice after taking office to ensure Hsinchu residents are prioritized under her leadership, she said.
Kao's victory put the TPP in charge of a city that was governed by the KMT from 2005 to 2014 before the DPP took power, holding the office under former Hsinchu mayor Lin Chih-chien (林智堅), who resigned in July to contest the Taoyuan mayoral election.
Lin Chih-chien withdrew from that race after National Taiwan University revoked his master's degree over charges of plagiarism in August.
Lin Chih-chien defeated his KMT opponent, former Hsinchu mayor Hsu Ming-tsai (許明財), in 2014 and won re-election in 2018 by a large margin over the same opponent, by 49.57 percent of the votes and 27.87 percent respectively.
The Hsinchu mayor's office is a major win for the TPP, which was founded in 2019 and participated in local elections for the first time this year.
With a background in computer science and information engineering, Kao has worked at the Institute for Information Industry and Foxconn Technology Group's Industrial Big Data Office.
As a legislator, she attracted attention for her proficiency in data analysis.
Her candidacy went through a rough campaign after she was accused of plagiarism in her doctoral thesis and of collecting a corporate salary while working at a government-affiliated institute.
She was on Thursday last week listed as a suspect in case after being accused by former assistants of making illegal payroll deductions and using public funds for personal gain, although her campaign spokeswoman, Hsu Chien-ching (徐千晴), said that being named was a "normal procedure when a case is launched by prosecutors."
Comments will be moderated. Keep comments relevant to the article. Remarks containing abusive and obscene language, personal attacks of any kind or promotion will be removed and the user banned. Final decision will be at the discretion of the Taipei Times.