Alleged intimidation takes place in Kao's office in recordings
Recordings yesterday emerged with apparent conversations relating to threats and intimidation allegedly being uttered by a supervisor in Taiwan People's Party (TPP) Legislator Ann Kao's (高虹安) office toward staff members.
Kao, who is the party's Hsinchu mayoral candidate in tomorrow's election, has been involved in controversies and alleged financial improprieties connected with her legislative office.
In the recordings, a supervisor at Kao's legislative office allegedly threatens an assistant Kao fired, after the assistant requested wages owed and severance pay.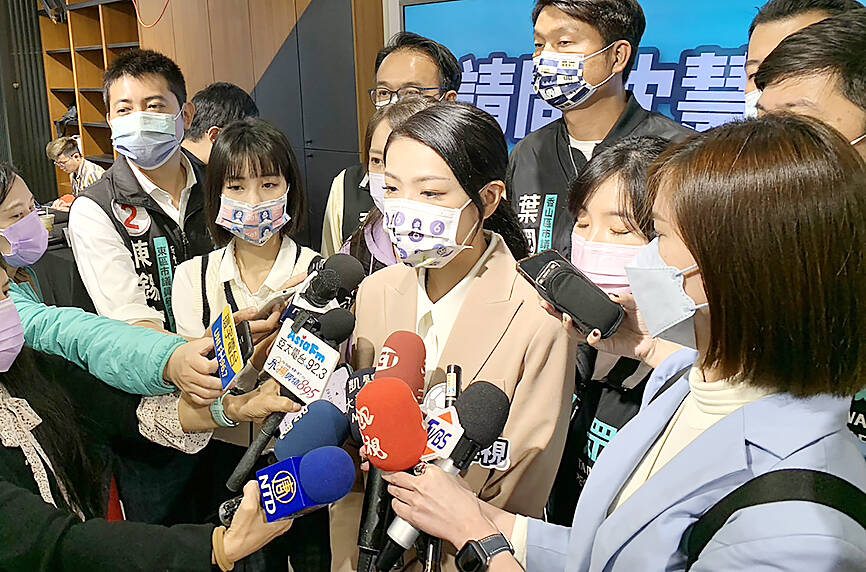 Taiwan People's Party Hsinchu mayoral candidate Ann Kao speaks at a news conference in the city yesterday.
Photo: CNA
The recordings were presented to media by a person named Liu Yu (劉宇), who acted as an independent whistle-blower.
A female is heard on the recording, identified by Liu as a supervisor, speaking on behalf of Kao, implying that there would be consequences for going to arbitration or litigation on wage dispute.
"You have to know that our boss was vice president at Hon Hai Technology Group ... they have about 200 or 300 lawyers in its legal section... So there is no need for that, and our boss would not want to take that step," she is heard saying.
An apparent sexual harassment situation is also heard being discussed on the recording, which allegedly involved a male who harassed a female colleague.
In the recording, the person Liu identified as the supervisor is heard saying: "If you speak publicly on this matter, everyone will be hurt... I will recommend to the legislator that someone has to be dismissed, and it will likely be [the female assistant]."
Kao said the audio recording does not present the proper context of the situation, and it has infringed on individual rights of the office supervisor and herself.
"We are discussing this matter with a lawyer," Kao said.
Meanwhile, former TPP official Lin Guan-nian (林冠年) said he turned over computer data, audio recordings and office accounting documents, obtained from employees in Kao's legislative office, to the Taipei District Prosecutors' Office.
Following judicial complaints filed earlier this month regarding allegations of wage fraud and embezzlement, prosecutors on Thursday last week began investigating Kao and her boyfriend, Lee Chung-ting (李忠庭).
Lin — who withdrew as the TPP mayoral candidate in Hsinchu County's Jhubei City (竹北) after an alleged impaired driving incident — called on Kao to resign out of "fairness" to prosecutors.
"I ask Kao to resign her legislator position now, so prosecutors do not come under political pressure in this case," he said.
Former assistants have accused Kao of wage fraud, embezzlement and illegal payroll deductions that allegedly were used to pay Kao's personal expenditures.
Judicial investigators said that Kao and Lee could face forgery and embezzlement charges, along with breaches of the Labor Standards Act (勞動基準法), and the Anti-Corruption Act (貪污治罪條例).
Comments will be moderated. Keep comments relevant to the article. Remarks containing abusive and obscene language, personal attacks of any kind or promotion will be removed and the user banned. Final decision will be at the discretion of the Taipei Times.