DPP uses TSMC to its own political ends: Han Kuo-yu
Former Kaohsiung mayor Han Kuo-yu (韓國瑜) yesterday alleged that the Democratic Progressive Party (DPP) is using Taiwan Semiconductor Manufacturing Co (TSMC) as a means to secure votes for itself.
Han made the remarks in an interview on the Broadcasting Corp of China with network president Jaw Shaw-kang (趙少康).
Whenever the DPP faces the possibility of losing an election, it calls on TSMC to establish a plant in a county or city that is failing, Han said, adding that the chipmaker is like a "special branch" of the DPP similar to the Chinese Nationalist Party's (KMT) relationship with the Huang Fu-hsing (黃復興) military veterans' branch, whose members are considered party loyalists.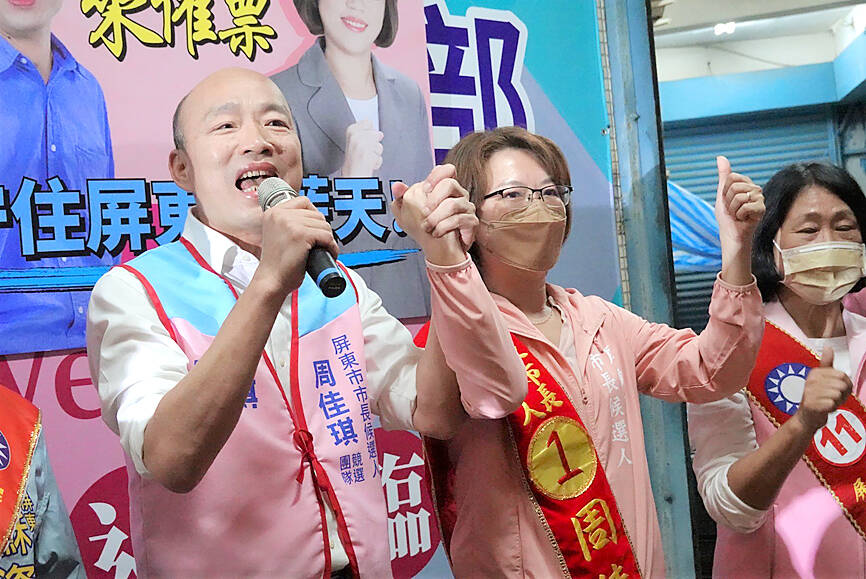 Former Kaohsiung mayor Han Kuo-yu, left, attends a campaign event for Chinese Nationalist Party Pingtung mayoral candidate Chou Chia-chi, second left, in the city yesterday.
Photo: CNA
He also said that the DPP is "dismembering" TSMC.
Han said that young people are "waking up" and that the DPP is "treating the younger generation like fools."
Future leaders are not blind to government corruption and the way county commissioners become billionaires at the end of their terms, he said.
Young people do not support authoritarianism and are not bound by tradition, Han said, citing the 72 Martyrs of Huanghuagang uprising in Guangzhou as an example of how young people are not afraid to risk fighting for change.
The 72 Martyrs launched the failed Second Guangzhou Uprising against the Qing Empire on April 27, 1911.
The DPP is aware of this change in attitude among young people, which is why the party has halted subsidies to help them travel back to their registered home town residences to vote, Han said.
The DPP is attempting to control the number of people who can vote by declaring that people who test positive for COVID-19 cannot enter polling stations.
Han said that military personnel — largely composed of young people carrying out mandatory service — are being affected by a DPP decision to rotate shifts on election day.
It is "preposterous" that military personnel cannot vote even when there is no threat of war, he added.
Jaw said during the interview that "voting for the DPP increases the risk of youth going into battle."
Han responded by saying that those aged 18 to 24 are the primary casualties of war, and that peace must prevail.
Comments will be moderated. Keep comments relevant to the article. Remarks containing abusive and obscene language, personal attacks of any kind or promotion will be removed and the user banned. Final decision will be at the discretion of the Taipei Times.