Taiwan invited to Berlin human rights day
WARMING RELATIONS: A succession of visits to Taipei by German lawmakers has boosted ties, as the science minister heads to France and Germany to discuss trade
The German-Taiwan Association said it has invited Control Yuan President and National Human Rights Commission Chairperson Chen Chu (陳菊) to represent Taiwan at Human Rights Day events in Berlin next month.
The relationship between Taiwan and Germany has been growing closer in the past few months. Last week, German lawmakers Marcus Faber — who is also the association's chairman — and Holger Becker visited Taiwan.
The two visited the Taiwan Foundation for Democracy, the Institute for National Defense and Security Research, United Microelectronics Corp, the National Development Council and the Legislative Yuan, the association said.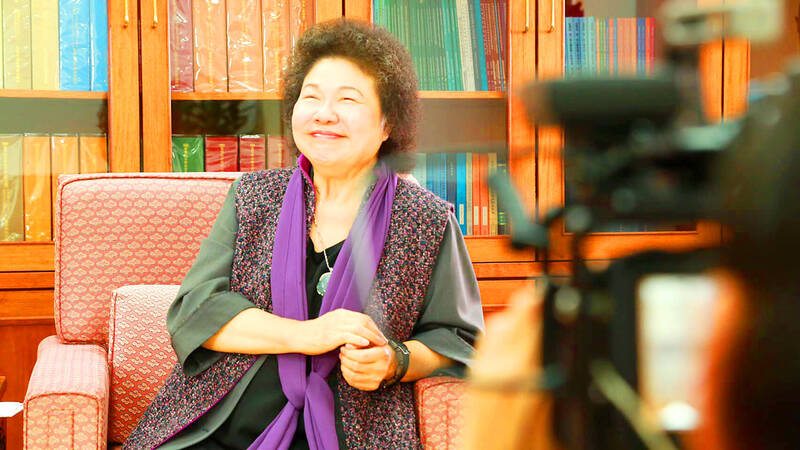 Control Yuan President Chen Chu, who also heads the National Human Rights Commission, is pictured in an undated photograph.
Photo: Screen grab from Chen Chu's Facebook page
They met with Deputy Minister of Foreign Affairs Tien Chung-kwang (田中光) on Thursday to exchange views on a number of topics, it said.
Before their visit, a seven-member delegation headed by German-Taiwan Parliamentary Friendship Group Chairman Klaus-Peter Willsch arrived in Taipei on Oct. 2 for a five-day visit.
Before that, a delegation led by German lawmaker Peter Heidt arrived for a four-day visit to discuss human rights issues with local officials and academics, and visited the National Human Rights Commission.
German Parliamentary State Secretary at the Federal Ministry for Economic Affairs and Climate Action Franziska Brantner on Tuesday arrived in Taiwan for a two-day visit.
Separately, National Science and Technology Council Minister Wu Tsung-tsong (吳政忠) on Tuesday departed to visit France and Germany.
He met German Minister of Education and Research Bettina Stark-Watzinger to discuss Taiwan's and Germany's development of semiconductors and artificial intelligence, as well as the influence of geopolitics on the global supply chain.
Stark-Watzinger said that Taiwan "is an important democratic partner" and "plays an important role in the supply chain of science and technology."
She hopes that Germany can boost cooperation with Taiwan in science and development, such as research and development of advanced lithium batteries, artificial intelligence, semiconductor technologies and postdoctoral training.
Taiwan values democracy, peace and mutual prosperity, and is willing to work with countries that respect freedom, democracy and human rights, Wu said.
Additional reporting by Chen Chia-i
Comments will be moderated. Keep comments relevant to the article. Remarks containing abusive and obscene language, personal attacks of any kind or promotion will be removed and the user banned. Final decision will be at the discretion of the Taipei Times.