Pan-blue supporters push against lowering voting age
Supporters of pan-blue politicians are urging people not to support a referendum to lower the voting age to 18, lawmakers and Taipei city councilors said yesterday, with some accusing Chinese Nationalist Party (KMT) leaders of duplicity and betraying the public's trust.
Messages shared widely among pan-blue camp supporters are undermining the attempt to lower the voting age to 18, with the referendum to be held alongside the local elections on Saturday next week, independent Taipei City Councilor Meredith Huang (黃郁芬) said.
KMT politicians have again deceived people, saying in public that they support the referendum, which also seeks to lower the age of eligibility for candidacy to 18, Huang said, adding that former KMT legislator Chiang Wan-an (蔣萬安), the party's Taipei mayoral candidate, should take a clear stand on the matter.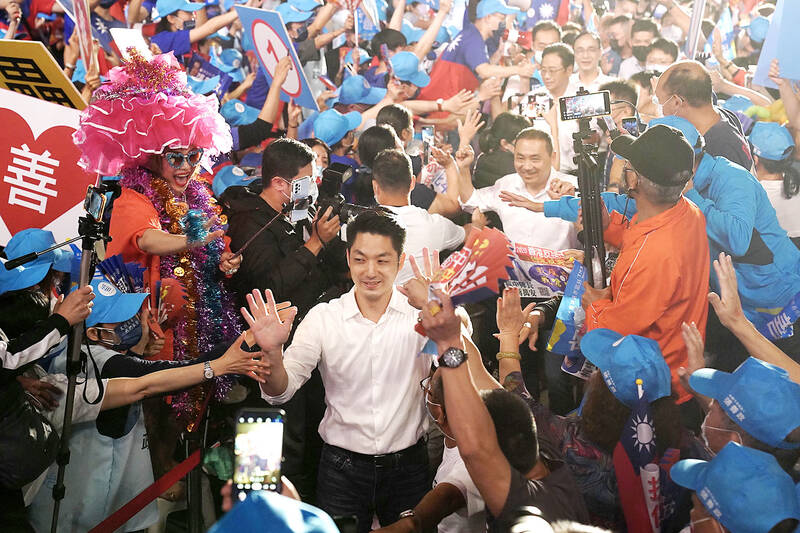 Chinese Nationalist Party (KMT) Taipei mayoral candidate Chiang Wan-an raises his arms as he greets supporters at a campaign event in the city yesterday.
Photo: CNA
Chiang has repeatedly backed a "yes" vote in the referendum at public events, she said.
However, despite his pronouncements, many KMT supporters on social media have been calling for people to refuse the referendum voting papers, which would make it difficult to reach the turnout threshold required for it to pass, she said.
Messages posted on the Line messaging app in a group for Taipei civil servants — reportedly used mainly by KMT supporters — included one that read: "It is recommended not to pick up the referendum ballots, as it would lower the voting age to 18," Huang said.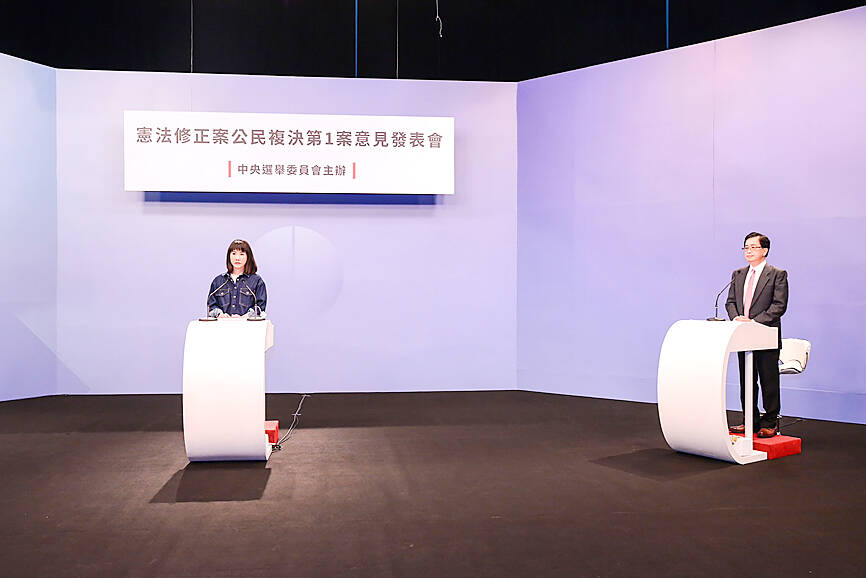 Chinese Nationalist Party (KMT) Legislator Hsieh Yi-fong, left, yesterday participates in a televised platform presentation to answer questions about the KMT's position on the referendum to lower the voting age to 18.
Photo: CNA
"If party central did not give instructions, it is hard for us to have a consensus," was a reply from a separate user, Huang said, adding that the message went on to say: "Young people do not favor the blue camp, so I agree with you, but let us talk in private, because if this conversation leaks, it will be damaging."
Democratic Progressive Party (DPP) Legislator Wang Ting-yu (王定宇) said that KMT Legislator Lee Te-wei (李德維), who is Chiang's campaign spokesman, had agreed with the calls to undermine the referendum vote.
People had provided information showing that Su Yu-ying (蘇鈺英) — the director of the KMT's chapter in Taipei's Neihu District (內湖) and a deputy of group supporting Chiang in the district — wrote that she agreed that people should refuse to pick up referendum ballots to deny the threshold from being met, Wang said.
In a separate discussion, KMT supporters were debating whether to take the ballot, but vote "no," he said.
"The KMT's devious ploy has been laid bare," Wang said. "Its supporters say positive things — pretending to be for young people and progress by making a public display of supporting a 'yes' vote — but in private, they do the opposite, undermining the effort."
The party betrays the public's trust," he said.
In the past year, including during their campaign efforts, KMT candidates have sought to gain support from young people, so they spoke many times in public and in interviews about the party's endorsement of the referendum, Huang said. "Legislator Chiang himself in the past few weeks has spoken of his support for lowering the voting age to 18, but in reality, he — along with KMT supporters — are playing a fraudulent game."
"They are outwardly seeking public support, but internally they are networking to deny the ballot or vote against it," she said.
Chiang told reporters yesterday that "those were only partial messages and were not the complete discussion."
"My position has not changed, I strongly support the referendum to lower the voting age to 18, for young people to have rights as citizens, and I hope more people can join me to support this cause," he said.
Comments will be moderated. Keep comments relevant to the article. Remarks containing abusive and obscene language, personal attacks of any kind or promotion will be removed and the user banned. Final decision will be at the discretion of the Taipei Times.