Ann Kao, boyfriend suspects in payroll deduction fraud
Legislator Ann Kao (高虹安) was listed as a suspect yesterday after former legislative assistants of the Hsinchu mayoral candidate for the Taiwan People's Party (TPP) accused her of making illegal payroll deductions and personal gains from public funds.
Lee Chung-ting (李忠庭), who is reportedly Kao's boyfriend, was also listed as a suspect by the Taipei District Prosecutors' Office, which said it opened the case after completing a preliminary assessment.
Several whistleblowers, reportedly former legislative assistants at Kao's office, presented material to investigators showing that she registered Lee as an office assistant, despite his position with the Yonglin Foundation which paid an annual salary of NT$6 million (US$192,567), prosecutors said.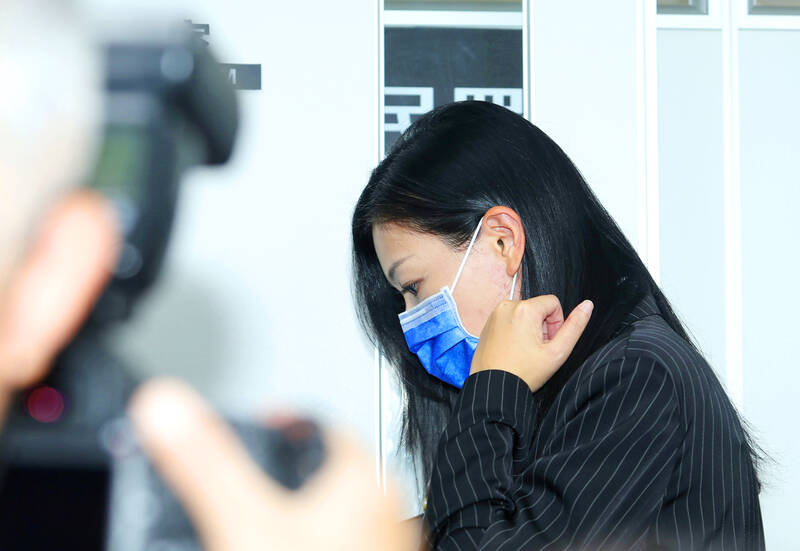 Hsinchu mayoral candidate Ann Kao leaves a news conference at Taiwan People's Party headquarters in Taipei on Monday.
Photo: CNA
The Ministry of Justice's Investigation Bureau passed the material and testimony on to prosecutors, the office said.
Kao and Lee are likely to face charges related to document forgery regarding alleged employee payroll deductions contravening the Labor Standards Act (勞動基準法), bureau officials said.
More serious charges might arise from the wage fraud allegations linked to Lee's role in the legislative office, the bureau officials said, adding that Kao might have contravened Article 5 of the Anti-Corruption Act (貪污治罪條例).
The article stipulates a minimum seven-year term, and/or a fine not exceeding NT$60 million for "withdrawing or withholding public funds without authorization with an intent to profit, or unlawfully collecting taxes or floating government bonds."
Legislative Yuan rules state that legislators are entitled to NT$500,000 per month to pay regular wages and overtime for up to eight office assistants, who generally earn NT$35,000 to NT$45,000 per month.
Kao's campaign spokeswoman Hsu Chien-ching (徐千晴) said that "being listed as a suspect is normal procedure when a case is launched by prosecutors."
"It does not mean they have been found guilty," Hsu said. "Kao has already provided a lot of evidence to prove the office assistants were working and she submitted the documents to the authorities on her own initiative."
Kao would respect the work of the prosecutors and would cooperate with the investigation, Hsu added.
"People should not make assumptions and mislead the public on this case to influence the election," she said.
Material provided by whistleblowers alleged that the assistants had some of their wages illegally deducted, with the cash put into a coffer and spent by Kao on personal items, prosecutors said, adding that other material indicated that employees pay was deducted when they took sick leave.
There are allegations that Kao included in accounting documents people who did not work in her office, reported paying wages higher than what were actually provided and made false statements about overtime hours to obtain the maximum amount allowed each month from the Legislative Yuan, prosecutors said.
Kao has been linked to several controversies since she announced her candidacy.
She has been accused of plagiarism in her doctoral thesis and of collecting a corporate salary while on staff at a government-affiliated institute.
Comments will be moderated. Keep comments relevant to the article. Remarks containing abusive and obscene language, personal attacks of any kind or promotion will be removed and the user banned. Final decision will be at the discretion of the Taipei Times.