Constitutional Court to hear argument on divorce
RIGHT TO DIVORCE: A clause in the Civil Code contravenes the right to divorce as protected under the Constitution and contradicts a previous ruling, a judge said
The Constitutional Court is to hear arguments tomorrow on whether an article in the Civil Code limiting the circumstances in which couples can file for divorce contravenes the Constitution's protection of individual freedoms.
The case relates to Clause 2, Article 1052 of the Civil Code, which states that a husband or wife can petition for divorce upon the occurrence of an event that renders it difficult to maintain the marriage.
However, if only one party is "responsible for the event," then "only the other party may petition for divorce," the clause says.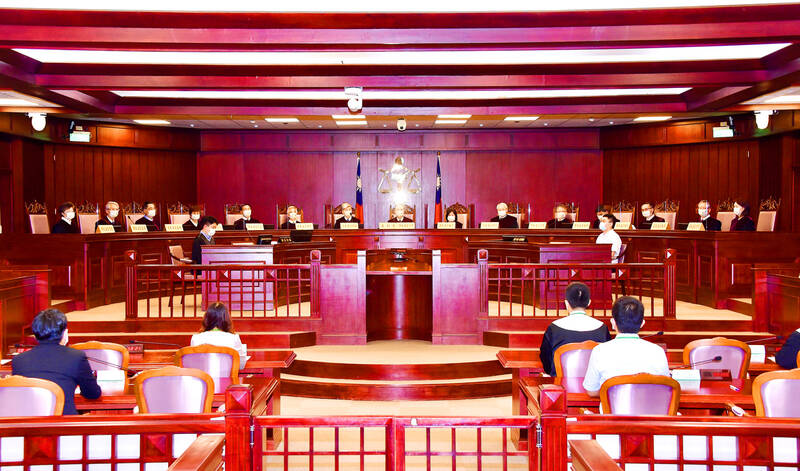 The bench of the Constitutional Court is pictured on May 13.
Photo: Tu Chien-jung, Taipei Times
Kaohsiung Juvenile and Family Court Judge Chu Cheng-kun (朱政坤) applied for the constitutional interpretation based on three cases that are before him.
Chu said that the clause contravenes the right to divorce as protected under Article 22 of the Republic of China Constitution, and also contradicts previous rulings by the court, including Interpretation No. 791, which decriminalized adultery.
In addition to limiting people's freedom to end a relationship, the law also has the practical effect of devaluing marriage by allowing it to be used to "trap" individuals in relationships that only exist in official documents, Chu said.
A case coclaimant surnamed Fang (方) has been unable to divorce a woman he married more than 50 years ago, even though he has since raised three children with another woman in Hong Kong.
Fang said that the law has found him to be "responsible" for the difficulties in his marriage and was deemed ineligible to file for divorce.
The law is to be defended in the case by the Ministry of Justice.
Previously, the ministry has said that in cases where an event has made it difficult to maintain a marriage, both parties are often found responsible and thus have sufficient grounds for divorce.
It has also said that any potential amendments to the law should be left to the Legislative Yuan and not be decided by the courts.
Arguments in the case are to be heard starting at 9:30am tomorrow.
The proceedings are to be open to the public and broadcast live on the Internet.
Comments will be moderated. Keep comments relevant to the article. Remarks containing abusive and obscene language, personal attacks of any kind or promotion will be removed and the user banned. Final decision will be at the discretion of the Taipei Times.