Caribbean allies tout travel prospects at vacation fair
Taiwan's Caribbean allies are showing a strong presence at the annual Taipei International Travel Fair (ITF) this week, hoping to persuade Taiwanese to visit their countries now that they no longer face COVID-19 quarantine requirements upon their return.
The four-day fair opened with 30,572 visitors on Friday, and since then there has been interest at the booths of Taiwan's diplomatic allies Saint Vincent and the Grenadines (SVG), Saint Lucia, and Saint Kitts and Nevis.
Saint Vincent Ambassador to Taiwan Andrea Bowman said that participation at the travel fair is crucial to the mission of her embassy in Taipei.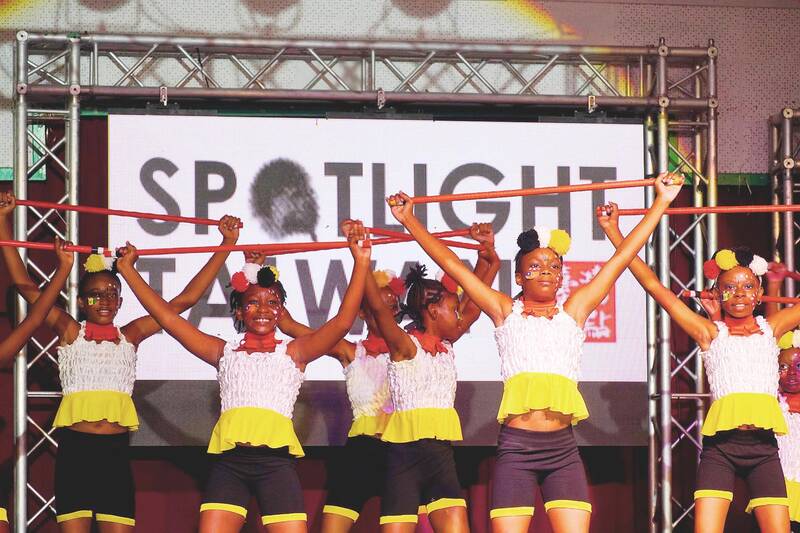 Women perform on stage at the Spotlight Taiwan: Hairouna-Formosa Creative Arts Festival in Saint Vincent and the Grenadines on Oct. 13.
Photo courtesy of the Embassy of the Republic of China (Taiwan) in SVG
"Our embassy has to ensure that SVG is seen, heard and understood in Taiwan. Once this awareness takes place, avenues for trade, travel and the full range of economic and social interaction will develop," Bowman said.
Citing its long unbroken diplomatic relations, Bowman said every Saint Vincentian at home and abroad knows about Taiwan.
"Suffice it to say that we welcome as many Taiwanese as possible to experience the warmth, vibrancy and freshness of a country which has had unbroken diplomatic relations with Taiwan for 41 years," Bowman said.
"Taiwanese are invited to visit friends who have been loyal and unshaken," she added.
Saint Lucian Ambassador to Taiwan Robert Lewis said his embassy is the only representative office for the government and people of Saint Lucia in the greater Asian region.
"It is very opportune for us to display to the people of Taiwan and others in these countries what Saint Lucia has to offer," he said.
Although Taiwan is not a major source market for tourism to Saint Lucia, Lewis said the effort to attract Taiwanese visitors is important.
"If the citizens of Taiwan begin to travel to Saint Lucia in any regular manner, then we are certain that more and more will go because of the warm hospitality of the Saint Lucian people, and the extraordinary beauty that nature has endowed on Saint Lucia," Lewis said.
Saint Kitts and Nevis Ambassador Donya Francis said his staff always avail themselves to show others the beauty and culture of his country with the hopes of attracting visitors.
"We would like everyone to venture deeper in Saint Kitts and Nevis and experience our beauty, our culture, our multiple fun activities and the warmth and love of the people," said Francis, who holds bachelor's and master's degrees from Taiwanese universities.
His embassy is also going to meet with travel agencies to create tour packages, as many Taiwanese travelers enjoy traveling in groups, he said.
The ITF is being held until tomorrow at the Taipei Nangang Exhibition Center, featuring exhibitors from 71 countries and cities around the world, spread across 1,200 booths.
It is the first international tourism fair in Taiwan since the start of the COVID-19 pandemic.
Comments will be moderated. Keep comments relevant to the article. Remarks containing abusive and obscene language, personal attacks of any kind or promotion will be removed and the user banned. Final decision will be at the discretion of the Taipei Times.