Tsai endorses candidates, calls for end to 'black gold'
President Tsai Ing-wen (蔡英文) on Wednesday called on voters to support three Democratic Progressive Party (DPP) candidates for county commissioner: Chiang Tsung-yuan (江聰淵) for Yilan County, Hsu Ting-chen (徐定禎) for Miaoli County and Tsai Pei-hui (蔡培慧) for Nantou County.
Meanwhile, DPP officials said the party is to hold a big rally at the Ketagalan Boulevard on Saturday next week for the party's Taipei and New Taipei City mayoral and city councilor candidates.
The party is also campaigning for people to vote "yes" in a referendum to lower the voting age from 20 to 18.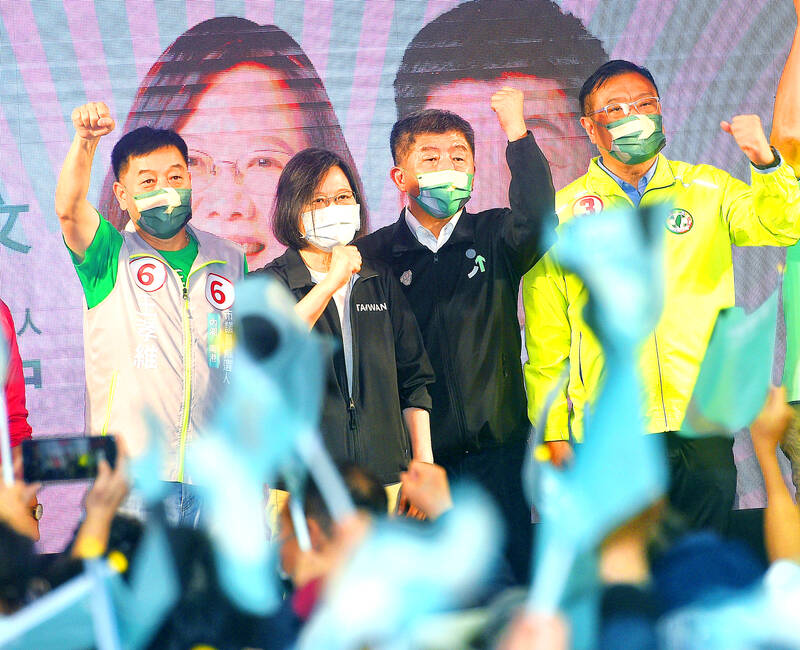 President Tsai Ing-wen, center left, stumps for Democratic Progressive Party Taipei mayoral candidate Chen Shih-chung, center right, in Taipei's Neihu District on Wednesday.
Photo: Chang Chia-ming, Taipei Times
This year's election campaign is focused on eliminating "black gold," a reference to the involvement of criminals and ill-gotten wealth in local politics, the party said.
Taiwan has worked hard to deepen its democratic system, and has faced a lot of challenges in fighting "black gold," which has ties to powerful political families who operate the local political machinery, said Tsai Ing-wen, chairperson of the DPP.
"That is why we asked all DPP candidates to sign a pledge for clean ethics, abstain from corruption and other financial improprieties," she said at party headquarters.
"The international community has praised Taiwan for its achievements in transitioning into a democracy. However, up to now, elections in many cities and counties are still influenced by 'black gold.' We must take action to change this situation," she added.
"DPP members have insisted on upholding our core values of clean politics, good governance and love of our homeland. That is why our party's candidates had to sign the pledge, and we have tough disciplinary regulations to enforce it," she said.
Touting the party's chances in winning in Yilan, Miaoli and Nantou, the president urged party members to strive to earn the public's support and convert this energy into a force for change.
"Only then can we terminate black-gold politics," she said.
Endorsing Chiang for Yilan County commissioner, Tsai Ing-wen said that the DPP held this post in the past and local residents can still identify with the party for providing good governance during those years.
"Now we have the incumbent Yilan county commissioner who had been indicted on corruption charges. This led to a loss of pride among Yilan residents. The county needs an honest commissioner who can do things for the people for them to be proud again," she said.
Miaoli County has never experienced a party change, with the Chinese Nationalist Party (KMT) holding the commissioner's post for 72 years since democratic elections started, she said.
"The Miaoli County Government has long suffered a budget deficit, and it has long been held by certain local political factions. This has led to stagnation in Miaoli, which has not progressed for a long time," she added.
"Now it has a candidate with a criminal record, with a background as a gangster figure. His camp has compared him to former South African president Nelson Mandela... If the county does not give another party the chance to rule, then Miaoli's political culture might never change for the better," she said.
Endorsing the DPP candidate for Miaoli, Tsai Ing-wen said: "Support for Hsu is on the increase, and this is the best opportunity for change in Miaoli. We shall push for unity to help change the ruling party, to end 'black-gold' politics and stop the fiscal drain, for people to come together to build a new Miaoli County."
She castigated a former KMT Nantou county commissioner who was convicted of corruption and sentenced to more than 400 years in prison for taking bribes and kickbacks on public projects to rebuild roads, bridges and other infrastructure in the aftermath of a typhoon.
"People have questions about the KMT candidate in the county who comes from a family involved in 'black-gold' politics and is involved with powerful local gangsters. It is time to end this 'black-gold' political dynasty so that Nantou County can develop and move forward," Tsai Ing-wen said.
Comments will be moderated. Keep comments relevant to the article. Remarks containing abusive and obscene language, personal attacks of any kind or promotion will be removed and the user banned. Final decision will be at the discretion of the Taipei Times.