Schools to provide sanitary products
Women's sanitary products would be provided in every school and building under its purview, the Ministry of Education said yesterday, after legislators urged the government to offer better services to women, who, according to new data, spend about NT$100,000 on sanitary products throughout their lives.
The announcement came after Democratic Progressive Party (DPP) legislators Liu Shih-fang (劉世芳), Chang Liao Wan-chien (張廖萬堅), Lai Pin-yu (賴品妤), Lin Yi-chin (林宜瑾), Chen Hsiu-pao (陳秀寶), Fan Yun (范雲) and Ho Hsin-chun (何欣純) yesterday told a meeting of the legislature's Education and Culture Committee that the ministry should provide the products in all public schools in Taiwan.
Minister of Education Pan Wen-chung (潘文忠) said that the ministry "fully supports the proposal" and would put it into practice from the next academic year.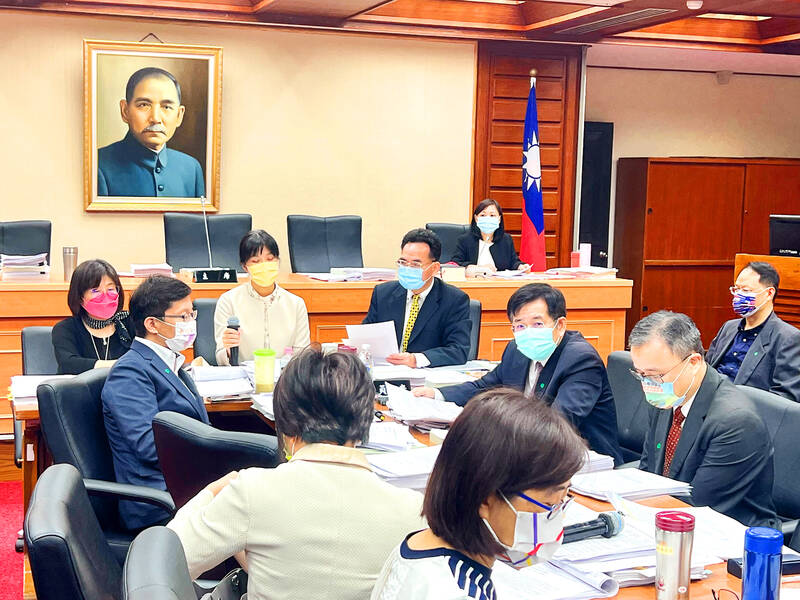 Members of the legislature's Education and Culture Committee discuss feminine hygiene products with Minister of Education Pan Wen-chung, third right, yesterday.
Photo: Lin Hsiao-yun, Taipei Times
"Period poverty" has become an important part of women's rights campaigns around the globe, Chang Liao said, adding that buying sanitary products is a burden for underprivileged families.
Teenage girls tend to feel overwhelmed when they have their first period, which usually occurs between the age of 10 and 16, he said.
Schools in the UK began to provide period products in 2018, which can help those in need, as well as familiarize students with the products and help them understand menstruation as something normal, he said.
Only some schools in Taipei, Tainan, Kaohsiung, New Taipei City and Hsinchu provide menstrual pads or have similar policies, he said.
However the availability is limited, and underprivileged families and families living in remote areas are not taken care of, he added.
The ministry should review the implementation and budgets of the programs adopted by schools within two months, he said.
The ministry should also consult experts, local governments and school representatives to evaluate the feasibility of providing free period products, and compile a report on the findings within four months, he added.
Fan said that implementing a nationwide program based on the findings would help students from low-income households.
Ho said that a nationwide program should also include supplementary measures, such as offering students guidance about related physiological phenomena.
Comments will be moderated. Keep comments relevant to the article. Remarks containing abusive and obscene language, personal attacks of any kind or promotion will be removed and the user banned. Final decision will be at the discretion of the Taipei Times.