First domestic case of cholera since 2020 found
INFECTION VIA SEAFOOD: The two people who live in the same household as the case in central Taiwan have no symptoms, the CDC's Chuang Jen-hsiang said
A woman yesterday became Taiwan's first confirmed domestic cholera case in two years after consuming raw oysters and shrimp, the Centers for Disease Control (CDC) said.
The 40-year-old woman from central Taiwan developed persistent diarrhea on Oct. 18, CDC Deputy Director-General Chuang Jen-hsiang (莊人祥) told a news conference.
She was admitted to hospital four days later, he said, adding that her condition had worsened, and she was experiencing vertigo, nausea and watery diarrhea.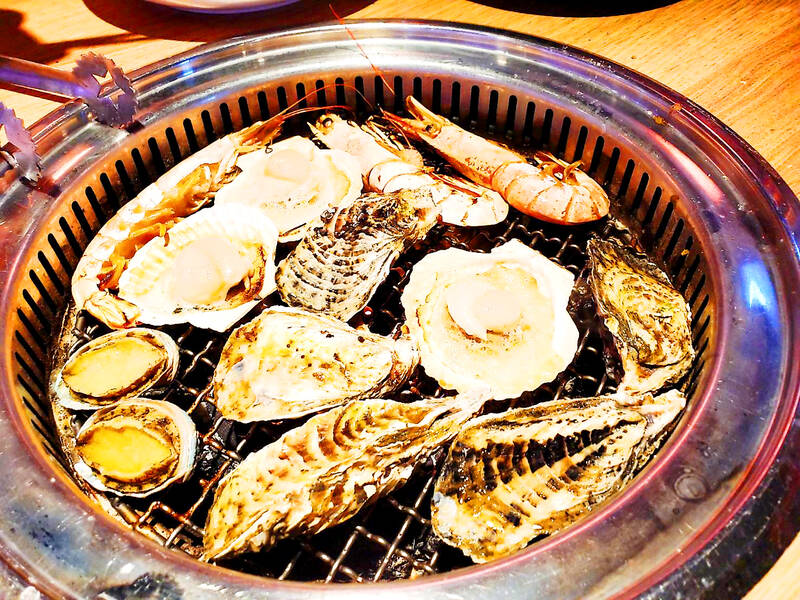 Oysters, shrimp and other seafood is pictured in an undated photograph.
Photo: Lin Hui-chin, Taipei Times
Doctors took a fecal bacterial sample, from which they detected signs of cholera, he added.
The CDC received the hospital's report on Friday last week and its scientists found that the woman had cholera of the O1-Ogawa strain, he said.
The woman has a history of high blood pressure, cancer and stomach ulcers, and regularly takes strong stomach medicine, he said, adding that she had not traveled domestically or internationally in the weeks before contracting the disease.
The CDC determined that she contracted the disease from seafood, which she prepared and ate at home, Chuang said.
The Ministry of Health and Welfare has begun testing samples taken from the woman's family members and tracing the source of contamination, he said, adding that the two people living with the woman have no symptoms.
Taiwan reported seven indigenous cholera cases in 2018, no cases in 2019, one case in 2020 and no cases last year, he said, adding that no imported cases have been reported in the past few years.
Cholera is an acute bacterial infectious disease with an asymptomatic period of two to three days, he said, adding that contaminated food or water are its main transmission vectors.
People with low or suppressed stomach acid levels, past stomach removal surgeries or a compromised immune system are more susceptible to the disease, while people with healthy digestive systems can ingest a comparatively large quantity of the bacteria without contracting the disease, Chuang said.
Vibrio cholerae, the bacterium that causes the disease, is typically found in dirty water, he said, adding that the seafood the woman ate might have been harvested from contaminated water.
The CDC recommends people to consume only fully cooked food and boiled water, arrange kitchens in a way that avoids the cross-contamination of ingredients, and wash their hands frequently, he said.
Comments will be moderated. Keep comments relevant to the article. Remarks containing abusive and obscene language, personal attacks of any kind or promotion will be removed and the user banned. Final decision will be at the discretion of the Taipei Times.