KMT commissioner accused of vote-buying
Democratic Progressive Party (DPP) Nantou County councilor candidate Tseng Tsung-kai (曾琮愷) on Tuesday filed a judicial complaint against Nantou County Commissioner Lin Ming-chen (林明溱) of the Chinese Nationalist Party (KMT) for allegedly trying to buy votes for a KMT candidate in the Nov. 26 local elections.
Lin is nearing the end of his second term as commissioner and cannot run for re-election due to term limits. He has been campaigning for KMT county commissioner candidate Hsu Shu-hua (許淑華).
Although the campaign events are billed as "Commissioner Lin's farewell tour to thank residents for their support," his opponents have said Lin has been using government money to canvass votes for the KMT.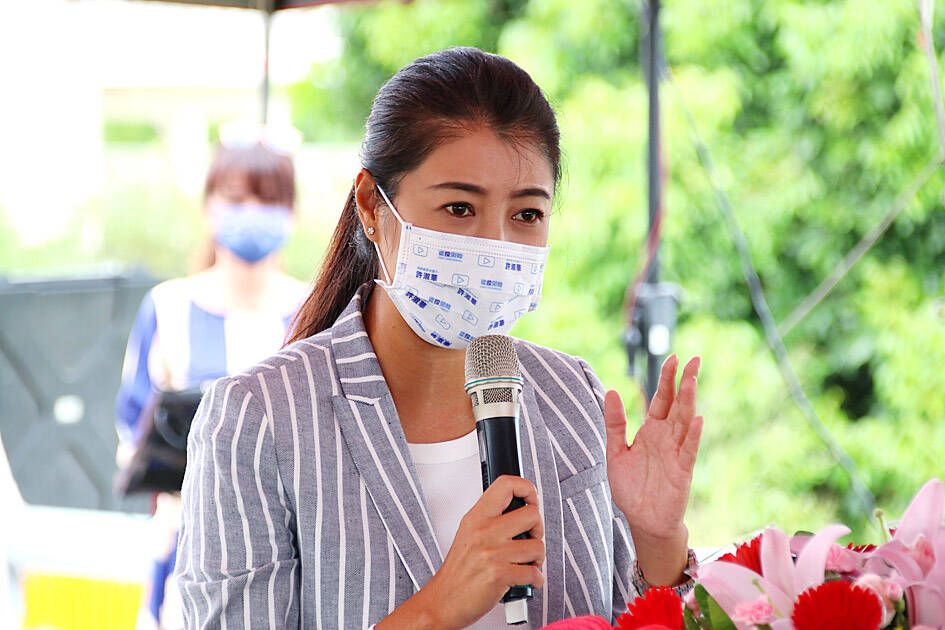 Chinese Nationalist Party (KMT) Nantou County commissioner candidate Hsu Shu-hua speaks at a campaign event in the county on Tuesday last week.
Photo: CNA
Lin and his subordinates have during recent events handed out stainless steel noodle bowls valued at NT$360 each to county residents as "souvenirs," Tseng said.
Prosecutors have said they would investigate the allegation, while Lin during an event in Nantou City yesterday said he would no longer distribute souvenirs.
Tseng showed photographs and video recordings of such an event on Oct. 17, during which Lin, Hsu and KMT Nantou City mayoral candidate Chang Chia-tse (張嘉哲) are allegedly seen gifting noodle bowls to residents.
Pamphlets for the event showed that it was organized by the Nantou County Government to bid farewell to Lin, but only KMT candidates were invited, while the souvenirs had images of Lin along with the two KMT candidates, Tseng said.
The incident constitutes an abuse of government funds, as Lin has allegedly contravened election laws by promoting KMT candidates and handed out gifts to buy votes for the KMT, Tseng said.
"Video recordings and photos of the event show Lin introducing Hsu and other KMT candidates, who took the stage for pep talks. They also shouted campaign slogans, with Hsu asking people to vote for her. So it was clearly a case of the KMT canvassing support," Tseng added.
Attorney Lin Po-hung (林柏宏) said that prosecutors should investigate possible contraventions of the law, as Lin has allegedly used county government funds to organize the events, which focused on only one party.
Video footage show Hsu standing by and asking for voters' support, Lin Po-hung said.
"The handouts, which were valued more than NT$300, could influence people to cast their ballots for a particular candidate. Objectively, this incident could be connected to accusations of vote-buying," Lin Po-hung added.
DPP Nantou County commissioner candidate Tsai Pei-hui (蔡培慧) said Lin Ming-chen has organized more than 100 such KMT campaign rallies disguised as his "farewell tour," which began last month.
Hsu denied the accusations as "baseless" and said they aim to tarnish her image.
"They are a desperate attempt by Tsai to vilify me during the final phase of campaigning," she said.
The county government yesterday said that Lin Ming-chen has distributed souvenirs at 130 such events so far.
"The events are open to the public. We are not restricting who can attend them. There were no conditions for receiving souvenirs and we have no control over where the candidates stand during the events," it said.
Comments will be moderated. Keep comments relevant to the article. Remarks containing abusive and obscene language, personal attacks of any kind or promotion will be removed and the user banned. Final decision will be at the discretion of the Taipei Times.