Institute sues TPP lawmaker over dissertation
COUNTERACCUSATION: The TPP's Kao Hung-an said the Institute for Information Industry was aware that she was pursuing a degree at a university in the US
The government-funded Institute for Information Industry yesterday said that it has filed a criminal lawsuit against Taiwan People's Party (TPP) Legislator Kao Hung-an (高虹安) for allegedly improperly using copyrighted institute material in her doctoral dissertation.
Kao is the TPP's Hsinchu mayoral candidate in the Nov. 26 local elections.
The institute said that it filed the lawsuit on Tuesday after it became clear that the two sides were not likely to reach a settlement out of court.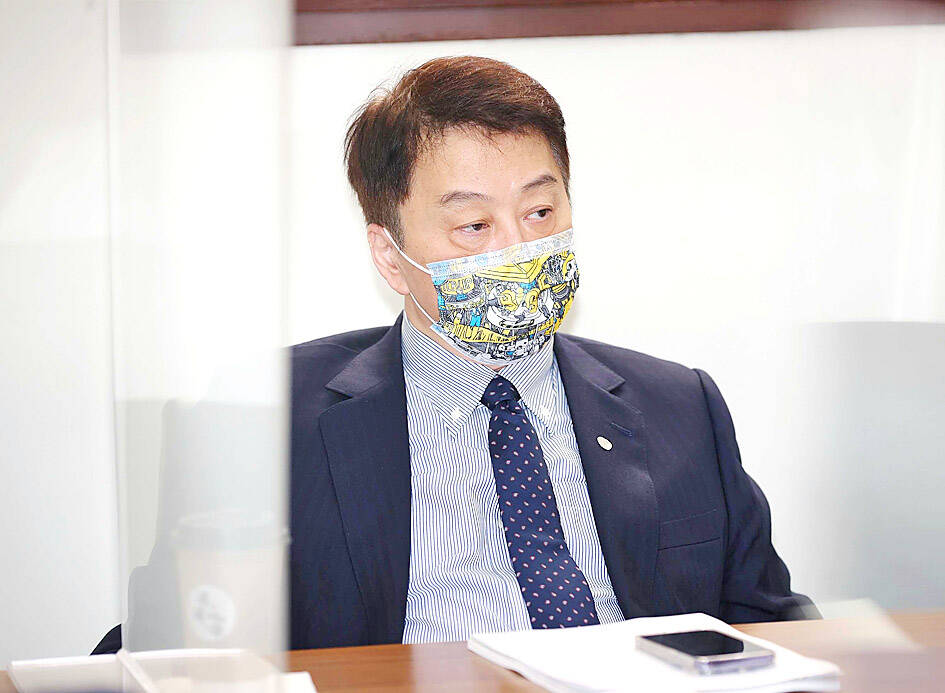 Institute for Information Industry president Cho Cheng-hung attends a meeting of the legislature's Economics Committee in Taipei yesterday.
Photo: CNA
It also vowed to file a civil suit against Kao to protect its rights and interests.
The institute has accused Kao of using passages from copyrighted research reports that she coauthored when working at the institute in her doctoral dissertation at the University of Cincinnati without crediting the institute.
The institute said its lawyer on Oct. 13 sent Kao a letter demanding that she explain her actions and offer solutions.
The letter was also sent to John Walter Weidner, dean of the university's College of Engineering and Applied Sciences, where Kao studied for her doctorate, as well as to the OhioLink library network and the ProQuest publishing company.
The institute received Kao's response on Thursday last week, in which she reiterated that her usage of the passages constituted "fair use."
Institute president C.H. Cho (卓政宏) on Oct. 5 said that analyses by two different software programs showed that Kao had duplicated 70 to 80 percent of the institute report in her dissertation, which he said exceeds the scope of "fair use."
Allegations that Kao had plagiarized her dissertation were first reported by Chinese-language Mirror Media magazine on Sept. 20.
Kao denied the allegations, presenting an e-mail dated Aug. 22 by Jane Strasser, senior associate vice president for research at the University of Cincinnati's Research Integrity Office, backing her argument.
"The allegations involve self-plagiarism, which is not considered research misconduct," Strasser wrote, adding that there were "no copyright concerns" with Kao's dissertation.
Members of the ruling Democratic Progressive Party (DPP) have accused Kao of plagiarism, copyright infringement and improper citation, but critics have dismissed their claims as politically motivated.
As of press time last night, the institute's Google Business page had received more than 200 one-star reviews, with many Internet users accusing it of contravening the principle of administrative neutrality and behaving like a DPP affiliate.
The sentiment has been fueled in part by a reversal in the institute's position.
When the allegations against Kao first emerged, the institute on Sept. 20 said that authorization for using research that it has funded was only needed if it was intended for "practical applications," not for academic use.
Kao has also accused the institute of political interference after it separately accused her of illegally taking part-time jobs at Taipei-based technology company Servtech and for concealing her admission to the university's doctoral program, at which time she was still an institute employee.
DENIAL
Kao yesterday at a news conference denied the accusations, calling them "blatant lies."
She presented an e-mail from 2015, which showed her supervisor at the institute addressing her as "Servtech business division head," suggesting that the institute had known about her job at Servtech, she said.
All of her work at the institute, including taking up the unpaid post at Servtech, was done according to the instructions of her supervisor or institute management, she said.
In 2012, the institute sent her to the US to undertake a joint research project with the University of Cincinnati, when she concurrently enrolled in the university's doctoral program and informed the institute of doing so, she said.
In an e-mail copied to her direct supervisors at the time, then-institute vice president Gary Gong (龔仁文) asked her how she was adapting to her work and studies at the university, she said.
Kao said Cho should apologize to her for saying during a legislative hearing that the institute was unaware of her enrollment at the university, which is pure fabrication, she said.
"The extent to which the institute has distorted the facts suggests that it came under immense political pressure," she said.
The DPP has aggressively gone after candidates in the local elections over plagiarism issues and other improper acts after its candidate for Taoyuan mayor, former Hsinchu mayor Lin Chih-chien (林智堅), faced similar accusations.
Lin had to eventually pull out of the race after National Taiwan University found that he had indeed committed plagiarism in his master's thesis and described the offense as serious.
Latest polls show Kao leading a three-way race for Hsinchu mayor, despite the accusations.
Comments will be moderated. Keep comments relevant to the article. Remarks containing abusive and obscene language, personal attacks of any kind or promotion will be removed and the user banned. Final decision will be at the discretion of the Taipei Times.