Report details why Chinese products banned at agencies
The government has banned the use of Chinese information and communications products at all agencies as they could compromise Taiwan's cybersecurity, the Ministry of National Defense said in a report presented yesterday at a meeting of the legislature's Judiciary and Organic Laws and Statutes Committee.
Drones manufactured by Shenzhen-based DJI Technology Co (大疆創新) are capable of gathering private information from their users, as well as government agencies, the report said, citing a 2017 US Department of Homeland Security report.
News reports have said that products made by Huawei Technologies Co (華為) and its affiliate HiSilicon Technologies Co (海思半導體) are able to transmit user data back to the firms' servers in China or use malware to take control of a user's Web camera, the report said.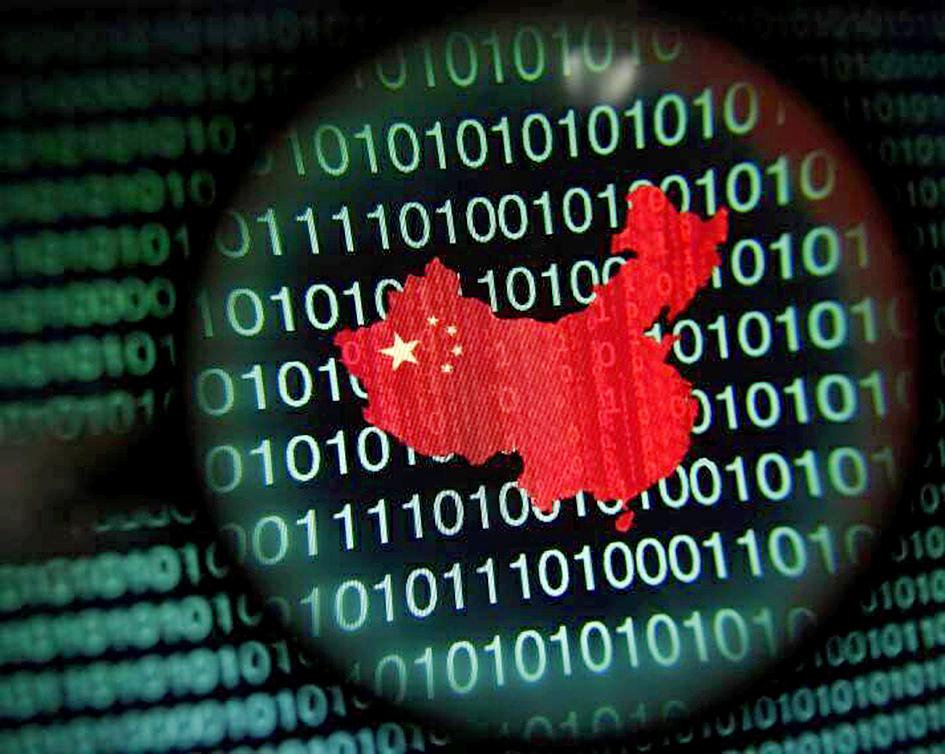 A map of China is seen through a magnifying glass on a computer screen showing binary digits in this photo illustration.
Photo: Reuters
"We have banned the use of Chinese information and communications products as they have been assessed and risk endangering national security," it said.
The Military Information Asset Management Operational Regulations ban the ministry from procuring devices made in China that can send data via the Internet, it added.
In December 2020, the Executive Yuan began prohibiting the use of Chinese information and communications products by government agencies, including software, hardware and services, the report said.
Any procurement of products and services at the defense ministry must follow the guidelines and be inspected by an internal review department before procurement is complete, it said.
"In addition to the certificate of origin, agencies under the defense ministry must dissemble the devices to check if they contain Chinese-made components. Networks used by the military are regularly inspected to identify potential information security risks," the report said.
The National Security Bureau said in a report that Lithuania, Belgium and other countries have over the past few years stated how Chinese smartphones can be used to illegally gather user information.
To safeguard national security, the US Federal Communications Commission banned the use of communications and surveillance products made by several Chinese companies, including Huawei, ZTE Corp (中興), Hangzhou Hikvision Digital Technology Co (杭州海康威視數字技術), Zhejiang Dahua Technology Co (浙江大華科技) and Shegzhen-based Hytera Communications Corp (海能達通訊), the bureau said.
During US House of Representatives Speaker Nancy Pelosi's visit to Taiwan in August, electronic advertisement boards in convenience stores and in the Taiwan Railways Administration's Sintsoying Station were hacked to display messages critical of the visit, it said, adding that both used software made in China.
"We also found that Chinese information and communications products must link to their servers in China to update the operating systems. Beijing, on the other hand, can ask companies to hand over information of certain users or help it gather intelligence based on its National Intelligence Law and Cybersecurity Law," it said, adding that these functions have threatened Taiwan's information security.
Comments will be moderated. Keep comments relevant to the article. Remarks containing abusive and obscene language, personal attacks of any kind or promotion will be removed and the user banned. Final decision will be at the discretion of the Taipei Times.