Vilnius-Taipei ties exceed money: speaker
'RATIONAL APPROACH': The Lithuanian Seimas speaker said her country's ties to Taiwan have brought political and diplomatic gains as it leads Europe away from China
Relations between Lithuania and Taiwan are difficult to measure in money, Lithuanian Seimas Speaker Viktorija Cmilyte-Nielsen told media in her country.
Lithuania's export value to Taiwan in the first half of this year was 16.8 million euros (US$16.56 million), a 29.7 percent increase compared with the same period last year, Lithuanian National Television and Radio reported on Friday.
The majority of the exports were optical and chemical goods, while food and beverage products comprised 2.2 million euros, it said.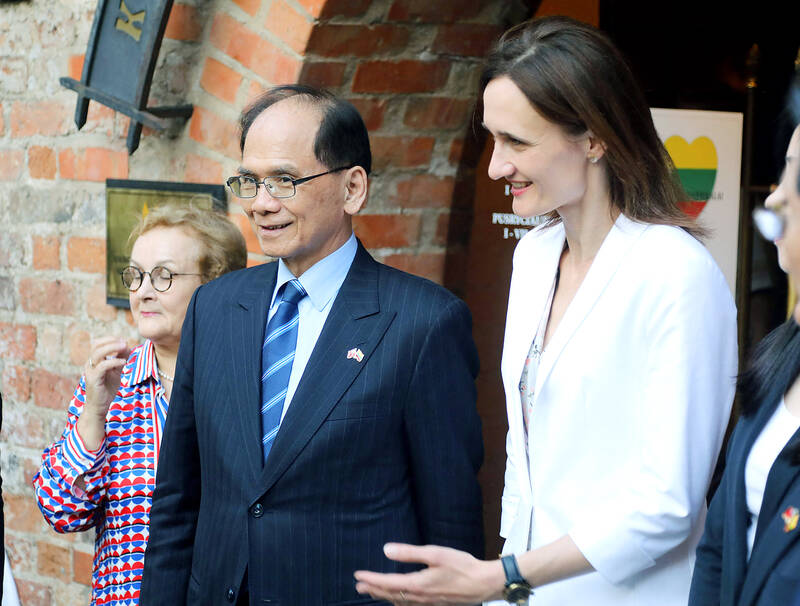 Lithuanian Seimas Speaker Viktorija Cmilyte-Nielsen, right, meets with Legislative Speaker You Si-kun in Vilnius, Lithuania, on July 21.
Photo: AFP
In the first six months of this year, Lithuania's imports from Taiwan totaled 91.2 million euros, up 210 percent annually, it added.
Many Lithuanian food producers have criticized the "time-consuming process" and "strict regulations" Taipei imposes to grant export permits that would allow them to sell eggs, dairy products, fish and meat to Taiwan, the report said.
Cmilyte-Nielsen was quoted by the Lithuanian ELTA news agency as saying that the economic benefits brought by the country's policies toward Taiwan are not clear at the moment, but it "does not mean that it has not brought political, diplomatic and other benefits."
The relationship has a "huge impact on the security of the region, the future of our country," she added.
She said she hopes that Lithuania and Taiwan continue to strengthen their relationship.
Ending dependency on autocratic regimes is a rational approach, she said, citing the example of the consequences to Europe for relying on Russia for so much of its energy.
Lithuania was not alone in distancing itself from China, she said, citing Latvia and Estonia following in withdrawing from the "17+1" group, Beijing's initiative to form an economic bloc with central and eastern European countries.
Separately, the Baltic News Network reported on Saturday that Taiwanese officials arrived in Lithuania last week to inspect the factories of local meat producers that hope to export their products to Taiwan.
The Council of Agriculture's Bureau of Animal and Plant Health Inspection and Quarantine, as well as the Taiwan Food and Drug Administration, are scheduled to visit three meat producers during the two-week trip, it said.
More than 20 Lithuanian food producers are applying to export their products to Taiwan, it added.
Comments will be moderated. Keep comments relevant to the article. Remarks containing abusive and obscene language, personal attacks of any kind or promotion will be removed and the user banned. Final decision will be at the discretion of the Taipei Times.