Hostage situation leaves one dead, four injured
SHOOTING SPREE: The suspect injured two men at a residence in Taipei, a temple official and a police officer, and killed himself after releasing the hostages, police said
Taipei police said they had begun an investigation into a gang-related shooting after a hostage situation on Wednesday night that left the alleged shooter dead and four people injured.
Police had identified the suspect in the shooting in Taipei's Wanhua District (萬華) as Chiu Kuo-lung (邱國隆), an alleged member of the Wan Guo gang, Wanhua Precinct Police Chief Hsieh Tsung-hung (謝宗宏) told a news conference.
Chiu, 54, took his own life at the end of a shooting spree, Hsieh said.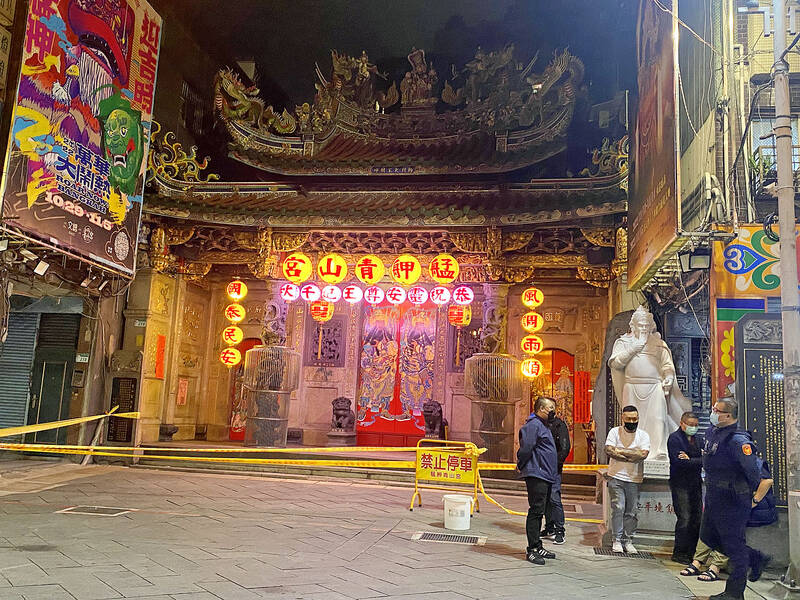 A police officer stands at the site of a shooting in Taipei's Wanhua District on Wednesday evening.
Photo: CNA
Police said the incident began at 7:26pm, when Chiu arrived at a residence on Hankou Street for a meeting with alleged Wan Guo leader Hung Ching-cheng (洪清正) and another gang member.
After an unspecified "disagreement," Chiu shot the two others, hitting one nine times — once in the back, once in the right arm and seven times in the legs — and the second man in the back and all four limbs, police said.
Chiu then fled to the nearby Bangka Qingshan Temple on Guiyang Street, where he sought to speak with the temple's vice chairperson, surnamed Hsu (許), Hsieh said.
However, Hsu refused to help him, and Chiu allegedly shot him three times and then took four people hostage — Hsu's wife, son and daughter, and an unidentified friend of the family — at a storefront across from the temple, police said.
After arriving at the scene at 7:50pm, police engaged in a standoff with Chiu, during which one officer, attending to the injured temple official, was shot in the thigh, police said.
At 8:50pm, Chiu gradually began releasing the hostages, they said.
Hsu's daughter — who was released first and exited the storefront holding a white flag — told police that Chiu was planning to kill himself, police said.
After releasing all four hostages, Chiu walked out of the building and shot himself in the head, police said.
He was rushed to a hospital and pronounced dead at 10:09pm, they added.
Late on Wednesday, Hsieh said initial evidence suggested the incident stemmed from a dispute between gangs.
Hsieh said police would begin interrogating witnesses to determine Chiu's motives and find out how he had obtained a gun.
Hours after the hostage situation, Chinese-language media reported that Chiu's Facebook account at 7pm posted a photograph of him with his son and daughter.
The post said that Chiu's "time is up," and that his children should take care of themselves and their mother.
"Daddy will always love both of you. Grow up to be good people, not like your dad," the post said.
At about 8pm, the account responded to comments under the post and explained Chiu's motives for the shootings.
One of the comments said that more than a year ago, Chiu pulled a gun on an unspecified individual who had been bullying a friend of his.
Since the incident in Taipei's Ximending (西門町) area, the person had been harassing Chiu in a constant "game of cat and mouse," the comment said.
"I've failed my kids, failed society. I have no choice," the comment added. "When it's time to go, it's time to go."
Police said they believed Chiu's post referred to a confrontation last year between him and a member of the He Gou Tou gang, who was not one of those injured in Wednesday's shootings.
Meanwhile, the shooting of Hung and the temple official appeared to stem from an incident earlier this year in which Chiu allegedly got into a fistfight, and he later blamed the two men, who had tried to mediate the fight, for not siding with him, police said.
As of yesterday morning, all four people injured in the incident were in stable condition and receiving treatment at hospitals in Taipei.
Comments will be moderated. Keep comments relevant to the article. Remarks containing abusive and obscene language, personal attacks of any kind or promotion will be removed and the user banned. Final decision will be at the discretion of the Taipei Times.