Ko to meet with firebrand Miaoli County speaker
Miaoli County Council Speaker Chung Tung-chin (鍾東錦) yesterday said that he would meet with Taipei City Mayor Ko Wen-je (柯文哲) today, a move seen by some as an attempt by Ko to form an alliance to benefit his Taiwan People's Party (TPP).
Chung, a long-time member of the Chinese Nationalist Party (KMT) who is running for Miaoli County commissioner as an independent, said that he would meet with Ko, who is TPP chairman, to discuss and exchange views on local governance.
Democratic Progressive Party (DPP) lawmakers and officials from other parties called the meeting a "black-and-white alliance." The phrase alludes to Chung's alleged criminal ties and decades-old murder conviction, and Ko's rise as a leader of the "white force," a term used to describe people who transcend the pan-blue and pan-green political divide.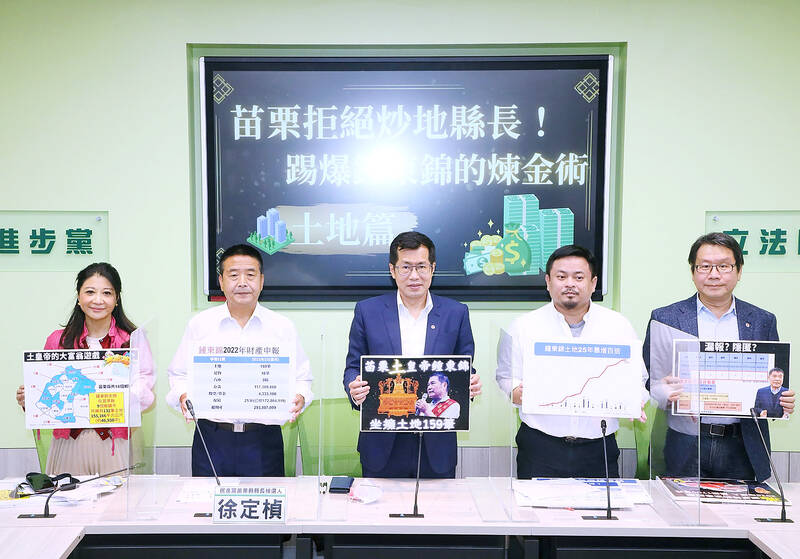 From left, Democratic Progressive Party (DPP) Legislator Michelle Lin, DPP Miaoli County commissioner candidate Hsu Ting-chen, DPP caucus whip Lo Chih-cheng, DPP Legislator Hung Sun-han and DPP Legislator Shen Fa-hui hold a news conference at the Legislative Yuan in Taipei yesterday.
Photo: CNA
Chung was elected as a county councilor in 2014 and became speaker in 2018. He registered as an independent in June after losing a bid for the party's nomination to Hsieh Fu-hung (謝福弘), director of the KMT's Miaoli County office. The KMT revoked his party membership last month.
Hsieh yesterday said that Chung's declaration of personal assets contained fraudulent information that concealed his alleged holdings in gravel mining and waste treatment companies.
Speaking at the opening of his campaign office in Miaoli's Cholan Township (卓蘭), Hsieh said that Chung allegedly owns 159 properties, including land and buildings registered under his name, and has about NT$300 million (US$9.37 million) in other assets, including bank deposits and investments.
"Chung is a habitual liar. He uses false information to deceive voters, and has done so throughout the campaign... Chung must also come clean on his criminal record," Hsieh said, referring to a murder conviction from 30 years ago.
"Miaoli voters have the right to know," Hsieh added.
DPP legislators also questioned Chung's personal wealth.
"Voters should see Chung not as a self-declared 'common man,' but as a 'local emperor' for owning 159 properties and having personal wealth of NT$300 million," DPP Legislator Lo Chih-cheng (羅致政) told a news conference at the legislature in Taipei.
"Why did Chung insist on running for commissioner, despite the KMT revoking his party membership? We suspect he is working to gain more wealth and acquire more properties, by becoming head of Miaoli County Government, so he can make changes to the county's Urban Planning Act (都市計畫法)," Lo said.
Lo said that if Chung is elected, he could approve rezoning plans that could benefit properties he owns and help "him accumulate more wealth," Lo said.
DPP Legislator Michelle Lin (林楚茵) said that people who allegedly investigated Chung's assets and those who are allegedly familiar his background have said that he has been affiliated with criminal activity, which helped him obtain property across Miaoli.
"Chung seeks to whitewash his tainted background by becoming head of the county government," Lin said.
With Ko's visit, Chung's Miaoli County commissioner campaign has aligned the forces of "black and white," she said.
"We have a candidate for commissioner who has a criminal background, so it is regrettable for the TPP to align itself with a politician affiliated with criminal groups," she said.
"Miaoli County has a choice this time, to leave behind its reputation as a county sliding backward, full of 'black gold' politicians, who win elections by buying votes, with a local government dominated by figures with criminal ties, unscrupulous business activities for personal profiteering," Lo said.
Comments will be moderated. Keep comments relevant to the article. Remarks containing abusive and obscene language, personal attacks of any kind or promotion will be removed and the user banned. Final decision will be at the discretion of the Taipei Times.