Chinese threats do not deter Canada: visiting lawmaker
Canadian lawmaker Judy Sgro said on Friday that people "should not be intimidated by outside sources" after China publicly rebuked the parliamentarian for visiting Taiwan.
The Chinese embassy in Canada said via a statement that the visit to Taiwan by a parliamentary delegation led by Sgro from Sunday last week to Friday "blatantly violates the one-China principle" and "grossly interferes in China's internal affairs," the Globe and Mail reported.
The statement, which was provided to the Canadian daily on Thursday, said that China would "continue to take resolute and strong measures to defend its national sovereignty and territorial integrity, and oppose the interference by external forces in China's internal affairs."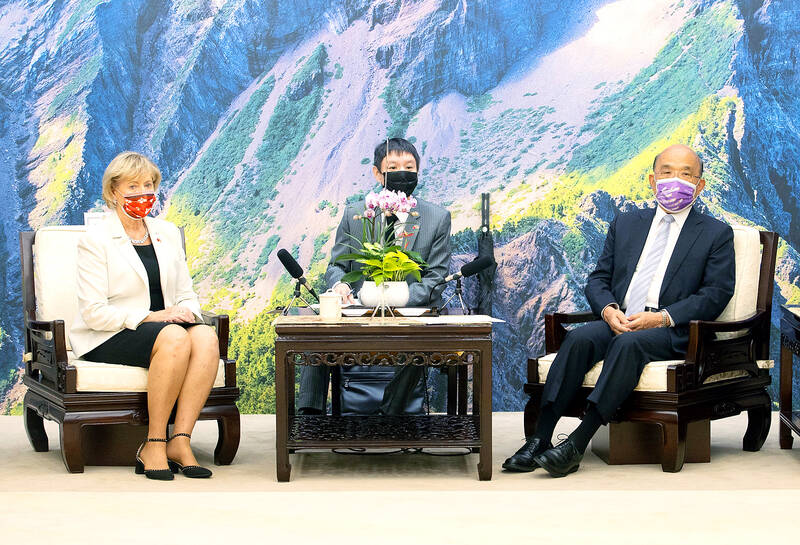 Canadian lawmaker Judy Sgro, left, and Premier Su Tseng-chang pose for a photograph during a meeting at the Executive Yuan in Taipei on Wednesday.
Photo: CNA
Sgro on Friday said that pressure from China would not prevent her and other lawmakers from visiting Taiwan.
"I think people should be encouraged to visit Taiwan. You have so much to offer, and the world needs to know more about Taiwan. People need to be encouraged to come and have a positive experience, and should not be intimidated by outside sources," Sgro said.
Sgro, who is chairwoman of the Canadian parliament's Standing Committee on International Trade and head of the Canada-Taiwan parliamentary friendship group, arrived in Taiwan with a delegation that included Canadian lawmakers Angelo Iacono, Simon-Pierre Savard-Tremblay, Richard Martel and Chris Lewis.
The five-member group was the latest in a series of international delegations from the US, France, Germany and Japan to visit Taiwan since early August.
Sgro said the delegation visited to seek opportunities for economic and investment cooperation between Canada and Taiwan.
The group met with Taiwanese officials and representatives from technology giants such as Taiwan Semiconductor Manufacturing Co, the world's largest contract chipmaker.
Sgro and other Canadian lawmakers urged their government to begin a foreign investment promotion and protection arrangement with Taiwan, with talks on the so-called FIPA continuing.
Sgro said the delegation would "use our voices as parliamentarians" after returning to Canada.
"We will go back to Canada with a very positive message ... about the opportunities there are for Canada and Taiwan to continue to strengthen their relationship," she said.
Comments will be moderated. Keep comments relevant to the article. Remarks containing abusive and obscene language, personal attacks of any kind or promotion will be removed and the user banned. Final decision will be at the discretion of the Taipei Times.