Beijing to renew push to skew vote: official
Beijing might renew its cognitive warfare and cyberattacks to influence the outcome of the Nov. 26 local elections, an official with knowledge of the matter said on Friday.
As Chinese President Xi Jinping (習近平) strives to break precedent by securing a third term at the Chinese Communist Party's (CCP) 20th National Congress, the regime's information warfare agencies have been focused on maintaining internal stability, the official said, speaking on condition of anonymity.
The stability operations have included a massive roundup of 1.4 million people accused of crimes, the eradication of organized political opposition, augmented surveillance of dissidents and advocates, and clampdowns on online speech, resulting in a brief reprieve for Taiwan, they said.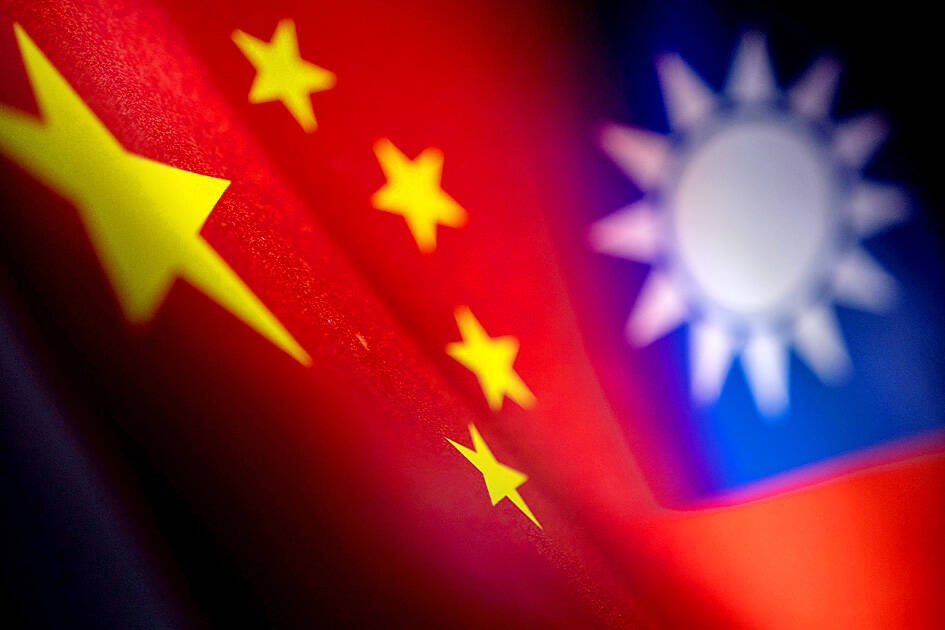 The flags of Taiwan, right, and China are pictured on April 28.
Photo: Reuters
However, after the conclusion of the CCP summit later this month, China could refocus on Taiwan, preparing an information campaign ahead of next month's elections, they said.
Beijing's methods would likely include spreading misinformation through social media accounts, cyberattacks and orchestrating political actions to be carried out by Chinese living in Taiwan and local pro-unification groups, the official said.
An electoral outcome favorable to China might accelerate Beijing's timeline for unifying with Taiwan, leading to more acute dangers to national security, they added.
Local collaborators and Internet celebrities are crucial to China's cognitive warfare model, which uses them as nodes of misinformation, Liu Wen-pin (劉文斌), deputy director of the Investigation Bureau's situation analysis division, told a forum in Taipei on Friday.
Nodes are the channel through which distorted information, memes and public opinion manipulation — the key links of cognitive warfare — spread through social media, he said.
The strategy can be countered by revealing and neutralizing the nodes, he said.
Educating the public on digital citizenship would also help counter such tactics, he added.
Additional reporting by CNA
Comments will be moderated. Keep comments relevant to the article. Remarks containing abusive and obscene language, personal attacks of any kind or promotion will be removed and the user banned. Final decision will be at the discretion of the Taipei Times.